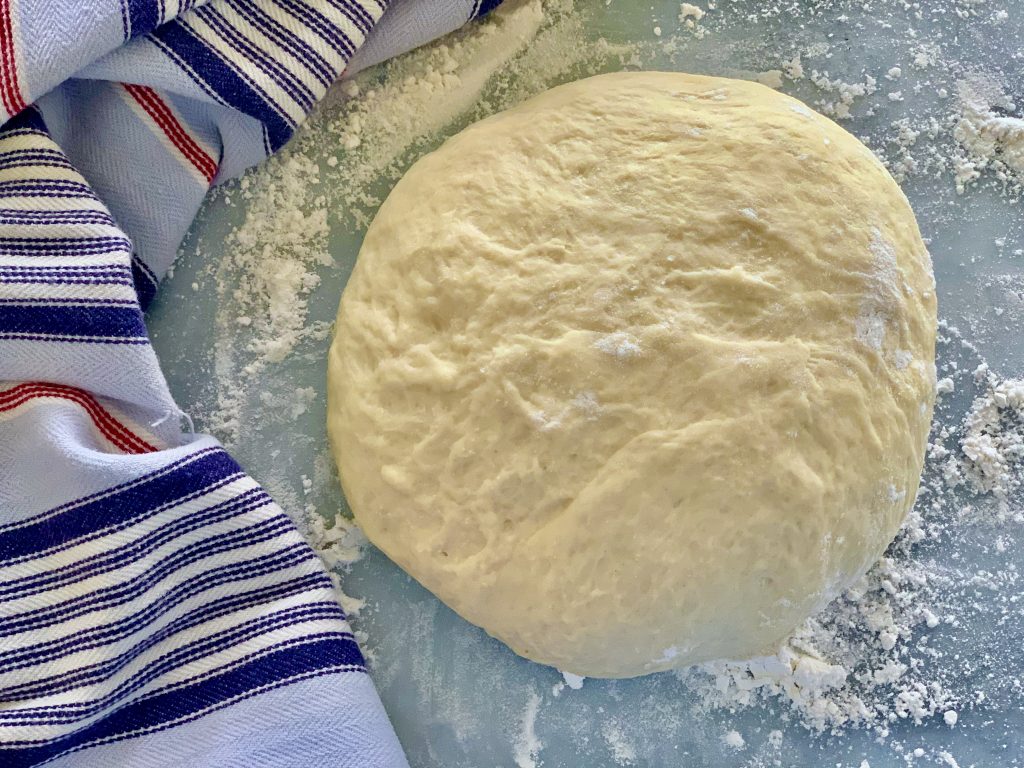 2 tablespoons olive oil (plus 2 teaspoons to oil the bowl)
1 tablespoon honey
1 ½ cups warm water (115 degrees)
1 packet yeast
2 teaspoons salt
3 ½ – 4 ½ cups flour
Place olive oil, honey, and water into the bowl of a stand mixer. Stir to dissolve honey into the water. Sprinkle the yeast on top of the liquid mixture, stir, and let sit for 5-10 minutes until yeast becomes foamy.
Add salt and 2 ½ cups of the flour. Mix using the dough hook attachment. Gradually add as much of the remaining flour as needed until a ball forms. Empty dough onto a floured countertop and knead for 8-10 minutes until dough is smooth and elastic adding flour as needed if sticky.
Place dough in a greased bowl and cover with a clean kitchen towel. Let rise in a warm spot for 1 hour until doubled in bulk. Knead dough briefly and divide into 2 equal parts and form balls. Let rest for 30 minutes under a clean kitchen towel. If you are not using both balls, refrigerate each ball in a plastic bag sprayed with cooking spray for up to 5 days.
Select multiple categories to narrow your search! Want appetizers made with chicken? Just select both Appetizers and Chicken!