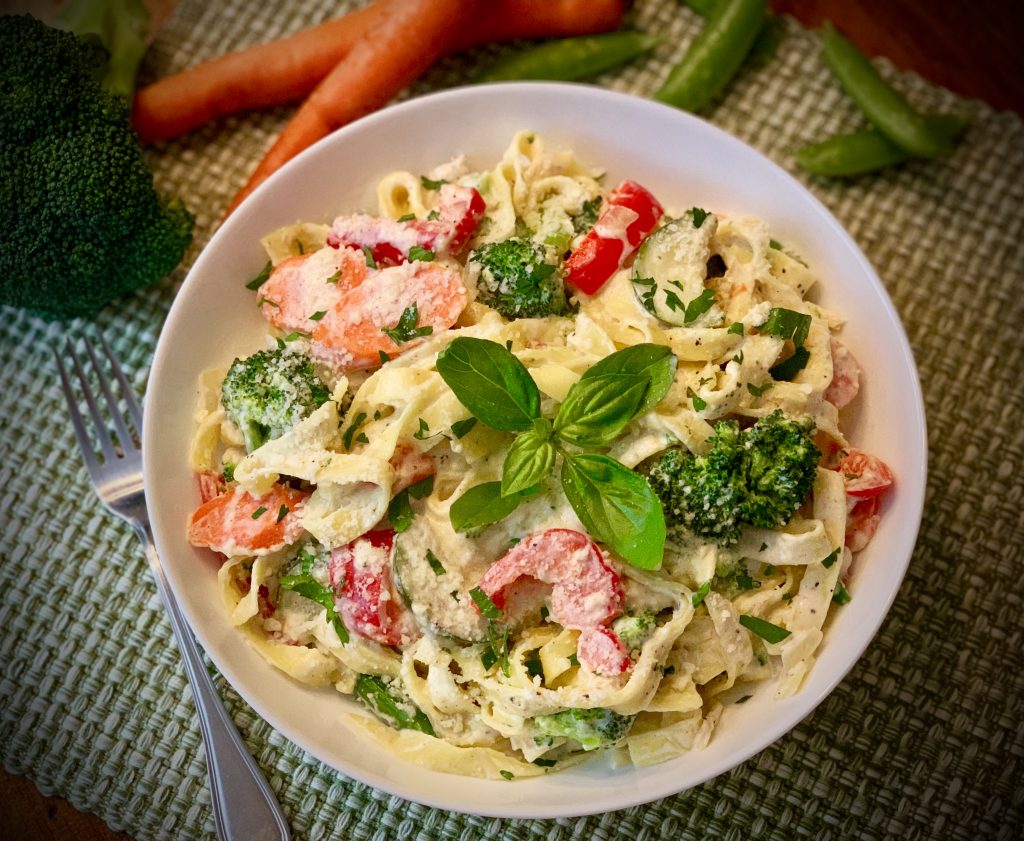 1 pound pasta, cooked al dente in salted water
3-4 cups broccoli florets
3-4 large carrots, peeled and sliced into thin rounds
1 red bell pepper, cut into strips and halved
3-4 tablespoon olive oil
3 tablespoon butter
1 large onion, chopped
6 large garlic cloves, chopped
1 large zucchini, sliced into half moons
2 pints heavy cream
1 8, ounce container grated parmesan cheese
½ cup shredded Mexican blend cheese
2 teaspoon granulated garlic powder
Salt and pepper to taste (at each step)
Preheat oven to 375 degrees.  Cover a large cookie sheet with foil.  Spread broccoli, carrots, and red peppers in an even layer.  Drizzle generously with olive oil and season with salt and pepper.  Toss with your hands until well coated.  Cover with another layer of foil and bake for 30 minutes while you prepare the rest of the dish and until the veggies are fork tender, but still have 'tooth'.
In a large sauce pan with sides, saute onion and garlic in butter until soft and fragrant.  Add zucchini and saute over high heat, stirring occasionally until lightly browned and tender.  Season with salt and pepper.
Add the heavy cream to the pan and let boil over high heat for about 10 minutes until it begins to reduce.  Add the carrots, broccoli, and red pepper to the sauce.  Let boil, stirring frequently for another 10 minutes and add the parmesan, shredded cheese, and garlic powder.   Add pasta and cook for 3-5 more minutes until pasta is well coated with creamy goodness!  Adjust for salt and pepper.
Serve with fresh salad (to make yourself feel better about all of that cream and cheese) and devour!!
Select multiple categories to narrow your search! Want appetizers made with chicken? Just select both Appetizers and Chicken!