PAN SEARED SCALLOPS WITH FENNEL TARRAGON CREAM SAUCE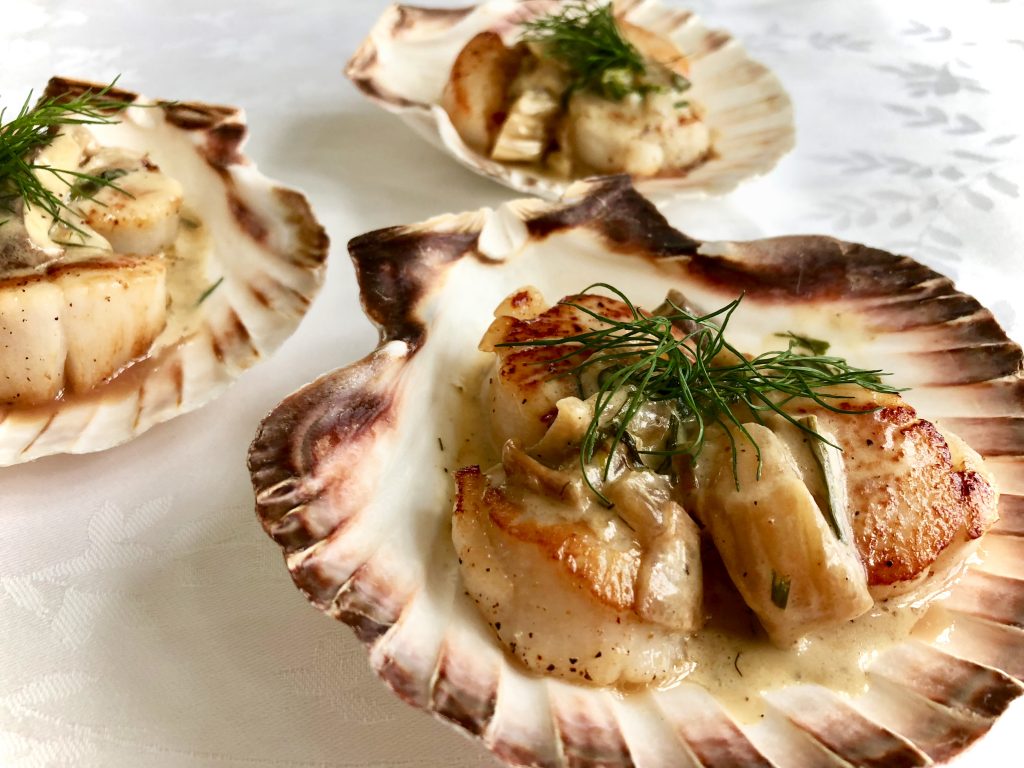 3 tablespoons butter
1 small onion, chopped
1 small fennel bulb, chopped (save fronds for garnish)
5 cloves garlic, peeled and chopped
1 pint shitake mushrooms, stems removed and caps cut into thin strips)
2 tablespoons fresh tarragon, chopped
2 teaspoons Sambuca liqueur (or other anise liqueur like Pernod)
1 pint heavy cream
1-pound dry packed sea scallops
3 tablespoons olive oil
Melt the butter in a large sauce pan.  Add the onions, fennel, and garlic to the pan and cook until fragrant and soft, stirring frequently, about 8 minutes.  Add the mushrooms and continue to cook for another 5 minutes.
Add the tarragon, Sambuca, heavy cream, and ½ teaspoon each of the salt and pepper to the pot and stir to combine.  Bring to a low boil and let cook for 5-7 minutes until sauce reduces to a creamy silky consistency that coats the back of a spoon.
While sauce is cooking away, completely dry the scallops and lay them out on paper towels.  Season them on both sides with the remaining salt and pepper.
Heat the olive oil in a large skillet to over medium high heat.  When the pan is smoking hot, add the scallops in a single layer, careful not to crowd.  Do not move them.  Cook 1 ½ – 2 minutes on the first side.  You can see they are ready to flip when a brownish crust forms and you can see the color on the edges as they cook.  Flip the scallops when they are golden brown and caramelized.  Cook for another minute on the other side.  Remove from the pan and cover with foil until ready to serve.  Do NOT overcook them.  This is a very quick process and medium rare in the middle for fresh scallops will give you juicy fabulous flavor!
Serve scallops topped with the cream sauce with crusty bread on the side for sopping up the extra sauce or over rice.  Garnish with fennel fronds…
Select multiple categories to narrow your search! Want appetizers made with chicken? Just select both Appetizers and Chicken!