OCEANS 97 CHEESY SHRIMP, ZUCCHINI, AND ASPARAGUS QUICHE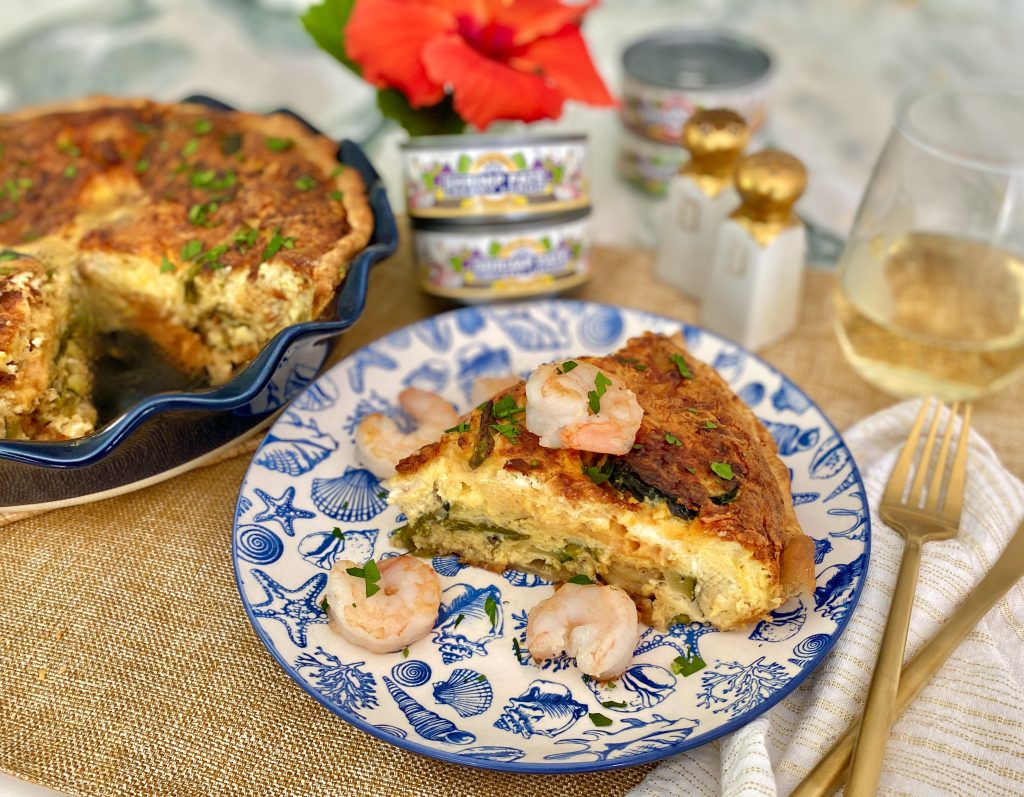 1 refrigerated pie crust for a 10" pie
3 tablespoons butter
1 leek, white and light green parts chopped (about 1 cup)
3 garlic cloves, chopped
1 small zucchini, cut into ½" thick half moons
½ pound medium (21/30) raw shrimp, peeled and deveined
8 eggs
1 ½ cups heavy cream
1 teaspoon salt
1 teaspoon black pepper
1 ½, 5-ounce cans Oceans 97 Lemon Shrimp Pate
¼ cup Boursin herb and garlic cheese
1 cup Jarlsberg cheese, shredded
Preheat oven to 375 degrees.
Roll the pie crust into a 14" circle on a lightly floured countertop.  Place the pie crust into a 10" pie plate and crimp the edges.  Poke the bottom of the crust with a fork to make small holes all over the bottom of the crust.
Melt the butter in a large skillet over medium high heat and cook the leeks and garlic until fragrant, about 2 minutes.  Add the zucchini to the pan and continue cooking, stirring frequently, until the zucchini is tender are lightly browned, about 4-5 minutes.
Blot the shrimp with paper towels to remove any excess moisture and add them to the pan and cook until they just turn pink.  Let cool slightly while you prepare the egg mixture.
Combine the eggs, heavy cream, salt, pepper, and one can of the shrimp pate in a medium bowl.  Vigorously whisk until everything is well combined.
Blot any excess moisture from the shrimp and veggies and place this mixture in the pie shell, taking care to evenly distribute them in an even layer.  Crumble the remaining half can of shrimp pate in chunks evenly over the shrimp mixture, then, do the same with the Boursin cheese.
Add the shredded Jarlsberg in an even layer.  Pour the egg mixture slowly over the top, using a fork to gently pull the cheese aside so the egg mixture can seep into all of the nooks and crannies.  At this point, I like to pull a few of the veggies and shrimp to the top of the eggs so the finished quiche looks 'pretty', but it will still be delicious if you skip this step.
Carefully place the quiche in the oven and bake for 55 minutes to 1 hour or until a knife inserted in the center comes out clean.  Check periodically to see if the top is getting very brown and tent with foil if so.
Let rest for 20-30 minutes.  Slice and DEVOUR!
Select multiple categories to narrow your search! Want appetizers made with chicken? Just select both Appetizers and Chicken!