MINI CHICKEN CORDON BLUE PUFFS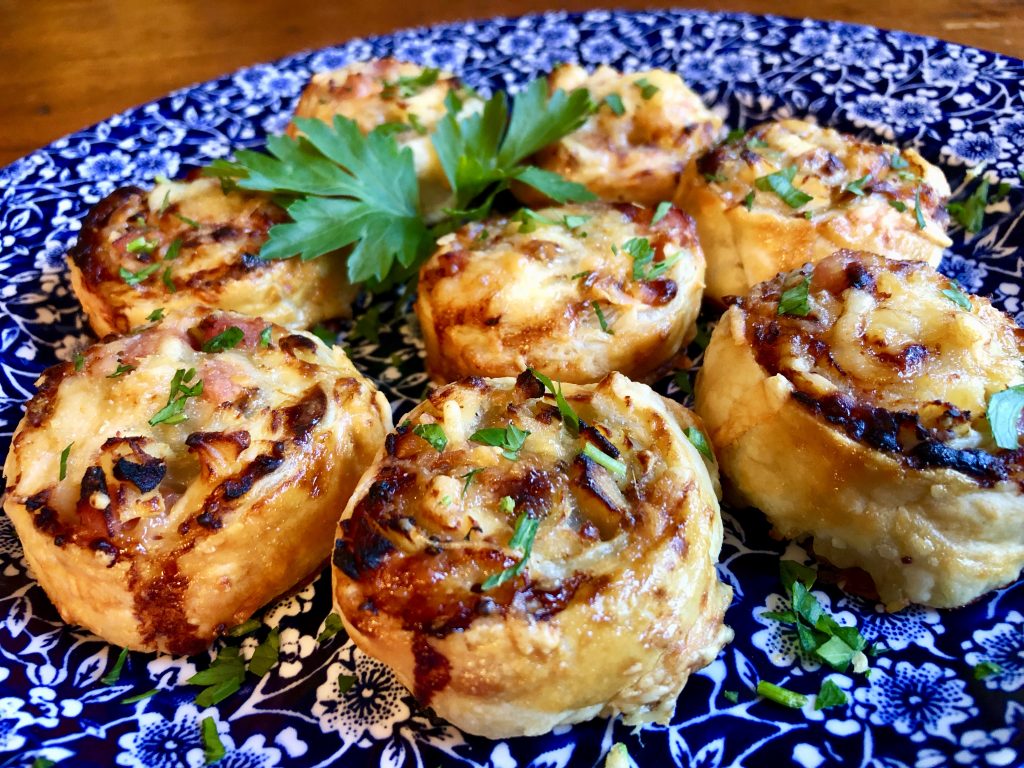 1, 17.3 ounce package puff pastry sheets (2 sheets), thawed
4 tablespoon grainy mustard
4 tablespoon honey
2 cups cooked chicken breast, chopped into small pieces
1 cup ham steak cut into ½" dice
2 ½ cups shredded Jarlsberg or Swiss cheese, shredded
1 teaspoon salt
1 teaspoon black pepper
1 egg, beaten
Preheat oven to 400 degrees.
Lightly flour your counter and unfold the thawed puff pastry sheets.  Roll each into 12" x 14" rectangle.
Combine the mustard and 2 tablespoons of the honey in a small bowl.  Spread this mixture evenly over the 2 sheets, all the way to the edges, leaving 1" on one end of the 12" side exposed.  Spread the chicken over the dough, followed by the ham, and two cups of the cheese.  Season evenly with the salt and pepper.
Starting with the 12" side that is not exposed, roll the dough, jelly-roll style, pushing any ingredients that fall out of edges back inside.  Brush the exposed edge with egg and seal the roll tightly.
Using a serrated knife, cut the roll into 12, 1" rounds taking care not to crush when cutting. Place each roll, cut side up, on a foil lined baking sheet that has been sprayed with non-stick cooking spray.  Brush the exposed each round on the sides and top with the egg wash.  Sprinkle with remaining cheese and drizzle with the remaining honey.
Bake for 20-30 minutes until puffed and golden brown.
Select multiple categories to narrow your search! Want appetizers made with chicken? Just select both Appetizers and Chicken!