MILLIONAIRES SPAGHETTI SQAUSH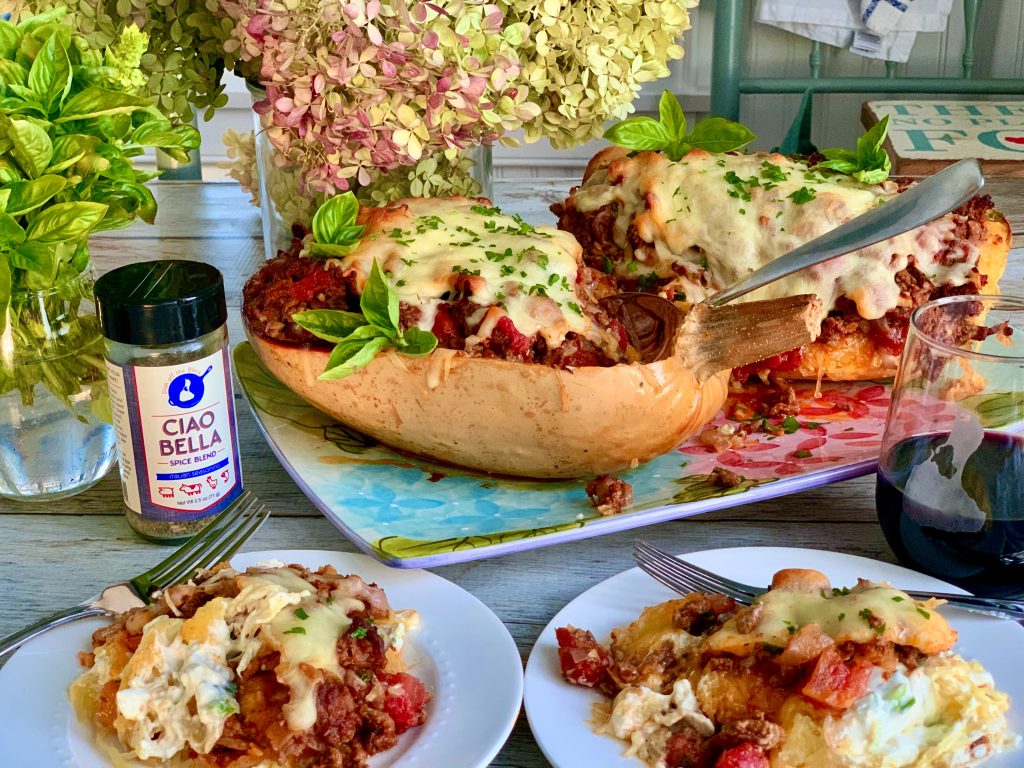 The Squash:
2 medium-large spaghetti squash, about 3 pounds each
¼-⅓ cup olive oil
1 teaspoon salt
1 teaspoon black pepper
5 tablespoon butter, softened
1 cup grated Parmesan cheese
The Meat Sauce:
1.5 – 2 pounds ground beef or Italian sausage (or mix)
1 large onion, chopped
6 cloves garlic, peeled and chopped
1 cup spaghetti sauce (your favorite brand or homemade)
1, 14. 5 ounce can chopped tomatoes
2 teaspoons Dish off the Block Ciao Bella Italian Spice Blend
1 teaspoon salt
1 teaspoon black pepper
The Filling:
1, 8 ounce package cream cheese, softened
1 cup cottage cheese
1 cup sour cream
1 bunch scallions, chopped (about ¾ cup)
⅓ cup green pepper, chopped
The Topping and Garnish:
2 cups shredded mozzarella or Italian blend cheese
2 tablespoon fresh parsley or basil leaves, chopped
Heat oven to 400 degrees.
Cut the spaghetti squash in half and remove all of the seeds in the center by scraping them out with a spoon. Place, cut-side-up on a foil-lined baking sheet and drizzle generously all over with the olive oil, then season with the salt and pepper.  You may need a little more or less oil and seasoning depending on the size of your squash.
Once seasoned, place them cut-side-down on the baking sheet and bake for 1 hour or until they are very tender when a knife is inserted on the cut side and the flesh shreds very easily with a fork, all the way to the shell.  Again, depending on the size of your squash, cooking time will vary, so just keep checking, starting at about 50 minutes.
When the squash is done, let cool until you can handle.  Turn the squash over and shred the flesh with two forks into 'spaghetti' all the way to the base of the shell.  Place all of the shredded squash in a large bowl and toss it with the butter and parmesan cheese.
Reduce the oven temperature to 350 degrees.
While the squash is cooking, make the meat sauce.  Combine ground beef and/or sausage with the chopped onion and garlic in a large deep skillet and cook until cooked through, about 10-12 minutes. Add spaghetti sauce, chopped tomatoes, Italian seasoning, salt, and pepper. Continue to simmer, stirring occasionally, letting any excess liquid cook off.
In a medium size bowl, mix softened cream cheese, cottage cheese, sour cream, scallions, and green pepper.
To assemble the 'casserole', you have 2 choices.  You can either put the ingredients back into the squash shells for a swanky presentation OR you can assemble in a 9" x 13" baking dish (coated with non-stick spray). It is just as delicious either way!
Spread HALF of spaghetti squash mixture in the bottom of the squash shells (I usually only use 2 of the squash shells and discard the other 2) or casserole dish. Season with salt and pepper.  Top with the cream cheese/scallion mixture and cover evenly using a rubber spatula. Spread the remaining squash over the cream cheese mix and again season with salt and pepper.
Top evenly with the meat sauce.  Spread the shredded cheese on top.
Bake for 35-45 minutes until the cheese is lightly browned and the casserole(s) is hot and bubbly.
Serve hot, garnished with basil and chopped parsley.
Select multiple categories to narrow your search! Want appetizers made with chicken? Just select both Appetizers and Chicken!