LOBSTER PASTA WITH ASPARAGUS AND PEAS IN SHERRY CREAM SAUCE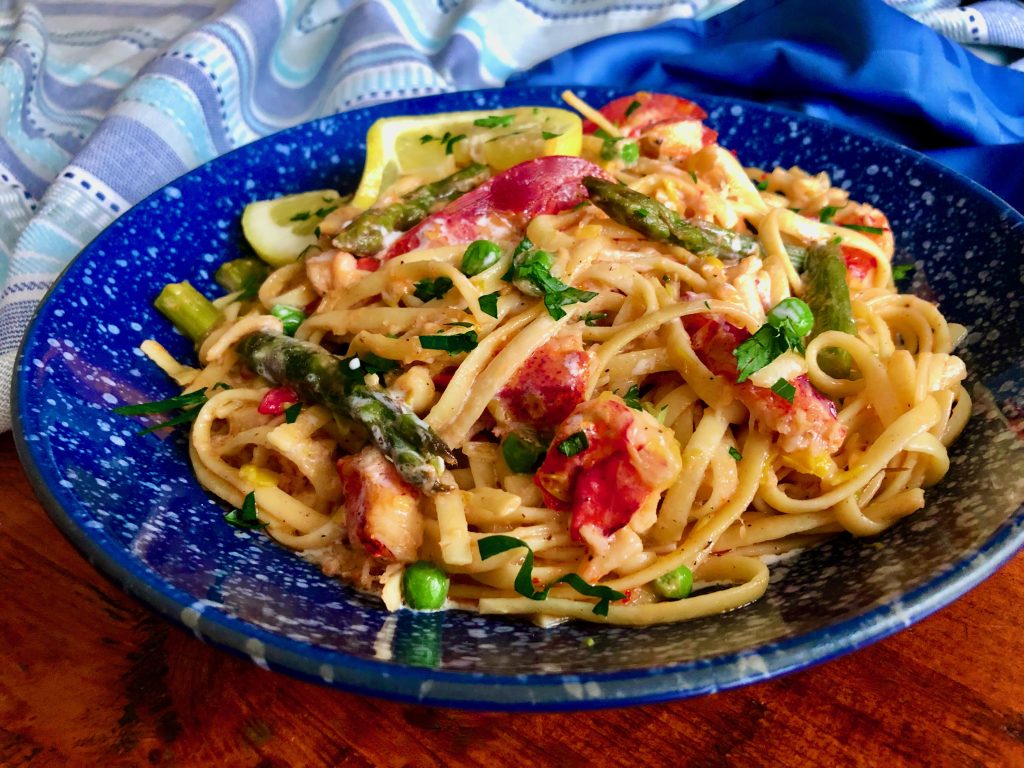 4 tablespoons butter
1 leek, white and light green parts chopped
6 cloves garlic, chopped
½ cup sherry
1 cup lobster or seafood stock
2 cups heavy cream
1 teaspoon salt
1 teaspoon black pepper
1 teaspoon garlic powder
2 tablespoons tomato paste
1 cup parmesan cheese
1 bunch asparagus
1 cup frozen peas, thawed
3 cups cooked lobster meat, cut into bite size pieces
½ cup flat leaf parsley, chopped
1-pound linguini pasta, cooked al dente
Melt the butter in a large deep skillet over medium heat.  Sauté the leek and the garlic until soft and fragrant, stirring frequently, about 3-4 minutes.  Add the sherry to the pan and let cook for 1 minute, letting the sherry reduce slightly.  Add the stock, heavy cream, salt, pepper, and garlic powder to the pan.  Bring to a low boil, stirring occasionally, letting the sauce begin to reduce, about 5 minutes.
Add the tomato paste to the pan whisking to fully combine.  Gradually add the parmesan, ¼ cup at a time, whisking constantly to fully combine.
Cut the woody ends off the asparagus (about 3-4") and discard.  Chop the remaining part of the stocks into 2-3", bite size pieces and add them to the sauce.  Continue to cook for another 3-4 minutes until the asparagus is just tender.  Note – this timing will vary a bit depending on the thickness of your asparagus.  If the stocks are really thick, cook a little longer and if they are very thin, cook a little less.  You want them to be crisp tender.
Finally, add the peas and lobster meat to the sauce, stirring to combine.  Add your pasta to the pot and toss with the sauce to fully coat.  Garnish with parsley and serve with additional parmesan on the side.  DEVOUR!
Select multiple categories to narrow your search! Want appetizers made with chicken? Just select both Appetizers and Chicken!