LEFTOVER PRIME RIB – BEEF BARLEY SOUP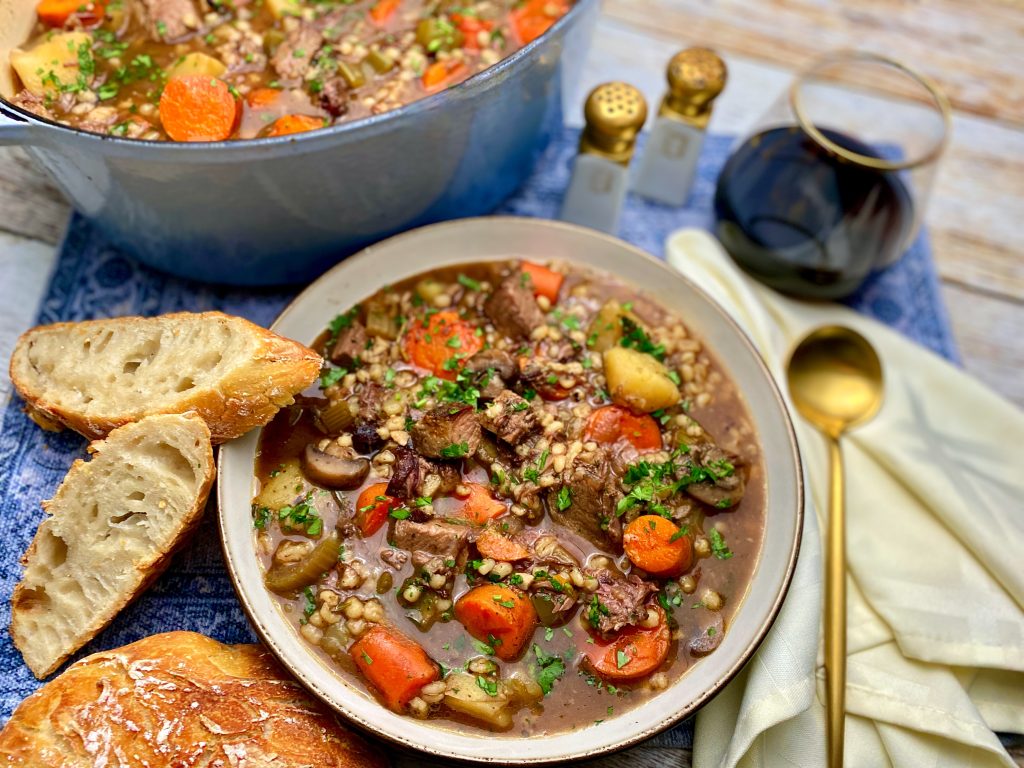 1 tablespoon olive oil
4-6 rib bones from prime rib roast (with some meat and fat left on them)
2 medium-large onions, chopped
2 cups celery, chopped
8 large garlic cloves, chopped
¼ cup fresh rosemary leaves, stemmed and chopped
12 sprigs of fresh thyme, tied together with kitchen string
1 teaspoon Dish off the Block Ciao Bella Italian Spice Blend
1 teaspoon salt
1 teaspoon black pepper
2 cups red wine
6 cups beef stock
4 cups water
1 tablespoon tomato paste
8-ounces cremini mushrooms, sliced
4 large Yukon gold potatoes, skin scrubbed under cold water and cut into 2" chunks (about 4 cups)
4 large carrots, skin scrubbed under cold water and cut into 2" chunks (about 4 cups)
1 cup raw pearl barley
2 cups chopped leftover prime rib (including what comes of the bones after cooking the broth)
2 tablespoons fresh parsley, chopped
Heat the olive oil in a large Dutch oven (6-8 quarts) or soup pot over medium high heat.  Add the bones from the prime rib and sear for 2-3 minutes on each side, allowing some of the fat to render from the bones.
Add the onions, celery, garlic, rosemary, thyme, and Italian seasoning to the pan with the ribs.  Cook, stirring frequently for 8-10 minutes until the onions and celery are soft and fragrant.  Add the salt, pepper, and red wine to the pan.  Bring to a boil and continue cooking, scraping up all of the brown bits on the bottom of the pan.
Add the stock, water, tomato paste, and mushrooms to the pan.  Bring to a boil. Reduce to a simmer and cover the pot, leaving a small area uncovered as a vent for some steam to escape.  Cook for 2-3 hours, stirring occasionally.  After the first hour, skim the fat off the top of the broth and repeat this process every 20-30 minutes.
After 2-3 hours, remove the beef bones from the broth and set aside to cool.  Add the potatoes and carrots to the pot.  Bring back to a boil and, then reduce to a low boil.  Cover, leaving a space for steam to escape and cook for 30 minutes until potatoes and carrots are almost fork tender.
Remove the meat from the cooled bones and cut into bite-size pieces, discarding any excess fat.  Add the barley and meat (from the bones and additional leftover bite size chopped meat to make about 2 cups) to the pot.  Bring to a low boil again and cover leaving a small opening to let the steam escape.  Continue to occasionally skim any fat off the top of the soup.  Cook for 1 hour, stirring occasionally, until the barley is plump and tender.  Serve hot in bowls, garnished with parsley.
This soup will make your house smell amazing and can simmer on the stove for most of the day.  If you don't have leftover prime rib bones, you can use short ribs and other leftover beef.
Select multiple categories to narrow your search! Want appetizers made with chicken? Just select both Appetizers and Chicken!