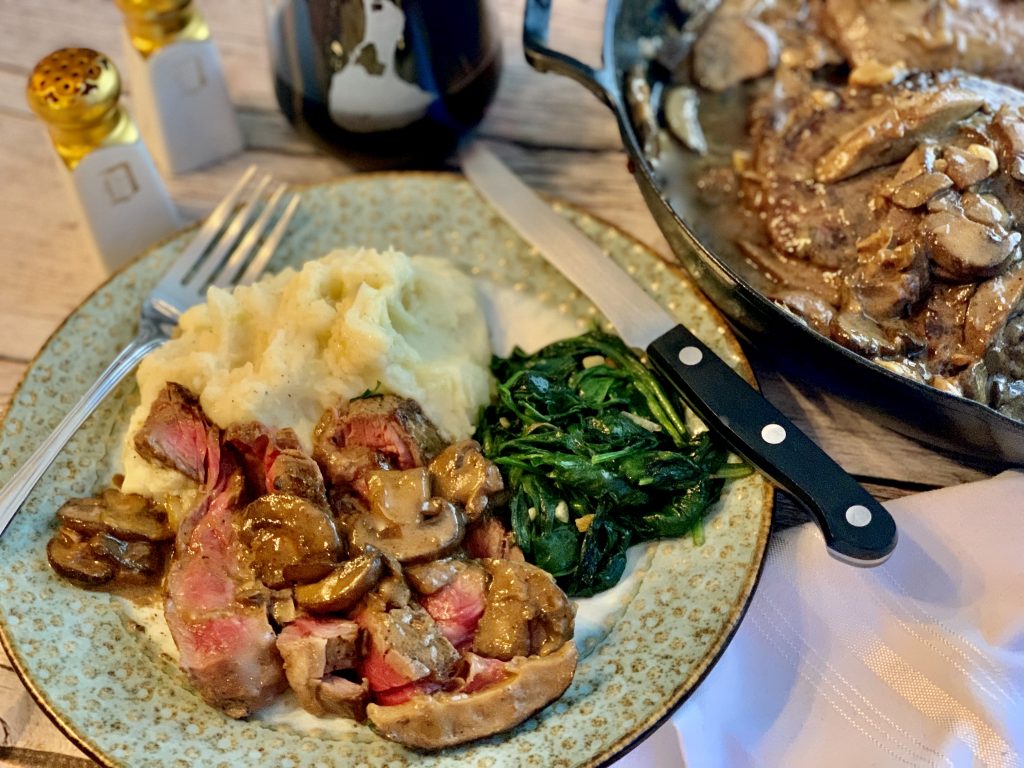 2 tablespoon olive oil
2 pounds beef tenderloin steaks
1 ½ teaspoon salt
1 ½ teaspoon black pepper
4 tablespoon butter
1 large shallot, chopped fine
6 garlic cloves, peeled and chopped fine
10 ounce mushrooms, sliced
½ cup beef stock
1 tablespoon Worcestershire
1 teaspoon Dijon mustard
⅓ cup cognac or brandy
1 cup heavy cream
2 tablespoon flat leaf parsley, chopped
Heat olive oil in a large cast iron skillet over medium high heat until very hot and the oil is almost smoking.
Pound the steaks to 1" thickness and season them liberally with salt and pepper on both sides.  Place them in the hot skillet and sear on each side, about 2-3 minutes.  Do not fuss with them so they get a good hard sear.  Remove them from the skillet and cover with foil.
Add the butter to the same skillet and sauté shallots and garlic until fragrant.  Add the mushrooms and cook until soft, stirring frequently.  Add the beef stock, Worcestershire, and mustard to the pan and cook for 2-3 minutes until the liquid is reduced by half.
Add the cognac or brandy to the pan and carefully set it on fire with a long lighter.  When the flame goes out add the cream.  Bring to a low boil and cook for an additional 3-4 minutes until thick and luscious.
Add the steaks back into the pan and cook until the internal temperature reaches 135 degrees for medium rare, 1-2 minutes depending on size of steaks.
Serve 1 filet topped with mushroom sauce over mashed potatoes, garnished with parsley and with sautéed garlic spinach on the side.
Select multiple categories to narrow your search! Want appetizers made with chicken? Just select both Appetizers and Chicken!