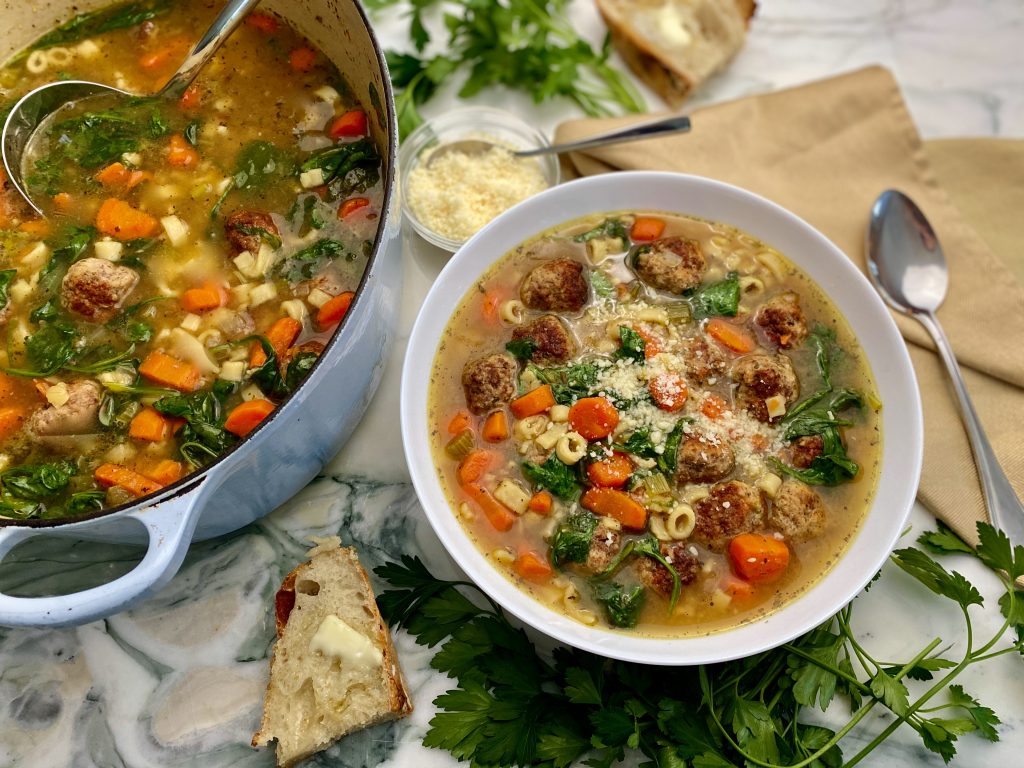 The Meatballs:
1-pound 85/15 ground beef
1-pound ground pork
2 eggs, beaten
1 teaspoon salt
1 teaspoon black pepper
2 teaspoons Dish off the Block Ciao Bella Spice Blend
½ cup parmesan cheese
¾ cup Italian breadcrumbs
3 tablespoons olive oil
The Soup:
1 tablespoon olive oil
1 small onion, chopped
3 garlic cloves, chopped
1 cup celery chopped
2 teaspoons Dish off the Block Ciao Bella Spice Blend
4 cups carrots, peeled and chopped into ½" pieces
10 cups chicken stock
1 cup dry dilitani or acini de pepe pasta
3 cups fresh baby spinach leaves, packed
Parsley for garnish
Grated parmesan cheese for sprinkling on top
To make your meatballs combine all of the ingredients, except for the olive oil, in a large bowl.  Massage everything together with your hands until well combined, but do not over mix.  Form into small meatballs, about 1 ½" in diameter.  This recipe should make about 55-60 meatballs.  Spoiler alert – this soup is LOADED with meatballs, but my family can't get enough.  You can half this recipe and still have a robust soup or you can freeze half of the meatballs for your next batch!
Heat the olive oil in a large skillet over medium high heat.  Working in batches sear the meatballs on all sides, about 2 minutes per side.  They do not need to be cooked through.  Do not crowd the pan.  Remove them to a plate and set aside.
Heat the olive oil in a large Dutch oven or soup pot (about 7 quarts) over medium high heat.  Add the onion, garlic, celery and cook for 3-4 minutes until they are fragrant and begin to soften.  Add the Italian seasoning to the pan and cook for 1 minute more, stirring to coat.
Add the carrots and chicken stock to the pot and bring to a boil.  Reduce to a simmer and cover, leaving a small opening for some steam to escape.  Cook for 45 minutes to 1 hour until carrots are soft.  Add the pasta and meatballs to the pan and bring back to a low boil.  Cook for about 10-15 minutes until the pasta is tender. Add the spinach to the pot just before serving and cook for 1 minute until wilted.
Serve the soup, hot, in bowls, garnished with parsley and with parmesan cheese on the side for sprinkling and a nice slice of crusty bread… oh, and a glass of wine wouldn't hurt!!
Select multiple categories to narrow your search! Want appetizers made with chicken? Just select both Appetizers and Chicken!