INFUSED TRUFFLE HONEY SALMON CAKE SALAD WITH PICKLED ONIONS AND TRUFFLE HONEY VINAIGRETTE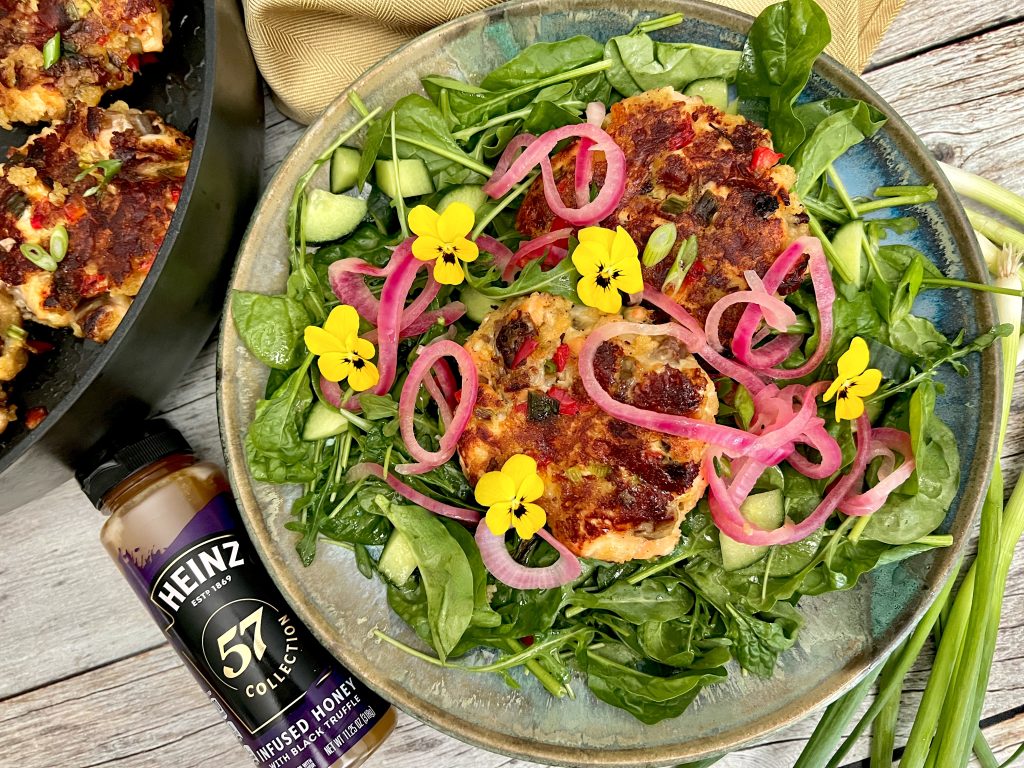 The Pickled Onions:
1 cup apple cider vinegar
¾ cup water
¼ cup Heinz 57 Collection Infused Honey with Black Truffle
¼ teaspoon salt
1 red onion, sliced into thin rings
The Dressing:
¼ cup Heinz 57 Collection Infused Honey with Black Truffle
¼ cup olive oil
¼ cup raspberry vinegar
1 ½ tablespoons Dijon mustard
The Patties:
1 ¼ pounds salmon filet, skinned
½ cup scallions, chopped
⅓ cup red bell pepper, chopped
⅓ cup Heinz 57 Collection Infused Honey with Black Truffle
1 teaspoon salt
½ teaspoon black pepper
2 eggs, beaten
1 ¼ cups panko breadcrumbs
1 cup shredded mozzarella cheese
3 tablespoons olive oil
The Salad:
5 ounces mixed greens
1 small English cucumber, chopped
2-3 tablespoons Heinz 57 Collection Infused Honey with Black Truffle
To make the pickled onions, combine the vinegar, water, honey, and salt in a pan and bring to a boil.  Stir dissolve the honey.  Pour the hot liquid into a large jar and add onions.  Shake so that everything is covered with the liquid.  Shake occasionally while you prepare the rest of the meal to ensure the onions are all evenly coated.
To make the dressing, combine the honey, olive oil, vinegar, and Dijon into a jar and shake vigorously to emulsify.  Set aside.
To make the salmon cakes, chop the salmon into 1" pieces and place in a large bowl with the scallions, red bell pepper, honey, salt, black pepper, eggs, panko, and shredded mozzarella.  Mix everything together with your hands until well combined and form the mixture into 5-6 patties.
Heat the olive oil in a large non-stick skillet over medium heat.  Add the patties to the hot and cook for 3-4 minutes on the first side until golden brown.  Flip and cover the pan.  Cook for an additional 2-3 minutes until the patties are cooked through.
Toss the greens and cucumbers in a large bowl with ¼ cup of the dressing.  Gradually add more dressing as desired.  Place 2 cups of the salad on a serving plate.  Top with 1-2 salmon cakes (you will want a second one – trust me) and several of the pickled onions.  Drizzle another tablespoon of that amazing honey over the top and DEVOUR!
Crunchy on the outside – flaky and cheesy inside, these luscious salmon cakes have craveable infused honey with black truffle deliciousness in every bite.  They are served over greens dressed with honey truffle vinaigrette and topped with honey truffle pickled onions. Yum!!
Select multiple categories to narrow your search! Want appetizers made with chicken? Just select both Appetizers and Chicken!