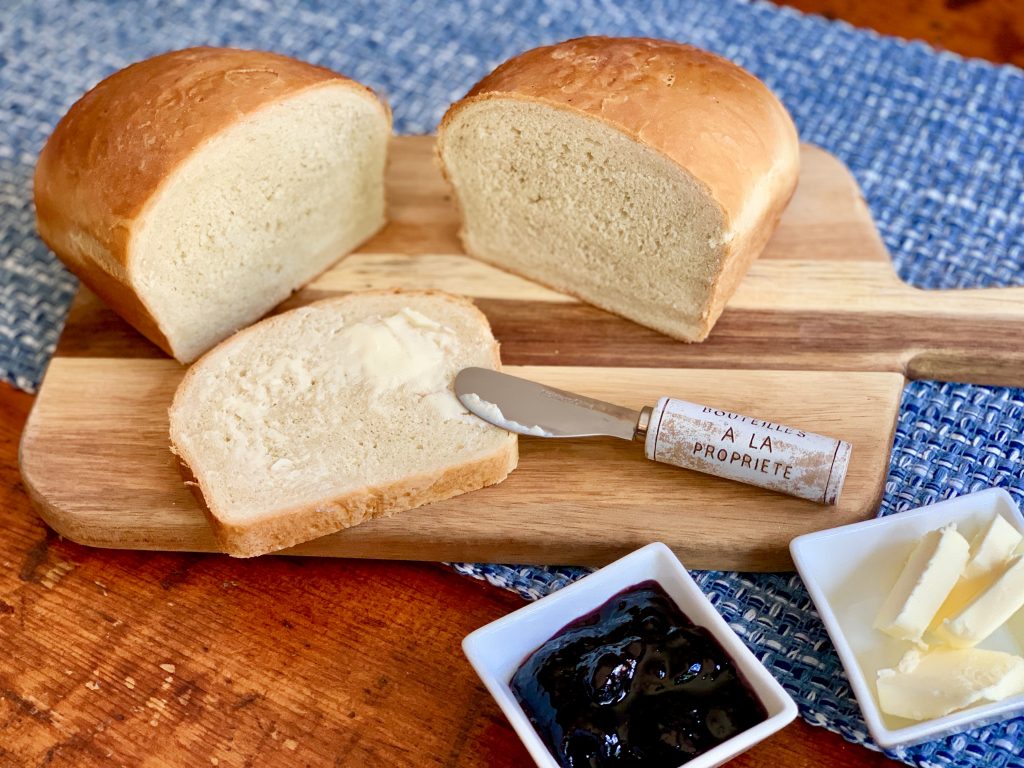 2 cups warm water (115-120 degrees)
½ cup sugar
2 packets active dry yeast
2 teaspoons salt
¼ cup olive oil
5-6 cups flour
2 tablespoon butter, melted
Combine the water and sugar in the bowl of a stand mixer and stir to dissolve the sugar.  Add the yeast and let sit for 5 minutes until the yeast is foamy.
Add the salt, oil, and 3 cups of the flour to the bowl and, using the dough hook attachment, place the mixer on medium low speed.  Gradually, continue adding more flour to the bowl until the dough forms a ball. Scrape down the sides of the bowl and let the machine knead the for 5-7 minutes, adding flour as needed to keep the dough from sticking to the sides.
Remove the dough from the mixer and kneed by hand for another 5 minutes.  Place in a greased bowl covered with a clean dish towel and let rise for 1 hour, until doubled in bulk.
Punch the dough down and divide into 2 equal parts.  Roll the dough into a 1" thick square.  Fold in the sides and ends to create a loaf shape and place, seam-side down, in greased loaf pans.  Cover and let rise for 45 minutes.
Preheat oven to 350 degrees. Bake for 40 minutes until golden. Remove from oven and brush the tops with melted butter.  Let rest 20 minutes before cutting…. If you can wait that long!
Select multiple categories to narrow your search! Want appetizers made with chicken? Just select both Appetizers and Chicken!