HERB AND PARMESAN CRUSTED PORK CUTLETS OVER WHITE BEAN RAGOUT WITH SHIITAKE PARMESAN CREAM SAUCE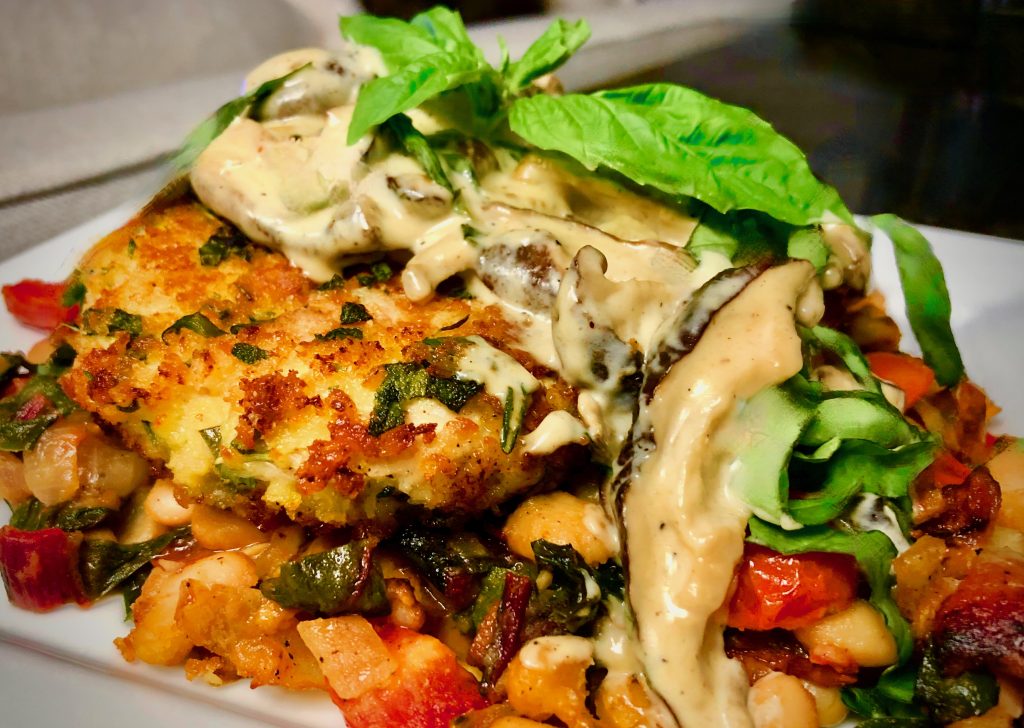 The Chops:
2-2 ½-pounds boneless pork tenderloin chops (this could also be done with boneless chicken breasts)
1 teaspoon salt
1 teaspoon black pepper
1 ½ cups panko bread crumbs
¾ cup finely shredded parmesan cheese
2 tablespoons fresh rosemary leaves, stemmed and chopped
2 tablespoons fresh sage leaves, stemmed and chopped
2 tablespoons fresh thyme leaves, stemmed and chopped
¼ cup fresh basil leaves, stemmed and chopped
2 eggs
¼ cup olive oil (plus more as needed for frying)
The Ragout:
4 slices thick cut bacon
1 large onion, chopped
5 garlic cloves, chopped
¼ cup chicken stock
2, 15-ounce cans white cannellini beans, drained and rinsed
1 pint grape tomatoes, cut in half
3 cups rainbow Swiss chard, stemmed and chopped (spinach or kale would also work here)
½ teaspoon salt
½ teaspoon black pepper
The Sauce:
2 tablespoons olive oil
1-pound shitake mushrooms, stems removed and caps sliced
5 garlic cloves, chopped
½ cup chicken stock
1 cup heavy cream
½ teaspoon salt
½ teaspoon black pepper
⅓ cup grated parmesan cheese
¼ cup chopped fresh basil leaves
Basil leaves for garnish
Preheat oven to 350 degrees.
Place the pork chops into a large ziplock back and pound to ½" thick cutlets.  Season on both sides with the salt and pepper.
Create a dredging station.  Place the panko, parmesan, rosemary, sage, thyme and basil into a shallow baking dish or pie plate and toss to combine.
Beat the eggs in another shallow dish.
Dip each pork cutlet into the egg first and then into the herbed crumbs, pressing to adhere.
Heat the ¼ cup of oil in a large frying pan (adding more as needed) over medium high heat.  Add the cutlets to the hot oil and fry until golden brown, about 2 minutes per side.
Place cutlets on a foil lined baking sheet and place in the oven until just cooked through, about 8-12 minutes depending on the size of the chops.
Add the 4 slices of bacon to the pan drippings and cook until crisp.  Remove bacon (leaving the rendered fat) and add the onions and garlic to the pan.  Sauté until soft and fragrant, about 2 minutes.  Chop the bacon and add back into the pan along with chicken stock, beans, tomatoes, Swiss chard, salt and pepper.  Toss to combine until the Swiss chard has wilted and place in a baking dish.  Place in the oven to keep warm until ready to serve.
Still using the same pan, add the additional 2 tablespoon olive oil to the pan and the mushrooms and garlic for the sauce.  Cook until the mushrooms are very soft and start to lightly brown.  Add the chicken stock and cook for one minute until mostly absorbed.  Add the heavy cream, salt, black pepper and bring to a boil.  Slowly add the parmesan cheese and turn off the heat.  Stir in the fresh basil.
Serve pork cutlets over the white bean ragout topped with the creamy amazing mushroom sauce.  Garnish with more fresh basil… DEVOUR!!
Select multiple categories to narrow your search! Want appetizers made with chicken? Just select both Appetizers and Chicken!