HEALTHY FLOUNDER MILANESE WITH LEMON SAUCE OVER BROWN RICE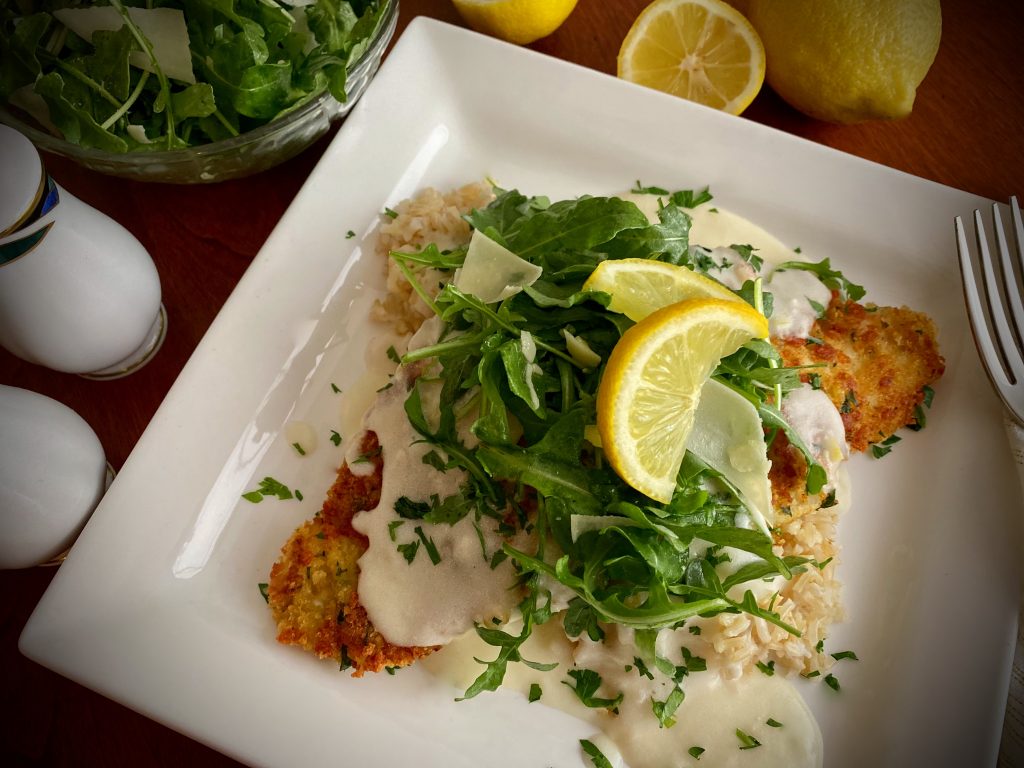 Sauce
2 tablespoons butter
2 tablespoons flour
½ cup fat free half & half
½ cup dry white wine
½ cup chicken broth
1 tablespoon lemon zest
2 tablespoons fresh squeezed lemon juice
¼ teaspoon salt
Fish
2 pounds flounder filets, skinned (or other tender white fish such as sole, swan, tilapia, haddock, etc..)
¼ teaspoon salt
¼ teaspoon black pepper
½ cup flour
2 eggs
½ cup grated parmesan cheese
½ cup panko breadcrumbs
½ cup Italian breadcrumbs
¼ cup fresh parsley, chopped
2 tablespoons olive oil
Salad and Rice
2 cups baby arugula leaves
¼ cup shaved parmesan cheese
2 teaspoons fresh squeezed lemon juice
1 teaspoon olive oil
4 cups cooked brown rice, cooked to package directions
To make the sauce, melt the butter in a large saucepan and whisk in the flour until a roux forms. Cook, whisking for 1 minute.  Add the wine and chicken stock to the pan and cook over medium high heat for 2 minutes until it begins to thicken.  Add the half and half, lemon zest, lemon juice, and salt to the pan and continue to cook, whisking until a thick velvety sauce forms, about 2 minutes.  Keep warm until ready to plate.
Remove your flounder filets from the packaging and blot dry with paper towels.  Season evenly with the salt and pepper.
Create a breading station by placing the flour in one pie plate or shallow baking dish.  Beat the eggs in another dish and combine the grated parmesan, panko, Italian breadcrumbs, and chopped parsley in a third dish.
Heat the olive oil in a large non-stick frying pan over medium high heat and preheat oven to 300 degrees.
Coat each filet in flour, shaking off excess, and then dip in the egg and finally press into the breadcrumb mixture until evenly coated.  Add to the hot oil in batches, careful not to crowd the filets.  Cook 3-4 minutes on the first side until golden brown and then flip and cook for 2-3 minutes on the other side until the fish is just cooked through (a fork will slide in and out of the center easily).  Transfer cooked fillets to a foil-lined baking sheet and keep warm until ready to serve.
To make the salad, place the arugula and shaved parmesan in a small bowl and drizzle with the lemon juice and olive oil and toss to evenly coat.
To serve, place ½ cup of the cooked rice in the center of the plate and top with a 4 ounce piece of the fish.  Drizzle with the lemon sauce and top with a mound of the salad.
---
Calorie Count:
Sauce
2 tablespoons butter – 200
2 tablespoons flour – 55
½ cup dry white wine – 100
½ cup chicken stock – 2.5
½ cup fat free half and half – 160
1 tablespoon lemon zest – 3
2 tablespoons lemon juice – 6
Total: 526.5 (65.81 per serving)
Fish
2 pounds flounder fish filet – 420
½ cup flour – 220
2 eggs – 140
½ cup parmesan cheese – 200
½ cup panko breadcrumbs – 220
½ cup Italian breadcrumbs – 150
¼ cup fresh parsley – 4
2 tablespoons olive oil – 240
Total – 1,594 (199.25 per serving)
Salad and Rice
2 cups arugula – 10
2 teaspoon lemon juice – 2
1 teaspoon olive oil – 20
¼ cup shaved parmesan cheese – 100
4 cups brown rice – 720
Total: 852 (106.5 per serving)
Total calories per serving: 371.56
Select multiple categories to narrow your search! Want appetizers made with chicken? Just select both Appetizers and Chicken!