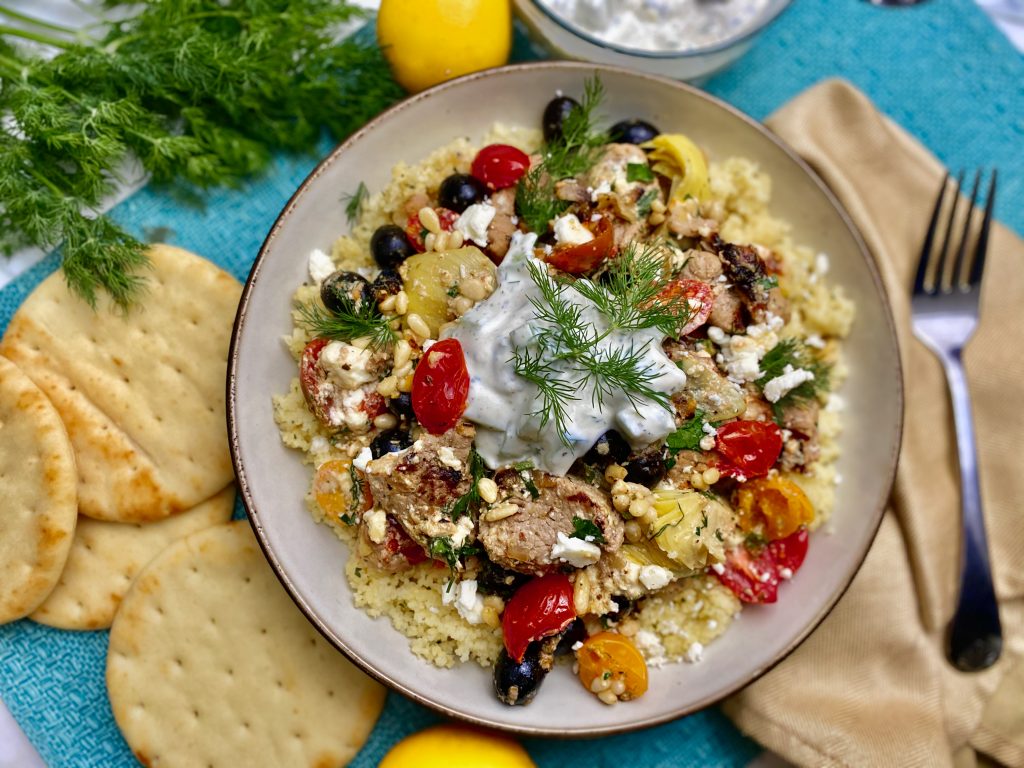 The Marinated Pork:
¼ cup olive oil
1 tablespoon lemon zest
¼ cup lemon juice
¼ cup red wine vinegar
4 cloves garlic, minced
1 tablespoon dried oregano
½ teaspoon dried thyme
1 teaspoon salt
1 teaspoon black pepper
2-pounds pork tenderloin, cut across the grain into 2-3" kabobs
The Tzatziki Sauce:
1 cup plain Greek yogurt
2 garlic cloves, minced
1 tablespoon fresh dill, chopped
½ teaspoon salt
¼ teaspoon black pepper
1 small cucumber, seeded and chopped into ¼ dice
1 tablespoon lemon juice
The Veg:
1 tablespoon olive oil
1 large onion, chopped
6 garlic cloves, chopped
1, 14-ounce can quartered artichoke hears
1 cup Kalamata olives (or regular black olives)
1-pint cherry or grape tomatoes, cut in half
2 tablespoons fresh dill, chopped
¼ cup fresh parsley, chopped
¼ cup pine nuts
8-ounces feta cheese
2, 10-ounce boxes Near East couscous, cooked to package directions
Pita bread
Combine all of the tzatziki ingredients in a small bowl and stir to combine.  Cover and refrigerate for flavors to meld until ready to serve, preferably at least 1 hour.
Combine all of the marinade ingredients in a medium bowl and whisk to combine.  Add the pork to the bowl and toss well to coat.  Cover with plastic wrap and place in the fridge for 3-4 hours or overnight.  Remove from fridge 1 hour before cooking to allow the pork to come to room temperature.
When you are ready to cook, you can either cook the marinated pork kabobs on a very hot grill pan or you can put them on skewers and cook on your outdoor grill.  Reserve any extra marinade that is leftover for your veggies.  Cook the pork about 2-3 minutes per side until just cooked through, about 8-10 minutes total.  The pork will be slightly pink in the center, about 140-145 degrees.  Set aside and cover with foil to keep warm.
Heat the olive oil in a large deep skillet and cook onion and garlic until fragrant, about 2-3 minutes, stirring frequently.  Add the artichokes, olives, tomatoes, dill, parsley, and pine nuts to the pan along with the remaining marinade from the pork.  Cook for one minute over medium high heat, tossing to coat.  Add the cooked pork kabobs to the skillet and toss again to coat.  Crumble the feta all over top.
Serve over couscous, topped with tzatziki sauce and with pita on the side.  Garnish with more feta and dill sprigs.
Select multiple categories to narrow your search! Want appetizers made with chicken? Just select both Appetizers and Chicken!