FRENCH ONION PORK CHOPS AND ZUCCHINI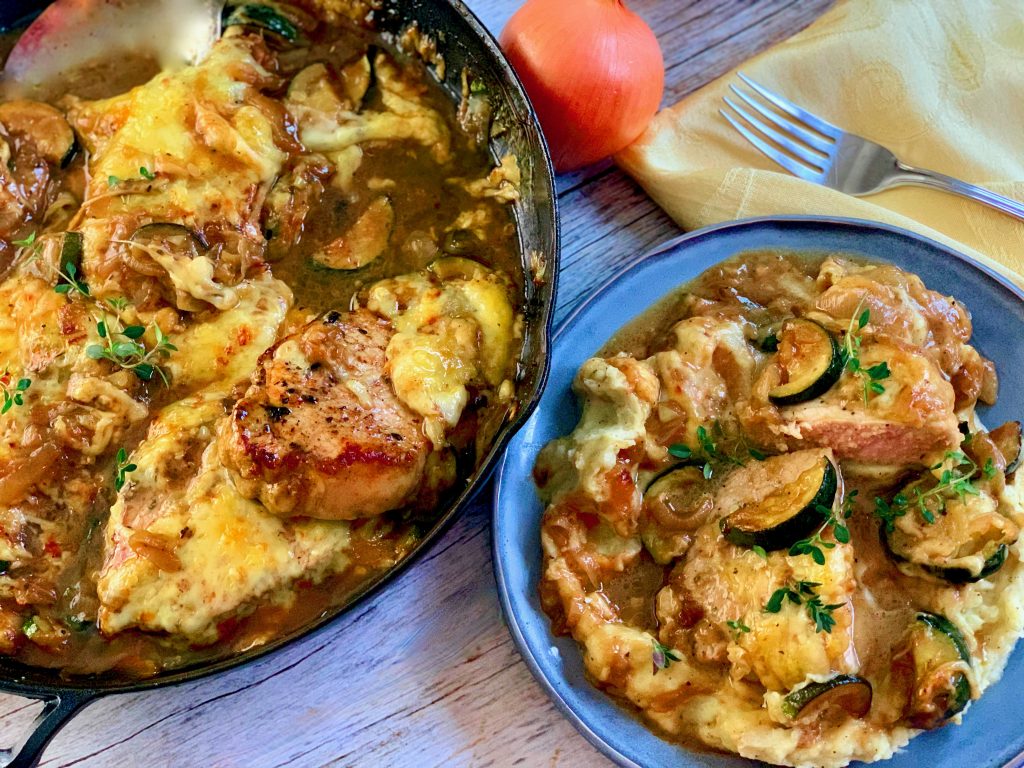 Brine:
1 cup water
1 cup apple cider
1 cinnamon stick
2 sprigs rosemary
6 thyme sprigs
2 garlic cloves, smashed
1 teaspoon peppercorns
2 teaspoons salt
1 tablespoon brown sugar
2 – 2 ½-pounds boneless pork loin chops
French Onions:
5 tablespoons butter
3 larges onions, sliced into thin rings
1 ½ teaspoons sugar
¼ teaspoon salt
¼ cup water
Zucchini:
2 tablespoons butter
2 small zucchinis, cut in half lengthwise and then cut into ½" thick half moons
¼ teaspoon salt
¼ teaspoon black pepper
Chops:
2 teaspoons Dish off the Block Ciao Bella Italian seasoning
1 teaspoon salt
2 tablespoons olive oil
Sauce:
1 tablespoon Worcestershire sauce
2 tablespoons flour
1 cup beef broth
¼ cup red wine
2 teaspoons fresh thyme leaves, stemmed (plus more sprigs for garnish)
3 cups Jarlsberg or Gruyere cheese, hand shredded on a box grater
Becky's Mashed Potatoes:
5 pounds Yukon gold potatoes, chopped into quarters
1 large onion, chopped
1 stick butter
1 ½ – 2 cups milk
3 teaspoons salt
2 teaspoons black pepper
Mix all of the brine ingredients together in a large saucepan and bring to a boil for 2 minutes.  Let the brine cool completely and place the chops in the brine for at least 3 hours or overnight.  Bring to room temperature before cooking.  This brining step is not mandatory, but will give you really juicy chops!!
Preheat oven to 350 degrees.
To caramelize the onions, melt the butter in a large cast iron or oven proof skillet.  Add the onions, sugar, and salt to the skillet and cook over medium low heat, stirring frequently until the onions are soft and golden brown, about 35-45 minutes.  You do not want to sear or brown the onions.  This a slow cook that will create soft, sweet caramel colored onions.  Remove from the pan and set aside.
Add 2 more tablespoon of butter to the pan drippings over medium high heat.  Add the zucchini and season with the ¼ teaspoon each of salt and pepper.  Cook for 2-3 minutes stirring frequently until zucchini is lightly browned and tender.  Remove and set aside with the onions.
Remove your chops from the brine and rinse with cold water.  Season on both sides with the Italian seasoning and salt.  Heat the 2 tablespoons olive oil in the same skillet drippings over medium high heat.  Sear the chops on each side, about 1-1 ½ minutes per side.  They will not be cooked through.  Remove and set aside.
Place the onions and zucchini back in the skillet and stir in the Worcestershire sauce, over medium high heat.  Stir in the flour and cook for 1 minute.  Add the beef stock, red wine, and thyme leaves.  Cook, stirring, until the sauce thickens about 2 minutes.
Place the chops back in the pan and smother with the onion and zucchini gravy.  Top with the grated cheese and place in the oven.  Bake for 10-15 minutes, depending on thickness, until the chops are just cooked through and internal temp is 140-145 degrees.  Do not overcook.  Set the oven on broil and cook for 1 more minute until the cheese is browned and bubbly!
I love this dish served over mashed potatoes (recipe below), but also delicious over rice or French bread toast.
*Note – if you don't have an oven-proof skillet, you can cook everything on the stove top and then transfer to a 9" x 13" baking dish and top with cheese.
Becky's Mashed Potatoes:
Peel potatoes and cut into 3-4" pieces.  If potato sizes vary, make sure they are chopped into fairly even size large chunks.  Place in a large metal pot with chopped onions and cover with cold water.  Bring to a boil over medium high heat and cook until potatoes are tender when pierced with a fork.  Pour into a strainer to drain.
Put drained potatoes and onions (mostly disintegrated already) back to the pot and add cold butter, 1 cup of the milk, salt and pepper.  Whip with a hand mixer on high speed until potatoes are creamy, gradually adding the additional milk as needed to create a velvety texture.  Test taste (the best part) to make sure the seasoning is correct and add additional salt and pepper if needed.
Select multiple categories to narrow your search! Want appetizers made with chicken? Just select both Appetizers and Chicken!