FLOUNDER BATHED IN LEEK, MUSHROOM, AND SPINACH LEMON CREAM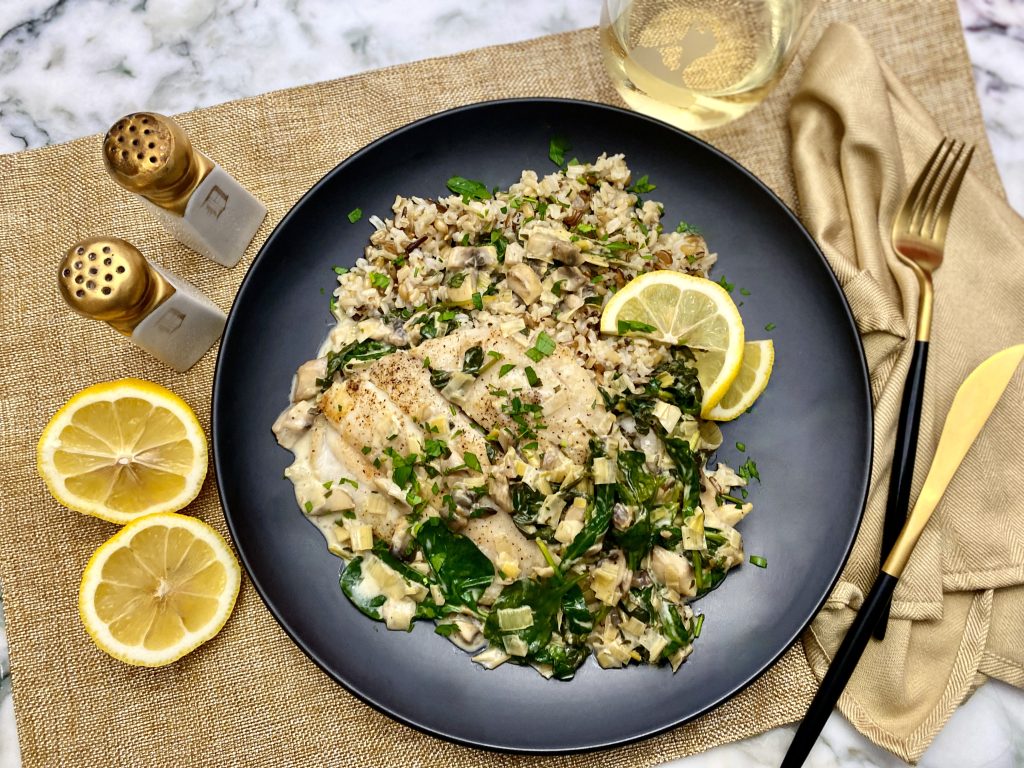 3 tablespoons olive oil
2-pounds flounder filets, skinned
2 teaspoon salt, divided
1 teaspoon black pepper, divided
4 tablespoons butter
1 leek, white and light green parts chopped (about 1 ½ cups)
8 large garlic cloves, chopped
8-ounces mushrooms, chopped
2 tablespoons flour
¼ cup dry white wine
2 ½ cups heavy cream
Zest from 2 lemons (about 2 tablespoons)
Juice from 2 lemons (about 4 tablespoons)
3 cups baby spinach leaves, packed
2 tablespoons fresh parsley, chopped
3 cups cooked wild rice
Heat the olive oil in a large deep skillet over medium high heat.  Season the fish on both sides with 1 teaspoon of the salt and ½ teaspoon of the black pepper.  Add the seasoned fish to the hot oil and sear for 3 minutes on the first side until golden brown.  Flip and sear on the second side for 1-2 minutes until the fish is just cooked through and a fork slides easily in and out of the center of the filets.  Remove to a plate and tent with foil to keep warm.
Add the butter to the pan drippings and cook the leeks, garlic, and mushrooms, stirring frequently until they are soft and fragrant, about 4-5 minutes.  Add the flour and cook one minute more.  Add the white wine, heavy cream, lemon zest, and lemon juice to the pan.  Season with the remaining salt and pepper.  Bring to a boil and let cook and reduce, stirring frequently, about 6-8 minutes.  Add the spinach to the pan and stir until just wilted.
Serve the fish over the rice and top with the sauce.  Garnish with parsley and lemon slices.
Select multiple categories to narrow your search! Want appetizers made with chicken? Just select both Appetizers and Chicken!