FINGER-LICKIN' SPICY SWEET CHICKEN WINGS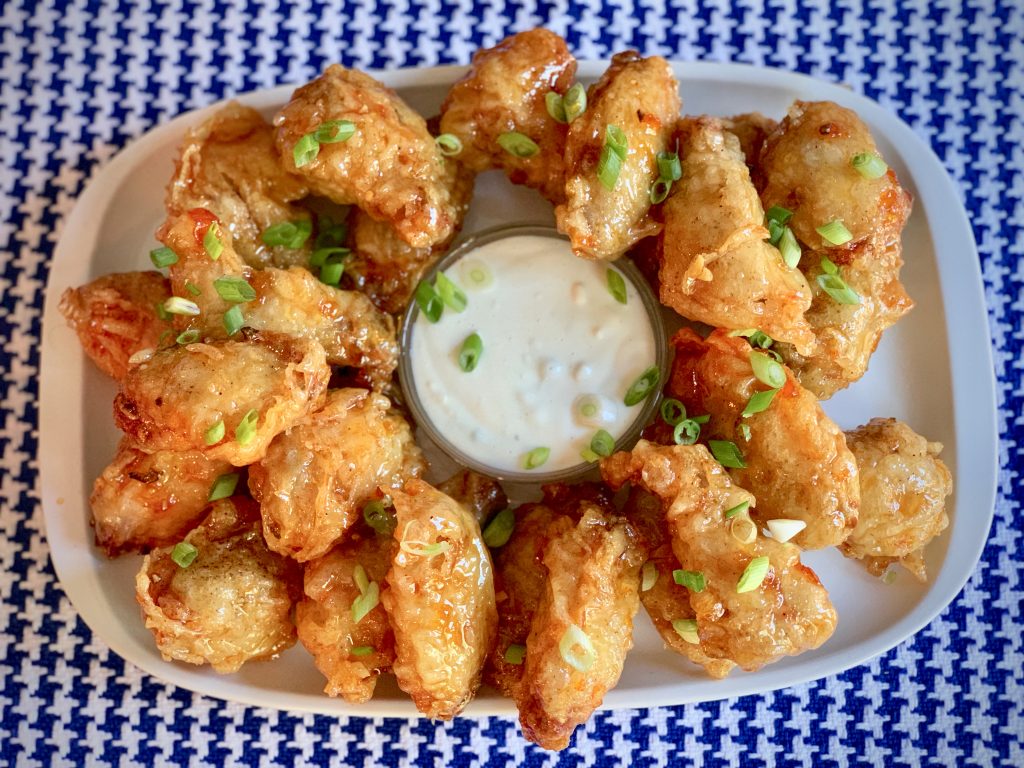 Glaze:
1, 18-ounce jar apricot preserves (or apple jelly)
1 jalapeño, chopped fine
3 large garlic cloves chopped fine
1" of fresh ginger root chopped fine
2 tablespoons sriracha sauce
1 tablespoons soy sauce
1 tablespoon Fish Sauce
1 ½ cups brown sugar packed
Coating:
1 cup all-purpose flour
1 teaspoon baking powder
1 cup cornstarch
½ cup vodka
1 ½ – 2 cups water
​
5-pounds chicken wings, tips removed, flats and drumettes separated
salt
black pepper
4-5 cups vegetable oil (for frying)
Optional garnish:
¼ cup chopped salted, honey roasted peanuts
¼ cup chopped scallions
​
Blue cheese or ranch dressing for dipping
Finger Lickin'… Oh That Chicken, Spicy, Sweet… Can't wait to eat…Sticky, Crunchy… they're the best… there's no doubt these beat the rest Wings! These wings took 1st Place in the WORLD FOOD CHAMPIONSHIPS Super Qualifer!
To make the glaze, combine the apricot preserves, jalapeño, garlic, ginger, sriracha, soy, fish sauce, and brown sugar in a large saucepan.  Bring to a low boil and whisk to combine until preserves melt and glaze is smooth. Reduce heat to low and continue cooking, stirring occasionally, for about 10 minutes until the sauce becomes syrupy. The glaze may bubble up during this process but just continuing whisking when this happens so it doesn't boil over.
While the glaze cooks, mix the flour, baking powder, and cornstarch in a medium bowl. Whisking constantly, gradually add vodka and 1 ½-2 cups water. The batter should be the consistency of a thin pancake batter.
Season the chicken wings generously with salt and pepper on both sides.
Heat vegetable oil in a deep fryer (or large Dutch oven) to 350 degrees. Working in batches and returning oil to 350°F between batches, coat chicken in batter, letting excess drip back into bowl, and fry until skin is golden and chicken is crisp and cooked through, about 8-10 minutes, depending on the size of the wings.  When placing the wings in the hot oil, hold on one end and dip in the oil for about 5-7 seconds before letting go.  This will keep them from sticking to the bottom of the fryer/pan.
Transfer to a wire rack set inside a baking sheet to drain. Using tongs, dip hot wings in the warm glaze, turn to coat, then transfer wings back to the wire rack.  Cool for 5 minutes allowing excess glaze to drip off and transfer to a platter. Serve wings topped with chopped peanuts and scallions and blue cheese dressing on the side for dipping
Select multiple categories to narrow your search! Want appetizers made with chicken? Just select both Appetizers and Chicken!