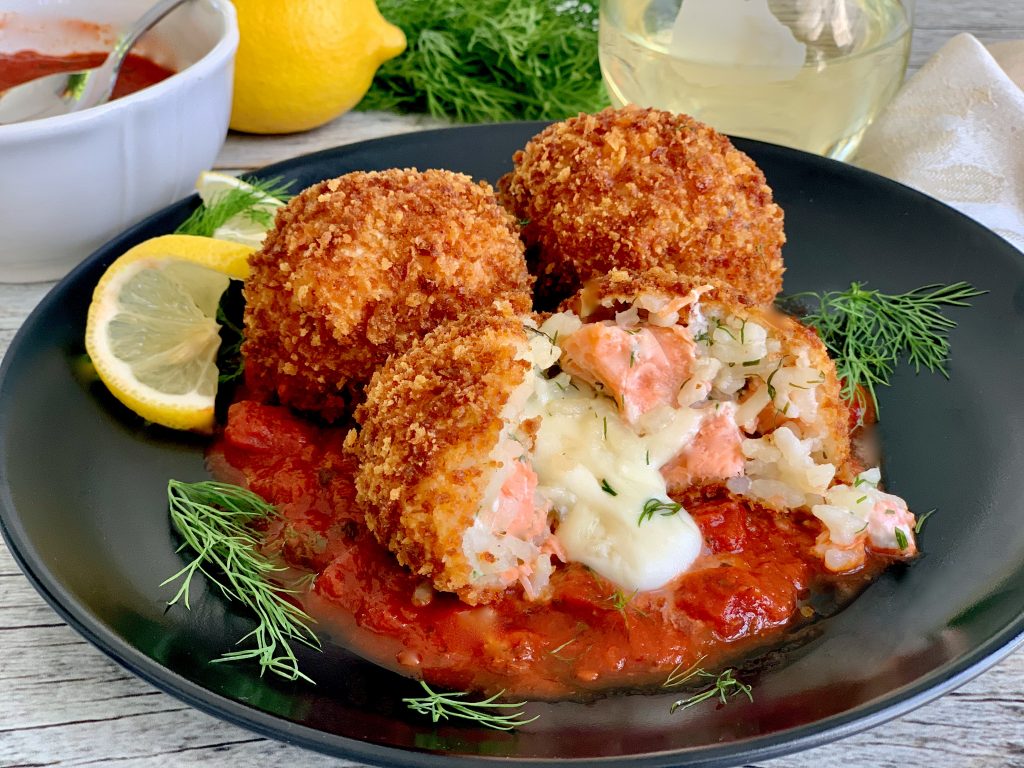 1 tablespoon olive oil
2 tablespoons butter
1 small onion, finely chopped
1 cup arborio rice
½ teaspoon salt
2 ¾ cups chicken stock
½ cup parmesan cheese
1 tablespoon lemon zest
2 tablespoons fresh lemon juice
1 ¼-pound raw salmon filet, skinned and chopped into ½" pieces
¼ cup fresh dill, chopped
16 mozzarella balls (about the size of a cherry)
1 cup flour
2 eggs
1 cup panko breadcrumbs
Canola oil for deep frying
1 cup marinara or spaghetti sauce
Heat the olive oil and butter in a large saucepan over medium high heat.  Add the onion to the pan and cook until fragrant, about 2 minutes.  Add the rice and cook for 2 more minutes, stirring frequently.
Add the salt and 1 cup of the chicken stock to the pan. Continue to stir frequently as the moisture is absorbed.  When all of the moisture is absorbed, add another ½ cup and continue this process, adding more stock as liquid is absorbed until all of the stock is gone.  A good way to tell when it is time to add stock is when the rice pulls away from the bottom of the pan as you stir and there is no liquid to fill the space.  Add the parmesan cheese to the pan and continue to cook for one more minute.  The rice should be tender and creamy, but still have some texture or 'tooth' to it.
Remove from heat and spread the risotto in a thin even layer on a parchment lined baking sheet.  Let cool to room temp and place in the fridge for at least one hour until cold.
Transfer the cold rice to a large bowl and add the lemon zest, lemon juice, salmon, and dill.  Mix everything together gingerly with your hands until everything is evenly distributed.  Take ¼ cup of the mixture and form into a patty.  Press one piece of the mozzarella into the center of the patty and form the rice mixture around it to form a ball.  Place on a parchment lined baking sheet and place the balls in the freezer for 30 minutes.
Preheat your oil in a large Dutch oven or fryer to 350 degrees.  The oil should be at least 4" deep to cover the arancini as it cooks.
Create a breading station by placing the flour in one bowl, beat the eggs in another, and place the panko in a third bowl.
Remove the balls from the freezer and dip in flour, then coat in egg, and finally the panko.  Cook the balls in batches for 8 minutes, gently turning them occasionally so they cook evenly.
Test one to make sure your cheese is melted in the center.
Serve the arancini over warm marinara sauce and garnish with lemon and more dill.
Select multiple categories to narrow your search! Want appetizers made with chicken? Just select both Appetizers and Chicken!