DILLY SALMON AND ASPARAGUS NOODLE CASSEROLE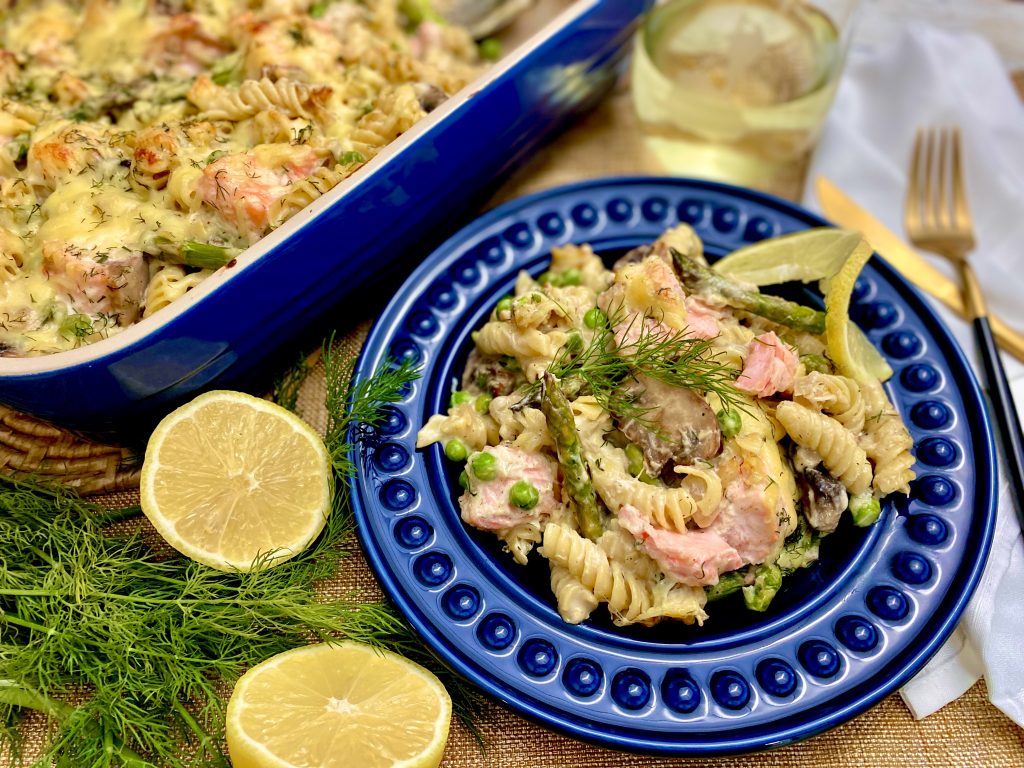 2 tablespoons butter
1 small onion, chopped
4 garlic cloves, chopped
8-ounces mushrooms, sliced
3 tablespoons flour
1 cup milk
1 cup heavy cream
1 ½ teaspoons salt
2 teaspoons black pepper
4 tablespoons fresh dill, chopped and divided (plus more for garnish)
1 tablespoon lemon zest
1 tablespoons lemon juice
1 cup Monterey Jack cheese, shredded
1 cup parmesan cheese, shredded
1 bunch thin asparagus
1 ½ cups frozen peas, thawed
1 ¼ – 1 ½ pounds raw salmon fillet, skinned and cut into 2" chunks
1-pound rotini pasta, cooked al dente to package directions
1 cup Jarlsberg or good quality Swiss cheese, shredded
Preheat oven to 350 degrees.
Melt the butter in a large deep skillet over medium high heat.  Add onions and garlic and cook until fragrant, about 2 minutes.  Add the mushrooms and cook until they release their juices and begin to lightly brown, about 3-4 minutes.  Add the flour and stir until it absorbs all of the moisture in the pan.
Add the milk and heavy cream to the pan and cook, stirring until the sauce thickens, about 2 minutes.  Add the salt, pepper, dill, lemon zest, lemon juice, jack and parmesan cheese to the pan and stir until the cheese is melted and the sauce is smooth.  Remove from heat
Cut off and discard the woody ends of the asparagus and chop the stalks into 3" pieces.  Add them to the sauce along with the peas, salmon, and pasta.  Toss to combine until everything is well coated in the sauce.
Coat a 9" x 13" baking dish with non-stick spray and add the noodle mixture to the pan, spreading the contents out evenly. Top with the shredded Jarlsberg and bake for 20-25 minutes until the cheese is melted and lightly browned and the salmon is just cooked through.
Serve hot, garnished with more dill.
Select multiple categories to narrow your search! Want appetizers made with chicken? Just select both Appetizers and Chicken!