CORN CHOWDER YAKISOBA NOODLE STIR FRY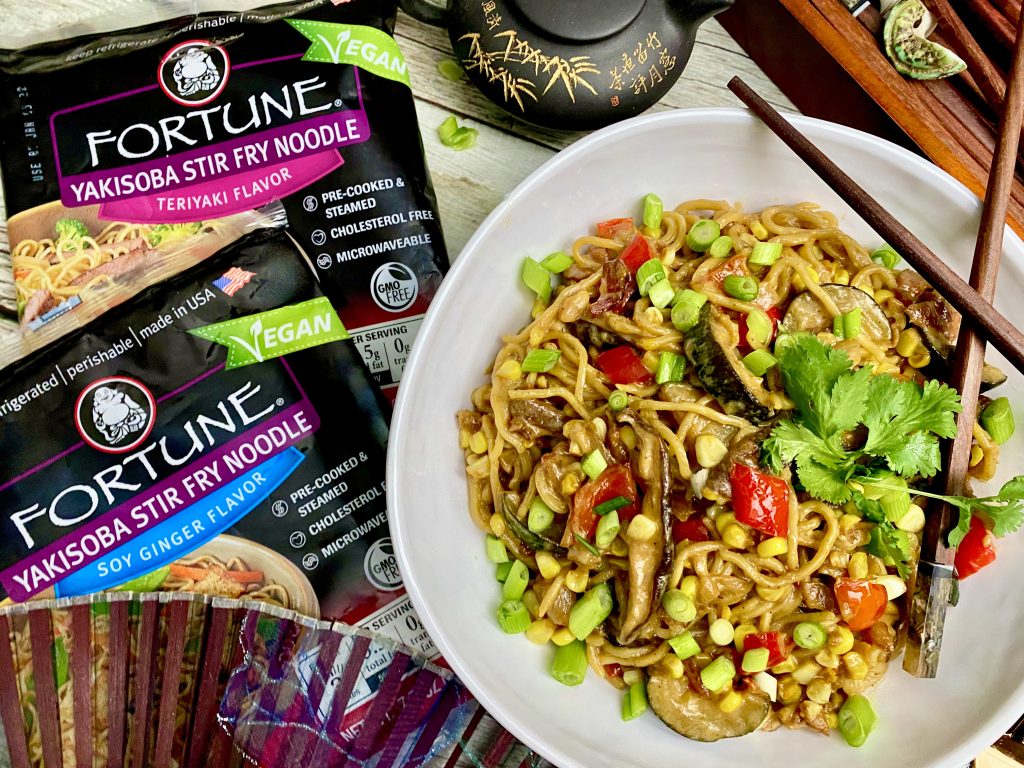 6 slices raw bacon
1 onion, chopped
4 large cloves garlic, chopped
1 red bell pepper, chopped
1 small zucchini, cut into ½" thick half-moon slices
6-ounces shiitake mushroom caps, sliced (stems discarded)
4 ears corn on the cob
1, 7.7-ounce package Fortune Yakisoba Stir Fry Noodles – Teriyaki Flavor
1, 7.7-ounce package Fortune Yakisoba Stir Fry Noodles – Soy Ginger Flavor
½ teaspoon salt
½ teaspoon black pepper
1-pint heavy cream
1 tablespoon Dijon mustard
1 cup smoked gouda cheese, shredded
4 scallions, chopped (plus more for garnish)
¼ cup cilantro leaves
Cook the bacon in a large deep skillet over medium high heat until crisp.  Remove, leaving the drippings in the pan.  Chop and set aside.
Add the onion and garlic to the bacon drippings and cook until soft and fragrant, about 2 minutes.  Add the red pepper, zucchini, and mushrooms to the pan and continue cooking, stirring frequently, until the veggies are soft, about 4-5 minutes.
Cut the corn off the cobs with a sharp knife.  Add the corn AND the cobs to the pan along with the salt, black pepper, and the seasoning packets from both packages of yakisoba noodles.  Continue to cook over medium high heat, stirring to coat, the veggies with all of the flavorings, about 2-3 minutes.
Add the cream, mustard, and reserved chopped bacon to the pan.  Bring to a boil and cook, stirring frequently, for 5 minutes, letting the sauce reduce and flavors infuse into your 'chowder' sauce.
Remove the corn cobs from the sauce and discard, taking care to scrape any excess sauce off the cobs and back into the pan.  Add the cheese and scallions to the pan and stir until the cheese is fully melted.  Stir in both packages of the yakisoba noodles, gently incorporating the noodles into the sauce until they are soft and fully coated.
Serve in bowls, garnished with more scallions and cilantro leaves.
Select multiple categories to narrow your search! Want appetizers made with chicken? Just select both Appetizers and Chicken!