CONFETTI QUINOA STUFFED PEPPERS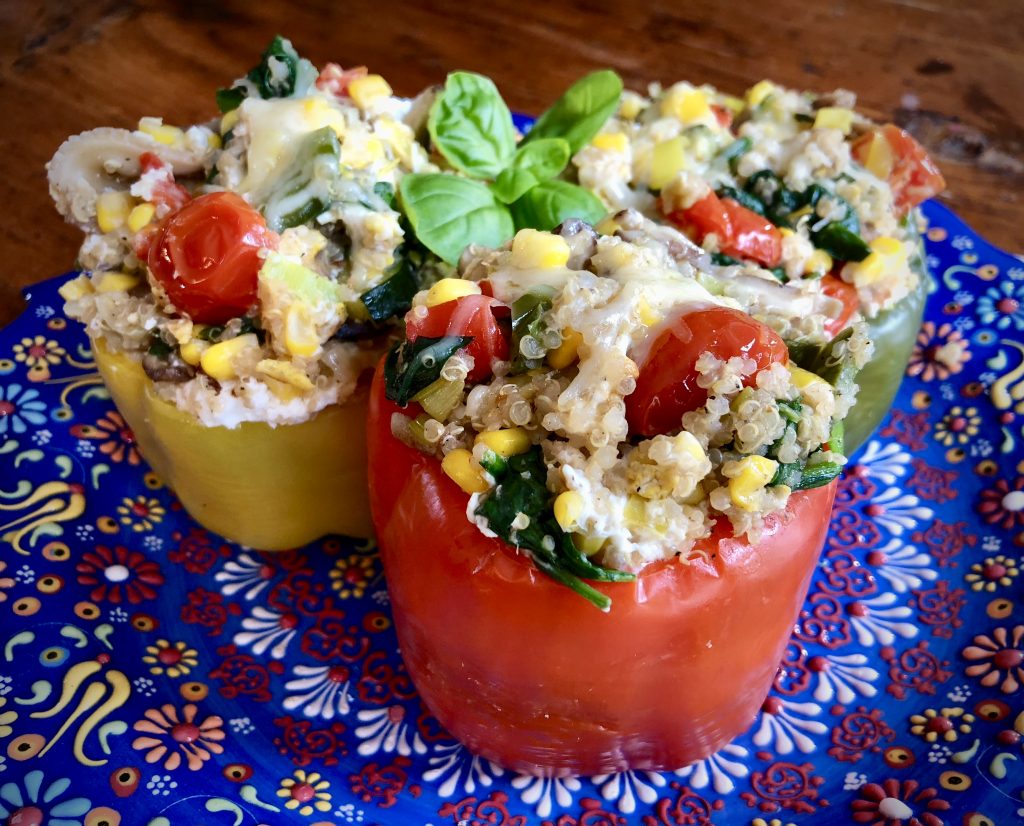 6 large yellow, red, and green bell peppers (any combination)
1 cup raw quinoa
2 tablespoon olive oil
2 tablespoon butter
1 large leek, chopped white and light green parts
4 large garlic cloves, chopped
7 ounce shitake mushrooms, stems removed and tops sliced cross-wise
1 small zucchini, sliced into ¼" half moons
1 pint grape tomatoes cut in half
3 cups fresh baby spinach leaves, packed
1 cup frozen corn kernels, thawed
3 tablespoon fresh basil, chopped
2 teaspoon salt
2 teaspoon black pepper
8 ounce goat cheese crumbled
2 cups Swiss cheese, shredded
Cut the tops off of the peppers and remove the stems and seeds, reserving the edible part from the lid.  Chop these tops into a ½ dice and set aside.
Place pepper 'cups' in a large stock pot and cover with salted water.  Boil until tender when pierced with a fork.  Reserve 2 cups of the 'pepper water'.  Remove peppers from pan and cool and drain, upside down, on paper towels.
Cook 1 cup raw quinoa in the reserved 2 cups of stock until it comes to a boil.  Reduce to a simmer and cook until all the moisture is absorbed, about 15 minutes.  The quinoa will be translucent in color.
Heat olive and butter in large deep skillet.  Add the reserved chopped peppers, leeks, and garlic to the pan.  Sauté until tender and then add mushrooms, zucchini, and tomatoes to skillet.  Continue to cook until the onions and mushrooms are lightly browned, stirring frequently, about 10 minutes. 
Add quinoa, spinach, corn, basil, salt and black pepper to the pan and toss to mix.  Cook for another 5 minutes until the spinach has wilted.  Remove from heat.  Add crumbled goat cheese and toss gently.  Scoop the mixture into the peppers to fill each shell.  Sprinkle shredded Swiss over the top of peppers.
Bake at 375 for 20-30 minutes until the Swiss cheese is melted and lightly browned.  Garnish with more fresh chopped basil and serve. Delish and sooo good for you too!
These are delicious as a vegetarian dish, but I also add salmon sometimes which is fabulous:
Sprinkle an 8ounce salmon filet with ½ teaspoon fresh ground black pepper.  Spray a small non stick skillet with non-stick cooking spray and place over medium heat.  Add salmon to the pan.  Cook about 3 minutes per side until salmon is seared, but not completely cooked through.  The flesh in the center will appear translucent.  Place the fish on a cutting board and rough chop into pieces about ½ " in size.  Add to the quinoa mixture and fold in with the goat cheese.
Select multiple categories to narrow your search! Want appetizers made with chicken? Just select both Appetizers and Chicken!