COCONUT CURRY STRIPED BASS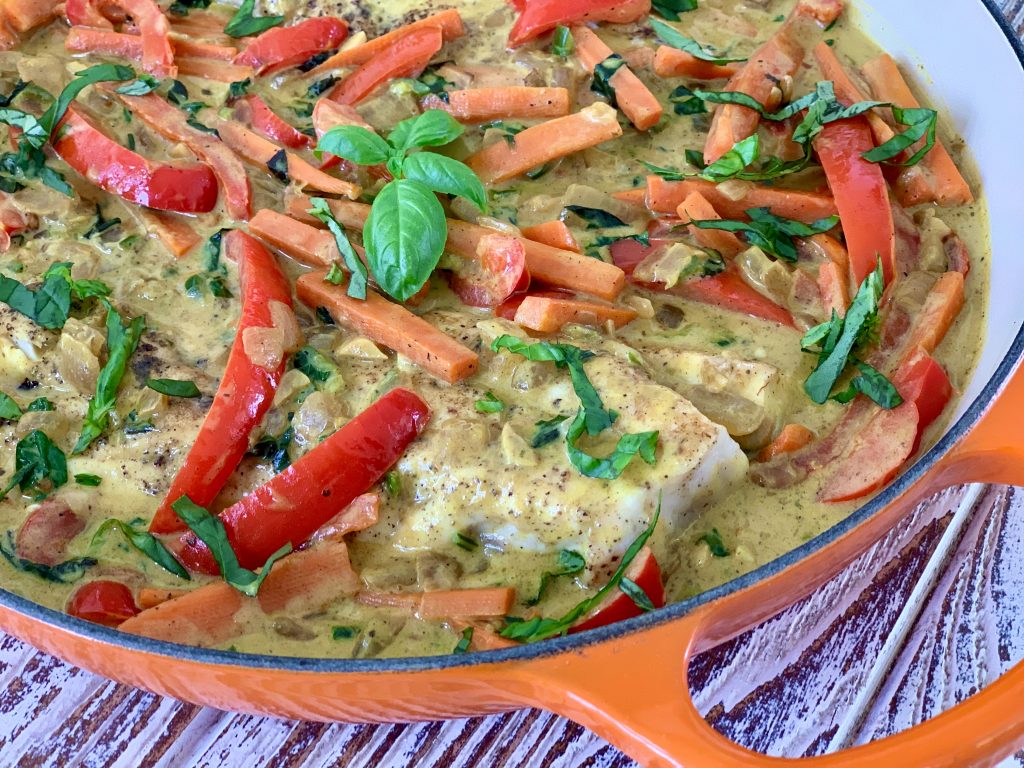 ¼ cup coconut oil
2 striped bass filets, about 2-2.5 pounds , skinned (or other white fish like haddock, halibut, or cod)
1 ½ teaspoons salt
1 teaspoon black pepper
1 large onion, chopped
8 garlic cloves, chopped
1 jalapeño pepper, chopped
3 large carrots, peeled and julienned
1 red bell pepper, julienned
2 teaspoons curry powder
¼ teaspoon red pepper flakes
1 cup seafood or chicken stock
1, 13.5-ounce can coconut milk (unsweetened)
½ cup fresh basil leaves, chiffonade (plus more for garnish)
4 cups white rice
Preheat oven to 375 degrees.
Heat the coconut oil in a large cast iron or oven proof skillet over medium high heat.
Season the fish with 1 teaspoon of the salt and ½ teaspoon of the black pepper on both sides.  Place in the hot pan and sear on each side for 2-3 minutes until golden.  Remove from pan and set aside.  The fish will not be cooked through, but will finish cooking in the sauce later.
Add the onion, garlic, and jalapeño to the pan drippings and cook, stirring occasionally until soft and fragrant, about 3 minutes.  Add the carrots to the pan and cook for another 3-4 minutes until carrots start to get tender.  Add the red peppers, curry powder, pepper flakes, and chicken stock to the pan.  Bring to a boil and cook for 4-5 minutes letting the stock reduce.  Stir in coconut milk and basil and cook for 2 minutes until smooth and creamy.
Nestle the fish back into the pan, covering with the sauce and some of the carrots and peppers.  Cover and place in the oven.  Cook for 12-15 minutes until the fish is cooked through and flakes easily with a fork.  This timing can vary slightly depending on the thickness of the fish.
Serve hot over rice and garnish with more basil.
Select multiple categories to narrow your search! Want appetizers made with chicken? Just select both Appetizers and Chicken!