CHINESE STICKY FINGER RIBS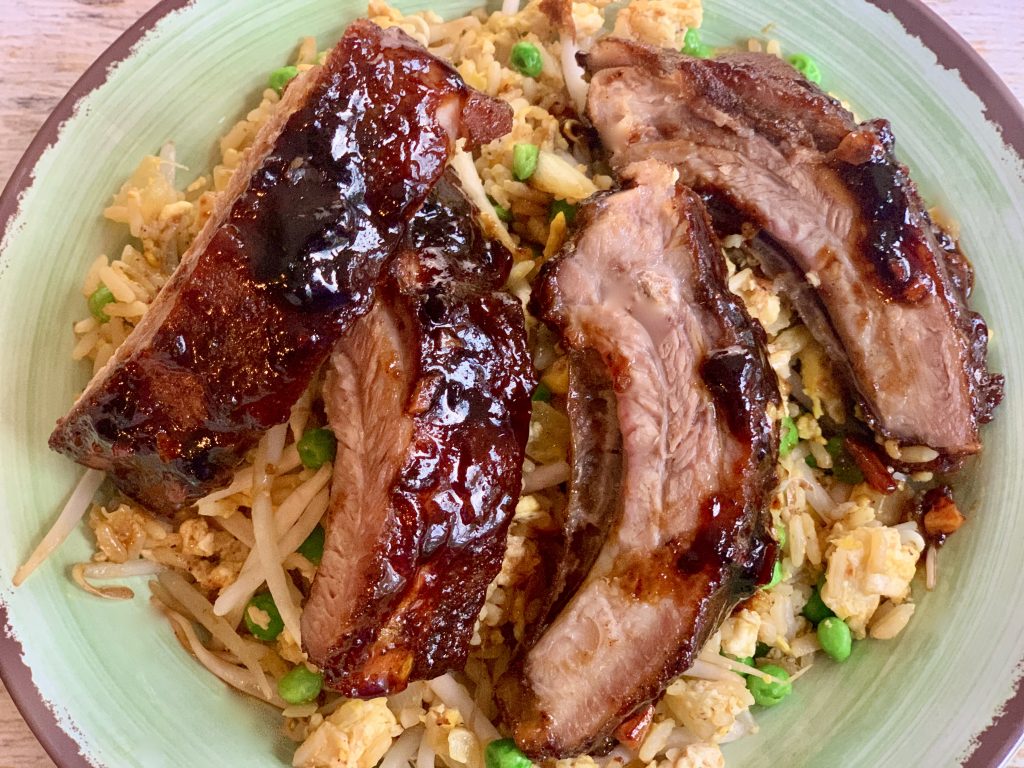 4-5 pounds baby back pork ribs
Rub:
2 teaspoon salt
2 teaspoon black pepper
2 teaspoon garlic powder
2 teaspoon ground ginger
1 teaspoon cinnamon
Glaze:
⅓ cup Hoisin
⅓ cup soy
¼ cup honey
¼ cup brown sugar
1 tablespoon ginger
8 cloves garlic
Remove the ribs from packaging and rinse with cold water.  Pat dry with paper towels and place in a roasting pan or on a rimmed baking sheet.
Mix all of the rub ingredients together in a small bowl.  Coat the ribs on both sides with the rub, massaging it into the ribs.  Cover tightly with foil and refrigerate for several hours or overnight.
Preheat oven to 325 degrees.
Keeping the ribs tightly wrapped with foil and bake for 1 ½ hours.
While ribs are cooking, combine all of the glaze ingredients in a medium sauce pan and cook, stirring frequently, letting the glaze reduce by ⅓, about 8-10 minutes.
After 1 ½ hours, remove the ribs from the oven and brush all over with the glaze.  Return to the oven and bake an additional 30 minutes until tender and meat is almost falling off the bones.  Cut into individual ribs, get extra napkins ready, and chow down.
Serve over fried rice – there are several recipes on the blog.
Select multiple categories to narrow your search! Want appetizers made with chicken? Just select both Appetizers and Chicken!