CHICKEN, SWEET POTATO, AND 3 PEPPER CHOWDER WITH A HINT OF HEAT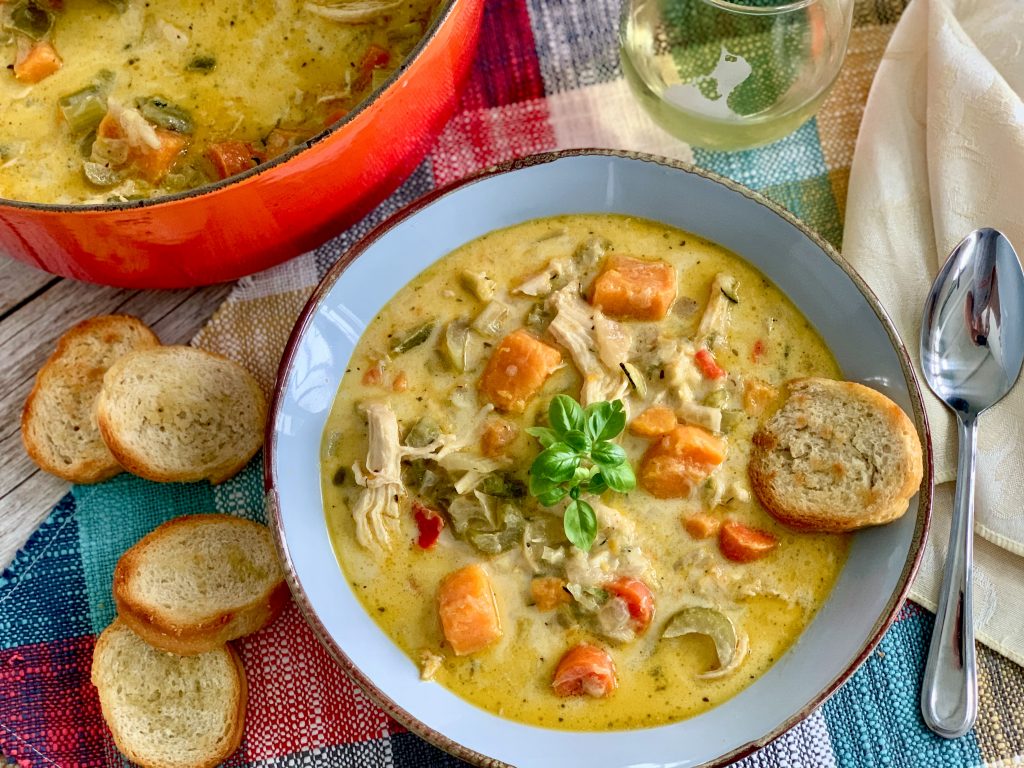 2 tablespoons olive oil
1 small onion, chopped (about 1 cup)
1 small leek, chopped white and light green parts (about 1 cup)
2 cups chopped celery
1 jalapeño, chopped including the seeds
1 tablespoon fresh ginger root, minced
6 cloves garlic, chopped
1 small green pepper, chopped (about 1 cup)
1 small red pepper, chopped (about 1 cup
3 carrots, chopped
1 large sweet potato, peeled and chopped into bite size pieces (about 2 ½ cups)
2 teaspoons salt
2 teaspoons Dish off the Block Superbly Herby Spice Blend
4 cups chicken stock
1 large boneless chicken breast
1 ½ cups zucchini, shredded
1 cup heavy cream
¼ cup fresh basil or parsley, chopped for garnish
Heat the olive oil in a large Dutch oven or soup pot over medium high heat.  Add the onions, leeks, celery, jalapeño, ginger, and garlic to the pan.  Cook for 3-4 minutes until the veggies begin to soften and are fragrant.
Add the red and green peppers, carrots, sweet potatoes, salt, and Superbly Herby Seasoning to the pan. Continue to cook for another 5 minutes, stirring frequently.
Pour in the chicken stock and add the full chicken breast to the pot.  Bring everything to a boil and then turn the heat down and cook on a low boil for 15-20 minutes until the carrots and sweet potatoes are tender when pierced with a fork.
Remove the chicken breast and let it cool on a cutting board until you can handle it with your fingers.
Add the zucchini and the heavy cream to the pot and continue cooking on a simmer while your chicken cools, about 10 minutes.
Shred the chicken into bite size pieces and add it back to the pot.  Cook for another 5-10 minutes.  Serve hot in garnished with fresh basil or parsley and with crusty bread or crostini for dipping.
Select multiple categories to narrow your search! Want appetizers made with chicken? Just select both Appetizers and Chicken!