CHICKEN, PINEAPPLE, AND PEPPER TERIYAKI STIR FRY BOATS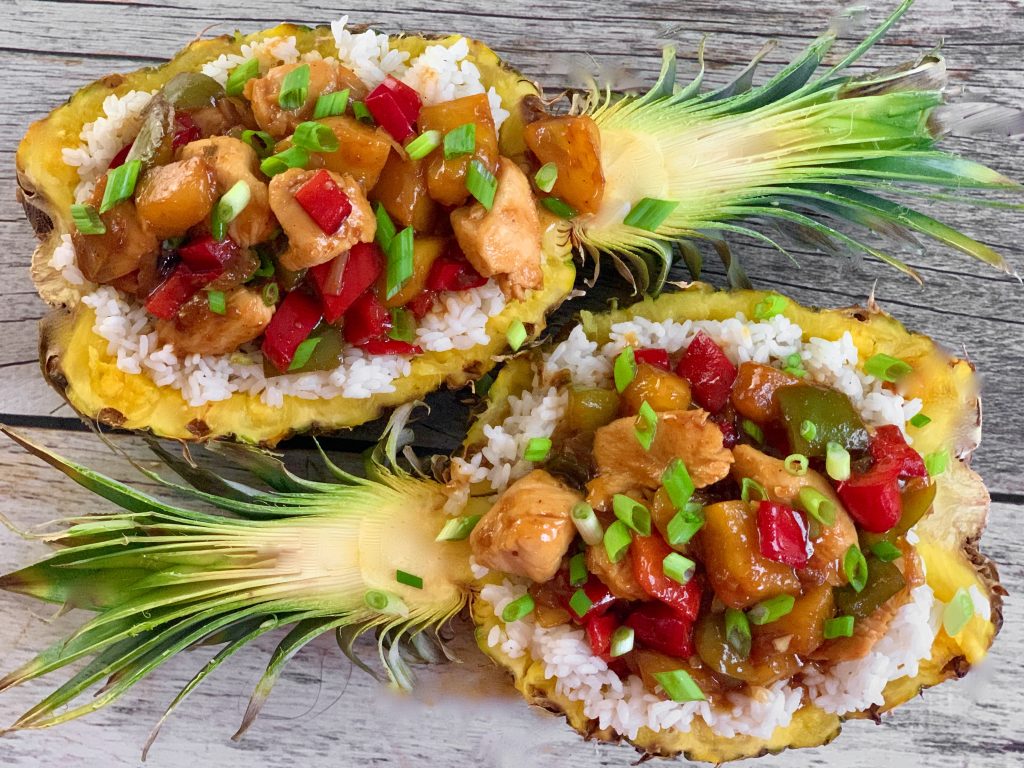 The Chicken:
1 ½ pounds boneless chicken breasts
1 teaspoon salt
1 tablespoon peanut or vegetable oil
1 tablespoon rice wine vinegar
1 tablespoon soy sauce
1 egg white, beaten until frothy
2 tablespoon corn starch
The Stir Fry:
6 tablespoon peanut or vegetable oil
1 fresh pineapple (or 1, 20 ounce can pineapple chunks in juice)
1 large onion, chopped
8 garlic cloves, chopped
1 jalapeño, chopped (including seeds)
1 tablespoon fresh ginger root, minced
1 green pepper, chopped into 1" pieces
1 red bell pepper, chopped into 1" pieces
¼ cup soy sauce
¼ cup pineapple juice (or orange juice)
½ cup chicken stock
1 teaspoon sesame oil
½ cup brown sugar
2 tablespoon hoisin sauce
½ teaspoon black pepper
1 tablespoon cornstarch
3 cups cooked sushi rice (about 1 ½ cups raw rice)
¼ cup scallions, chopped
Slice the chicken breasts into ½" thick slices across the grain and place in a small bowl.  If they are large, you may want to cut them in half lengthwise first, so you end up with bite-size pieces.  Also, if you partially freeze the breasts before cutting, they are easier to handle and slice.
Add the salt, oil, vinegar, soy sauce, egg white, and corn starch to the bowl and toss everything together until the chicken is well coated.  Let marinade for 30 minutes while you prepare the pineapple and vegetables for the stir fry.
If you are using a fresh whole pineapple, cut it in half lengthwise and then, using a paring knife, cut around the inside of the shell and scoop out the flesh leaving the 'shells' intact to use as your serving dishes.  Cut the hard core from the center of the pineapple and chop the remaining pineapple flesh into bite size chunks.  Be sure to reserve any juice that forms.
If you are using canned pineapple, simply drain the chunks and reserve the juice for the sauce.
Heat 5 tablespoons of the peanut oil in a large skillet (or wok if you have one), over medium high heat.  When the oil is very hot, add the marinated chicken to the pan and cook, tossing constantly with a spatula until the chicken is just barely opaque.  It will continue to cook later in the sauce so it does not need to be cooked through, just seared.  Remove from pan and set aside.
Add the additional 1 tablespoon of oil to the pan drippings and add the onions, garlic, jalapeño, and ginger root.  Cook, stirring frequently, and scraping up any brown bits from the bottom of the pan until fragrant, about 2 minutes.  Add the green and red bell peppers and pineapple to the pan.  Cook over medium high heat for 4-5 minutes until peppers are soft and the pineapple begins to get golden brown caramelization.  Add the chicken back to the pan with any juices.
Whisk the soy sauce, pineapple (or orange) juice, chicken stock, sesame oil, brown sugar, hoisin, black pepper, and cornstarch in a small bowl until smooth.  Add the sauce to the pan and cook, stirring constantly, until everything is coated and a thick glossy sauce forms, about 2 minutes.
If serving in the pineapple shells, line each shell with the rice and fill with the stir fry mixture.  Garnish with scallions. Otherwise, get yourself a big ole bowl and fill 'er up!!
Select multiple categories to narrow your search! Want appetizers made with chicken? Just select both Appetizers and Chicken!