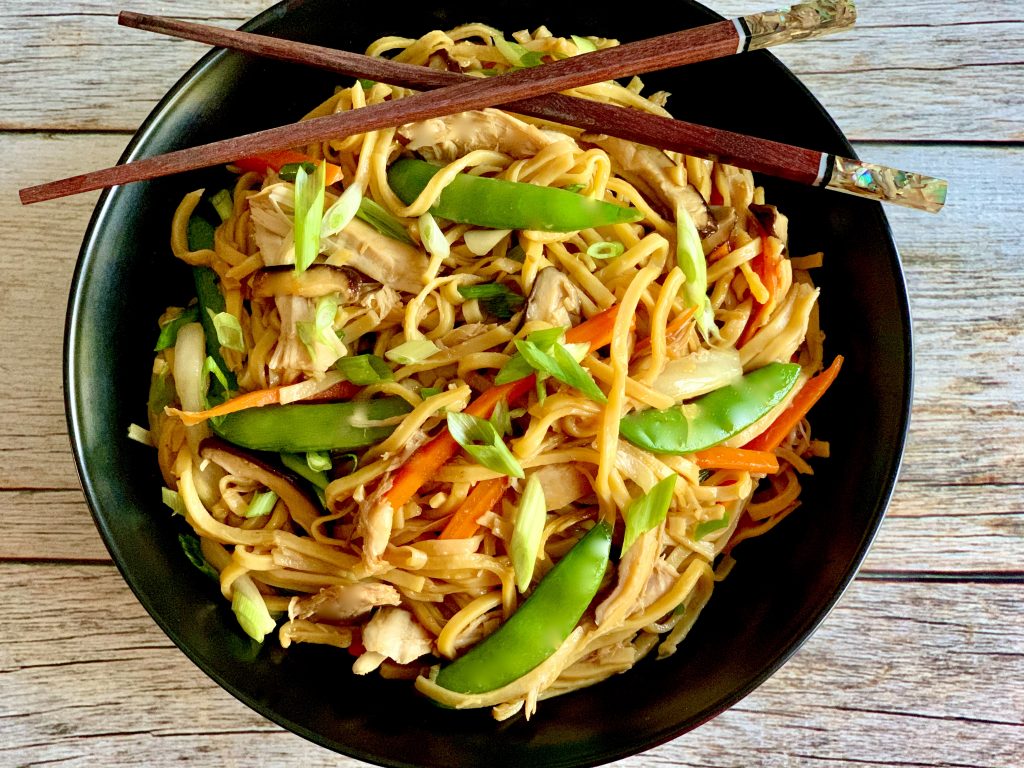 Sauce:
½ cup chicken stock
¼ cup soy sauce
½ cup oyster sauce
1 teaspoon sesame oil
¼ cup brown sugar
1 heaping tablespoon corn starch
2 tablespoon peanut oil
6 cloves garlic, peeled and chopped
1 tablespoon ginger root, peeled and finely chopped
1 large carrot, cut into match sticks (about 1 cup)
2 cups napa cabbage, chopped
1 ½ cups shitake mushrooms, stems removed and caps sliced
1 ½ cups pea pods, stringed
1 ½ cups cooked chicken, shredded (white and dark meat – leftovers are great here)
1 pound Chinese lo mein – yellow wheat and egg noodles or regular linguini or spaghetti works too if you don't have the authentic noodles, cooked al dente to package directions
½ cup scallions, chopped
This is a very quick cooking dish, so I recommend you cook your noodles, prepare your sauce, and chop all of your veggies in advance of preparing the finished dish.
To prepare your sauce, combine all of the ingredients in a small bowl and whisk to combine until corn starch and brown sugar are dissolved.
Heat your oil in a large wok or cast iron skillet until it is very hot and you just being to see it smoking.  Add the garlic and ginger to the hot oil, stirring until just fragrant, about 1 minute.  Add the carrots, cabbage, and mushrooms to the pan and cook, stirring constantly (this is a 'stir-fry' after all!), for 1-2 minute until mushrooms are limp. Add the pea pods, chicken, and noodles to the pan and stir to combine.
Whisk the sauce one more time and add to the pan.  Continue cooking over medium high heat, continually tossing the noodles until a thick glossy sauce forms and coats everything, about 3-4 minutes.  Turn off the heat and toss in the scallions.  Serve and devour immediately.
Select multiple categories to narrow your search! Want appetizers made with chicken? Just select both Appetizers and Chicken!