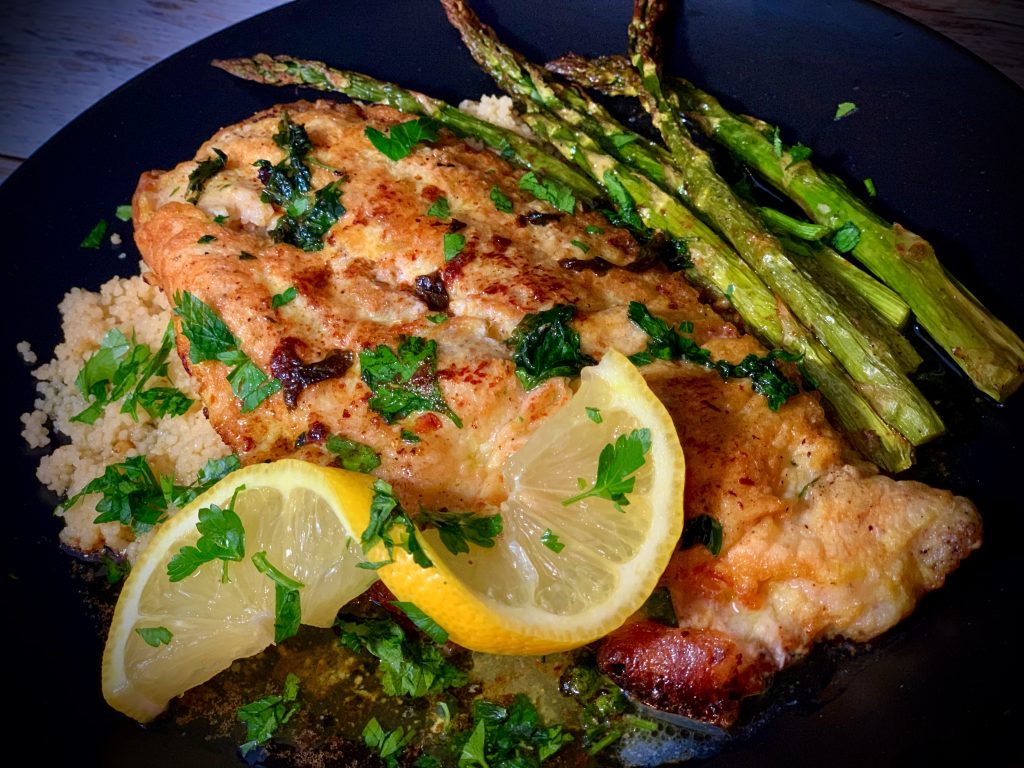 3 eggs
¾ cup flour
1 ½ teaspoon salt
1 teaspoon black pepper
8 tablespoon butter, divided
4 tablespoon olive oil
4-6 catfish filets (about 2 pounds )
½ cup chicken broth
½ cup dry white wine
¼ cup fresh squeezed lemon juice
3 teaspoon corn starch
⅓ cup fresh parsley, chopped
Preheat oven to 350°.
Prepare your breading station. Beat eggs with a fork in a pie plate or shallow baking dish.  Mix flour, salt, and pepper together and spread in another dish.
Heat 4 tablespoons of the butter (keep remaining butter cold in fridge) and the olive oil in a large skillet, over medium high heat.  Dip each filet in the seasoned flour, shaking off excess, then coat well in in the egg.  Place eggy filets in the hot butter and oil and cook 3-4 minutes per side until golden brown. Transfer to a baking sheet and place in oven for 5-8 minutes while you prepare the sauce.
Add chicken broth, wine, and lemon juice to the remains in the skillet and bring to a boil. Boil 5 minutes until mixture is reduced by about ⅓.  Whisk the cornstarch with ¼ cup of water in a measuring cup until dissolved and add to the pan whisking until the sauce begins to thicken.  Cut the remaining 4 tablespoons of cold butter into pats. Remove the sauce from the heat and whisk butter the cold butter pats into sauce until velvety.  Stir in parsley.
Remove filets from the oven and serve bathed in the lemony sauce. Garnish with more parsley and lemon slices.
Select multiple categories to narrow your search! Want appetizers made with chicken? Just select both Appetizers and Chicken!