OCEANS 97 SALMON AND HICKORY SHRIMP PATE BURGERS WITH SUN-DRIED TOMATO AND CAPER MAYO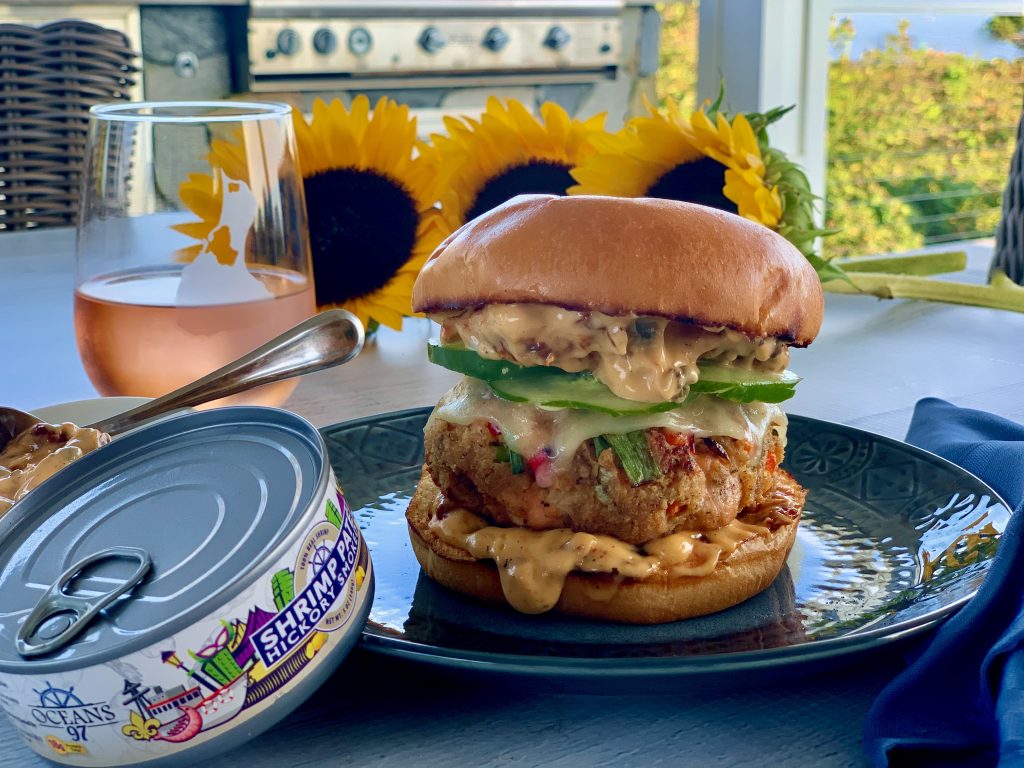 Burger:
1 pound salmon filet, skinned
1 can Oceans 97 Hickory Smoked Shrimp Pate
½ cup red bell pepper, chopped
¼ cup scallions, chopped
1 egg, beaten
1 tablespoon lemon zest
1 tablespoon lemon juice
½ teaspoon salt
½ teaspoon black pepper
½ cup panko breadcrumbs
½ cup Italian breadcrumbs
4 tablespoons olive oil, divided
Mayo:
¾ cup Hellmann's Light Mayo
¼ cup Oceans 97 Hickory Smoked Shrimp Pate
1 ½ tablespoon Dijon mustard
1 cup sun-dried tomatoes, packed in oil
2 teaspoons lemon zest
1 ½ tablespoons capers
½ teaspoon salt
½ teaspoon black pepper
4 slices provolone cheese
4 brioche rolls
1 small cucumber, cut into thin slices
Preheat your grill to 400 degrees.
Chop the salmon filet into ½ – ¾" cubes and place it in a large bowl with the rest of the burger ingredients, reserving 2 tablespoons of the olive oil for grilling.  Using your hands, massage everything together until well incorporated.  Form 4 equal patties.  Drizzle the remaining olive oil over the patties and turn to coat.  This will prevent sticking on the grill.
Place the patties on the preheated grill, close the lid, and cook for 4 minutes on the first side.  Do not attempt to move the patty around so it can get a good sear.  This will also help prevent any sticking.
Flip the patties over, close the lid, and cook for 3 more minutes.  Place one slice of provolone on each burger, close the lid and cook for 1 more minute or until cheese is melted.  Remove to a platter and tent with foil to keep warm.
Toast your rolls lightly on the grill, remove and set aside.
To make the specialty mayo, combine the mayo, shrimp pate, and mustard in a small bowl and whisk until smooth.  Drain most of the oil off the sun-dried tomatoes and add to the bowl with lemon zest, capers, salt and pepper.  Stir to combine.
To assemble the burgers, place the bottom of one toasted roll on a plate and top with a heaping tablespoon of the mayo, followed by a patty and several slices of cucumber.  Spread another heaping tablespoon of the mayo on the top bun and place on the burger.
Pour a glass of rose, get some extra napkins, and dig in!!
Select multiple categories to narrow your search! Want appetizers made with chicken? Just select both Appetizers and Chicken!