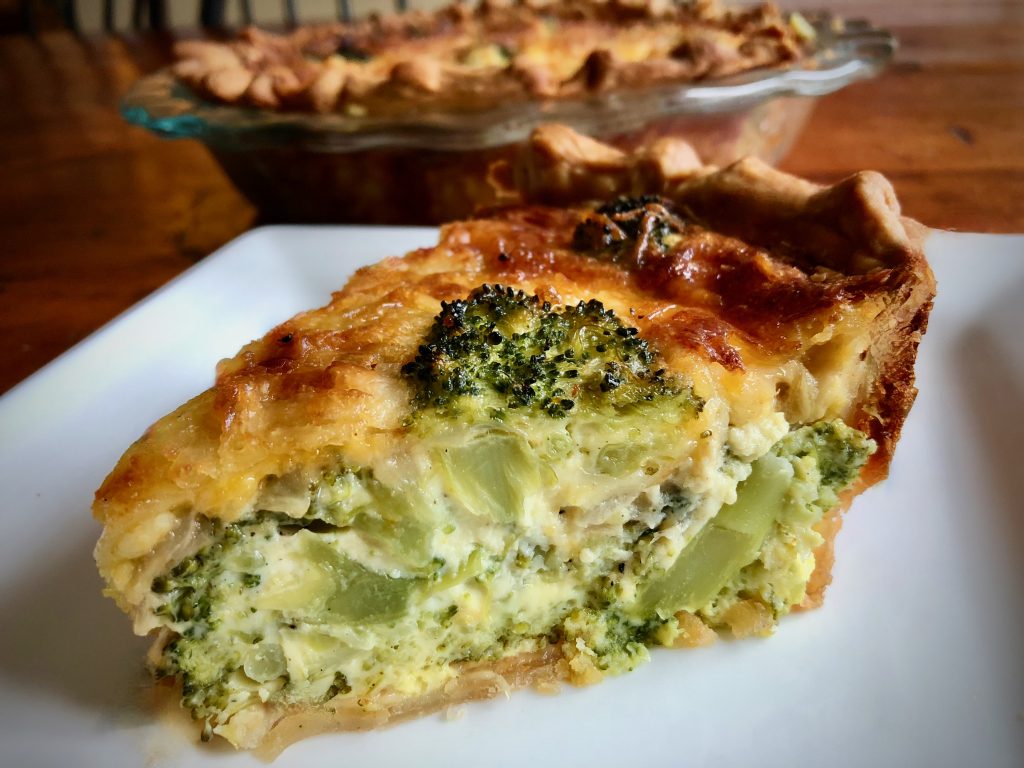 ¾ – 1 pound broccoli florets, broken into bite size pieces
2 tablespoons butter
1 onion, chopped
Single pie crust for 1, 10" pie
½ teaspoon salt
½ teaspoon black pepper
1 cup shredded parmesan cheese
½ cup shredded cheddar cheese
½ cup shredded Monterey Jack cheese
6 large eggs
1 ½ cups heavy cream
Preheat oven to 375 degrees
Bring 3 cups of water to a boil in a large sauce pan.  Add broccoli to boiling water and cook until crisp tender, about 4-5 minutes.  Drain and rinse with cold water to stop cooking.  Set aside to cool completely.  Pat dry with paper towels.
Melt the butter in a skillet and sauté onions over medium low heat, stirring frequently, until soft and lightly caramelized (golden brown in color).  Remove from heat and let cool.
Roll out the pie crust to 13-14" in diameter.  Place in your 10" pie plate and crimp the edges to for a crust. Sprinkle ½ cup of the parmesan cheese in the bottom of the crust.
Arrange the broccoli evenly in the bottom of the crust and season with the salt and pepper. Top evenly with the sautéed onions, followed by the cheddar, Monterey Jack, and remaining parmesan.
Whisk the eggs and cream together in a large bowl.  Pour this mixture over the cheeses taking care to move cheese as needed with a fork to allow for the egg mixture to evenly distribute.
Bake for 40-50 minutes or until the center is set and a knife comes out clean.  If the quiche begins to become to brown at the end of cooking, just cover lightly with foil and return to the oven.
Let sit for 15 minutes before cutting into wedges.
Select multiple categories to narrow your search! Want appetizers made with chicken? Just select both Appetizers and Chicken!