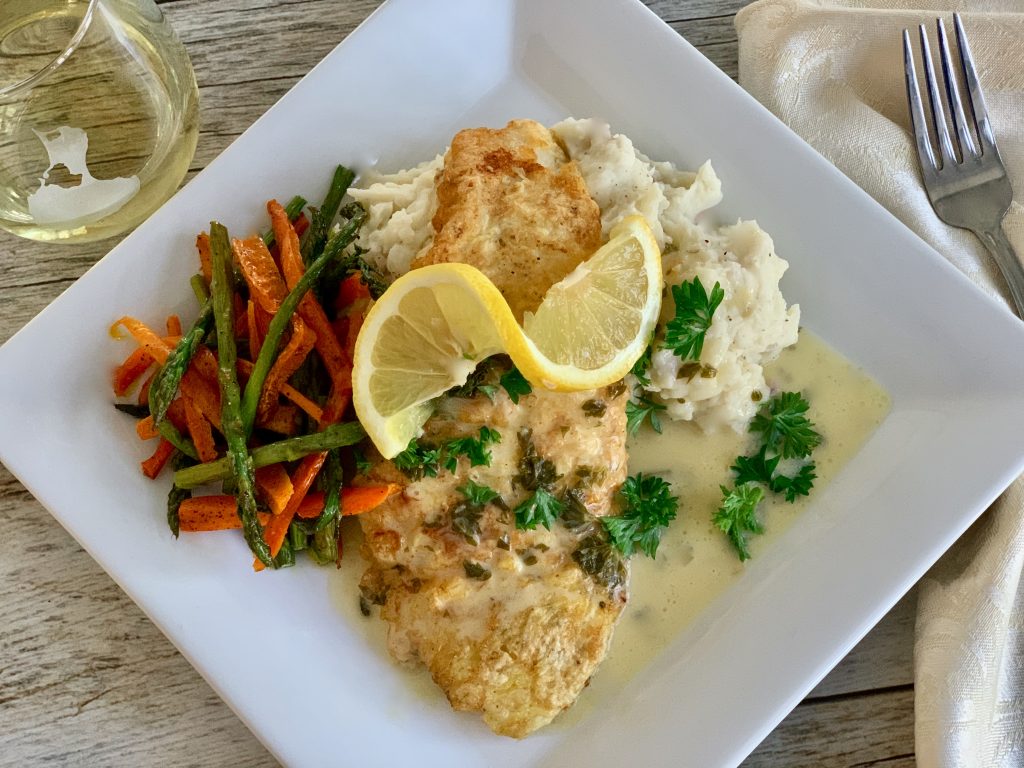 3 tablespoons olive oil
4 eggs
1 cup flour
1 tablespoon Dish off the Block Superbly Herby Spice Blend
2-pounds black sea bass filets, skinned (or flounder, sole, haddock, or other mild white fish)
1 teaspoon salt
1 cup dry white wine
1 tablespoon lemon zest
3 tablespoons fresh lemon juice
2 teaspoons corn starch
6 tablespoons cold butter, cut into 6 pats
⅓ cup fresh parsley leaves, chopped (plus more for garnish)
Heat the olive oil in a large skillet over medium high heat.
Prepare a breading station, by beating the eggs in one shallow pie plate or shallow baking dish and combining the flour and Superbly Herby Seasoning in another.
Dip each filet in the egg wash first.  Let some drip off and then coat in the flour mixture.  Shake off excess and dip in the egg again to coat.  Place in the hot oil.  Repeat using the other filets.  You will probably have to work in batches.  Do not crowd the fish in the pan.  You may need to add a little more oil depending on how many filets you have and how big they are.
Cook for about 3-4 minutes on the first side until golden brown and then flip and cook for 3-4 minutes on the second side, until golden and the fish flakes easily with a fork.  The fork will slide in and out of the center of the fish easily when it is done.  Place cooked filets on a baking sheet and tent, season with salt, and top with foil to keep warm.  You can also place them in an oven at 325 degrees to keep warm while you make the sauce.
When the fish has all been cooked, add the wine, zest, and lemon juice to the pan.  Bring to a boil and cook for 5-6 minutes until the liquid has reduced by about half.  Whisk the corn starch into the sauce and cook for one more minute.  Turn off the heat and add the cold butter to the pan, whisking constantly, until all of the butter is melted is melted and a silky sauce has formed.  Stir in the parsley just before serving.
Serve the one filet with sauce drizzled over the top.  I love this dish with mashed potatoes or rice pilaf to absorb all of that luscious sauce.
Select multiple categories to narrow your search! Want appetizers made with chicken? Just select both Appetizers and Chicken!