BEET AND ARUGULA SALAD WITH GOAT CHEESE AND MAPLE BALSAMIC DRESSING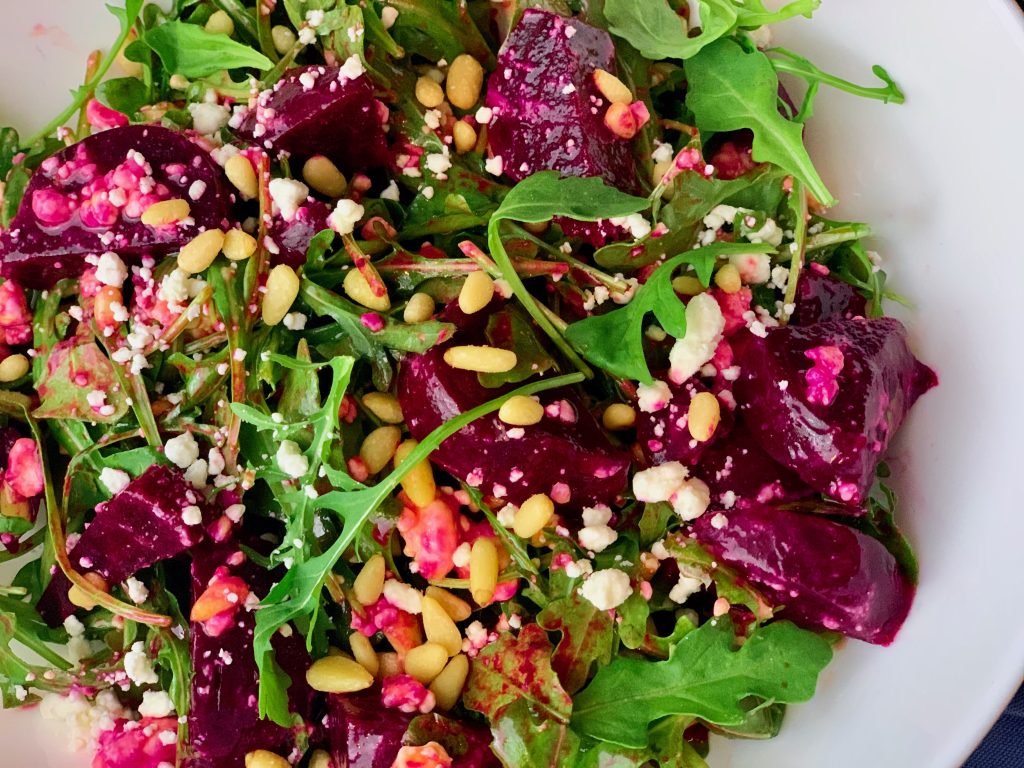 2-3 large beets (about 1 – 1 ¼ pounds)
½ cup pine nuts
2 teaspoons olive oil
5-ounces baby arugula leaves
8-ounces goat cheese, crumbled
Dressing:
¼ cup maple syrup
¼ cup olive oil
¼ cup balsamic vinegar
Cut the leaves off the beets, leaving a 1-inch stem attached to the beet.  Place beets in a large saucepan and cover with water.  Bring to a boil over medium high heat and cook until the beets are tender when pierced with a knife, about 45 minutes to 1 hour depending on size.  Peel beets with your hands under cold running water to keep your hands from staining.  The skin and stem should rub off easily.  Chop into 1-2" dice and set aside.
Toast pine nuts in olive oil over medium heat until light browned.  Watch them closely as they can burn quickly!! You can often hear 'The Nuts!! The nuts' in my kitchen if I get distracted and burn them.
Place all dressing ingredients in a small jar and shake vigorously until emulsified.
Combine beets, arugula, pine nuts, and goat cheese in a large bowl.  Toss with dressing and enjoy.  Any extra dressing will keep for 2 weeks in the fridge.
This salad is also delicious topped with grilled chicken breast or slices of grilled steak.
Select multiple categories to narrow your search! Want appetizers made with chicken? Just select both Appetizers and Chicken!