BALSAMIC CHICKEN THIGHS AND SWEET POTATOES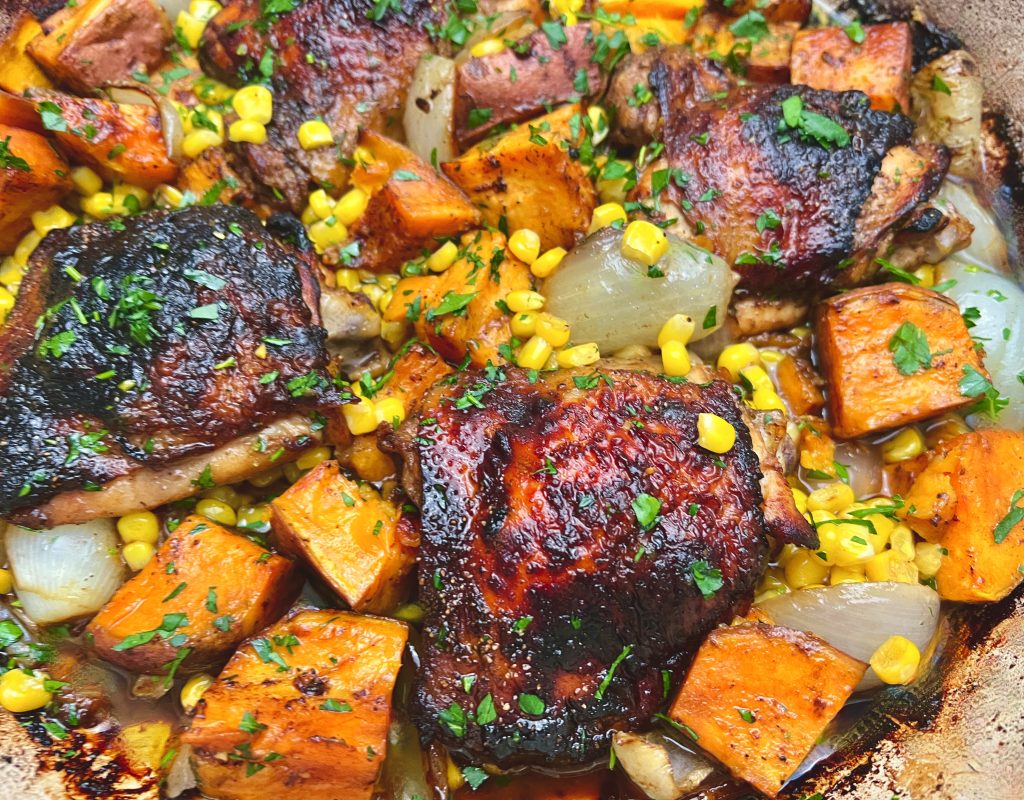 2-pounds chicken thighs, bone in and skin on
1 teaspoon salt, divided
1 teaspoon black pepper, divided
⅓ cup balsamic vinegar
¼ cup + 3 tablespoons olive oil
¼ cup orange juice
3 cloves garlic, chopped
2 tablespoons honey
1 tablespoon Dijon mustard
2 large sweet potatoes (about 2-pounds), scrubbed and cut into 1-1 ½" chunks
1 large onion, cut into 1" wedges
2 cups frozen corn, thawed
2 tablespoons parsley, chopped
Preheat oven to 400 degrees.
Heat the oil in a large cast iron or oven proof skillet* over medium high heat.  Let any excess marinade drip off the chicken thighs and add them, skin-side-down, into the hot oil. NOTE – stand back as you add the thighs to the oil to protect your eyes as they will pop and sizzle – a lot!  Sear the thighs for 3-4 minutes until the skin is crispy and browned. Turn them over and cook for 2 more minutes.
Add the sweet potatoes and onions to the pan, nestled between the thighs.  Pour the remaining marinade from the bag over the potatoes and onions and season them with the remaining salt and pepper.
Place the pan in the oven and bake for 15 minutes.  Remove the pan and add the corn, gently tossing the potatoes and onions so they can even cook and do not stick to the pan.  Cover the pan with foil and place back in the oven for 10-15 minutes until the chicken is cooked through, juices run clear (160-165 degrees) and the potatoes are tender.  Garnish with parsley and chow down!!
Select multiple categories to narrow your search! Want appetizers made with chicken? Just select both Appetizers and Chicken!