BAKER'S DOZEN VEGETABLE SOUP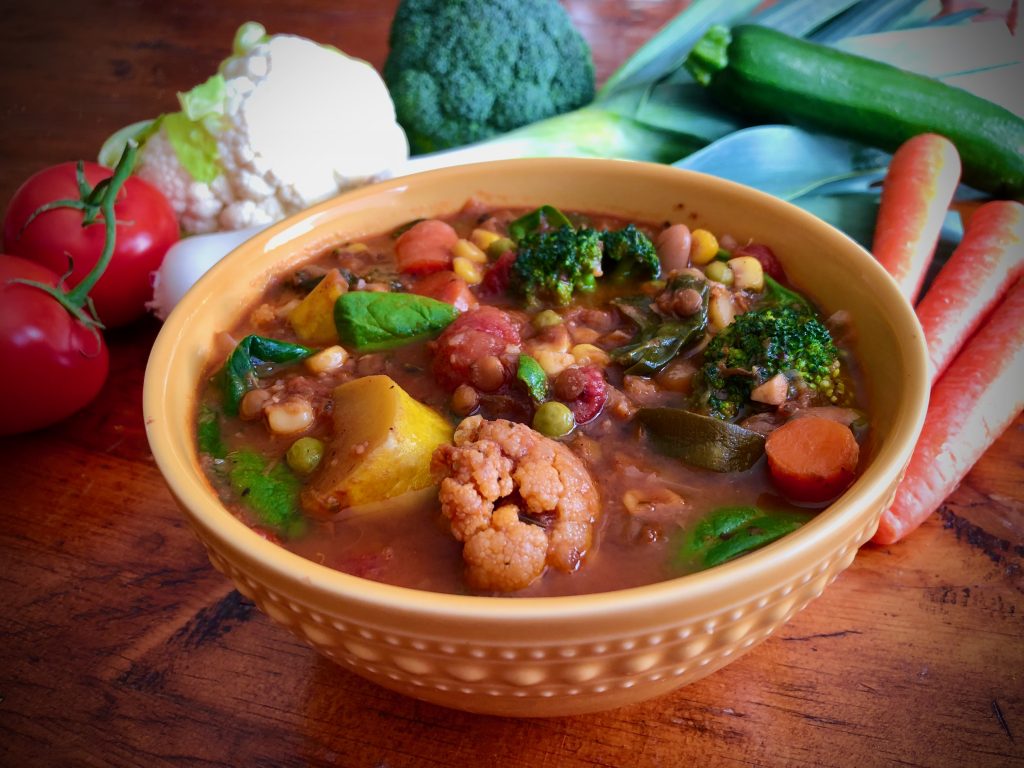 ¼ cup olive oil
1 large onion, chopped
1 large leek, chopped (white and light green parts)
2 cups carrots, chopped into bite size ½"ish chunks
2 cups cauliflower, broken into bite-size florets
2 cups broccoli, broken into bite-size florets
2 cups potatoes, chopped into 1"ish chunks
2 cups zucchini, chopped into ¼"ish half moons
2 cups yellow summer squash, chopped into ¼"ish half moons
8 large garlic cloves, chopped
2 teaspoons salt
2 teaspoons black pepper
1 teaspoon red pepper flakes
2 teaspoons Dish off the Block Ciao Bella Spice Blend
1 teaspoon curry powder
4 cups chicken stock (or vegetable stock)
1 cup red wine
2 cups tomato juice
2 tablespoons tomato paste
2 tablespoons brown sugar, packed
1, 28-ounce can San Marzano tomatoes
1, 15.5-ounce can cannellini beans, drained and rinsed
⅓ cup dry lentils
2 cups baby spinach, packed
1 cup frozen corn, thawed
1 cup frozen peas, thawed
Heat olive oil in a large (10-12 quart) Dutch oven or soup pot over medium heat.  Add onions and leeks and cook until fragrant.  Add the carrots, cauliflower, broccoli, potatoes, zucchini, summer squash, and garlic as you cut them, stirring after each addition.
Add the salt, pepper, red pepper flakes, Italian seasoning, and curry.  Stir to combine and cook for 2 more minutes.  Add the chicken stock to the pan and deglaze the bottom scraping up any brown bits that have formed.
Add the wine, tomato juice, tomato paste, brown sugar, and canned tomatoes to the pot.  Gently crush the whole tomatoes into pieces with a fork and bring the soup to a low boil.   Add the beans and lentils.  Cover the pot, reduce heat to low and cook for 1 hour or until the lentils are tender, stirring frequently.
Add the spinach, corn, and peas to the soup.  Serve once spinach has wilted and soup is hot.  Delicious served with crusty bread and a glass of cabernet!
Select multiple categories to narrow your search! Want appetizers made with chicken? Just select both Appetizers and Chicken!