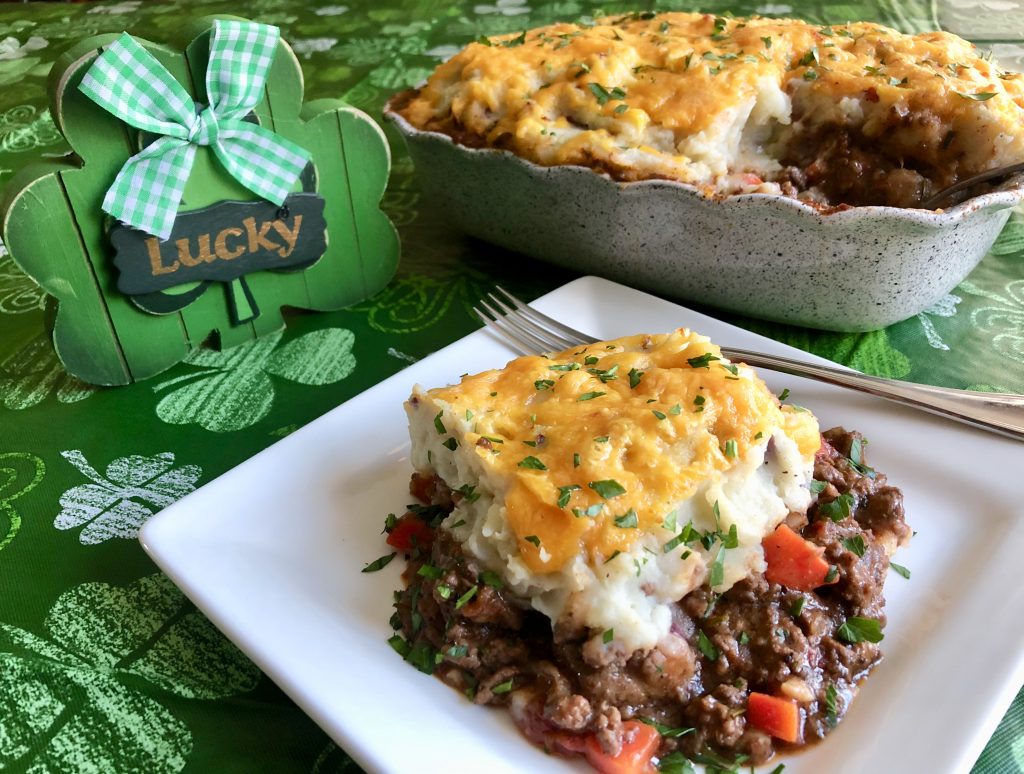 The Lamb Ragu:
2 tablespoons olive oil
1 large onion, chopped
8 cloves garlic, chopped
4 large carrots, peeled and chopped into ½" dice (about 2 cups)
2-pounds ground lamb (or ground beef for 'cottage pie')
2 tablespoons fresh rosemary leaves, stemmed and chopped
12 sprigs fresh thyme, tied together with kitchen string
1 teaspoon cinnamon
1 teaspoon dried basil
1 teaspoon dried oregano
1 teaspoon garlic powder
1 ½ teaspoons salt
1 teaspoon black pepper
½ cup red wine
¼ cup flour
1 ½ cups beef stock
1, 14.5-ounce can diced tomatoes
1 tablespoon tomato paste
2 tablespoons brown sugar
The Mashed Potatoes:
4 pounds Yukon gold potatoes, peeled and cut into large chunks (all approx. the same size – about 3-4" chunks)
1 medium onion, chopped
1 stick cold butter
1 teaspoon salt
1 teaspoon black pepper
1 – 1 ½ cups milk
1 cup freshly shredded cheddar cheese
Chopped parsley for garnish
Preheat oven to 350 degrees.
Heat olive oil over medium heat in a large skillet with high sides.  Sauté onion, garlic, and carrots until fragrant and carrots are tender when pierced with a fork.  Add ground lamb, rosemary, and thyme to the pan.  Cook, breaking the lamb up into small pieces, until cooked through, about 8-10 minutes.  Pour off any excess fat from the mixture.
Add cinnamon, basil, oregano, garlic powder, salt, black pepper, and wine.  Cook for 5 minutes until most of the liquid has cooked off.  Add flour and cook for 2 more minutes.  Gradually add beef stock, stirring and scraping any brown bits from the bottom of the pan.  Stir in the diced tomatoes, tomato paste and brown sugar.  Let cook for 5 more minutes, stirring frequently, until a rich thick sauce forms.  Turn off the heat.
Place the lamb mixture in a 9" x 13" baking dish (or you can leave it in the skillet if it is oven proof such as cast iron).
While you are making the lamb ragu, place the potatoes and onions in a large metal stock pot and cover with COLD water.  Place on the stove over medium high heat and let cook until the potatoes are fork tender, stirring occasionally while cooking.  (You can also use leftover mashed potatoes for this dish).  Drain the potatoes in a colander and return the hot potatoes/onions to the metal pot.  Add the butter, salt, pepper, and ½ cup of the milk.  Using an electric mixer, whip the potatoes on high until they are smooth, gradually adding more milk as needed until they are smooth and creamy.  Note, you may not use all of the milk or need an extra splash depending on the starchiness of the potatoes…. I recommend tasting and testing frequently to make sure they are the perfect consistency!! Test for seasoning and add more salt and pepper as needed.
Layer the potatoes on top of the ragu and cover with the shredded cheese.   Place in the oven and cook for 20-30 minutes until bubbly and the cheese has melted.  Place under the broiler for 2-3 minutes to lightly brown the cheese.  Serve wedges, garnished with parsley.  DEVOUR!
Select multiple categories to narrow your search! Want appetizers made with chicken? Just select both Appetizers and Chicken!