AVOCADO, GREENS, BACON, AND PISTACIO SALAD WITH AVOCADO RANCH DRESSING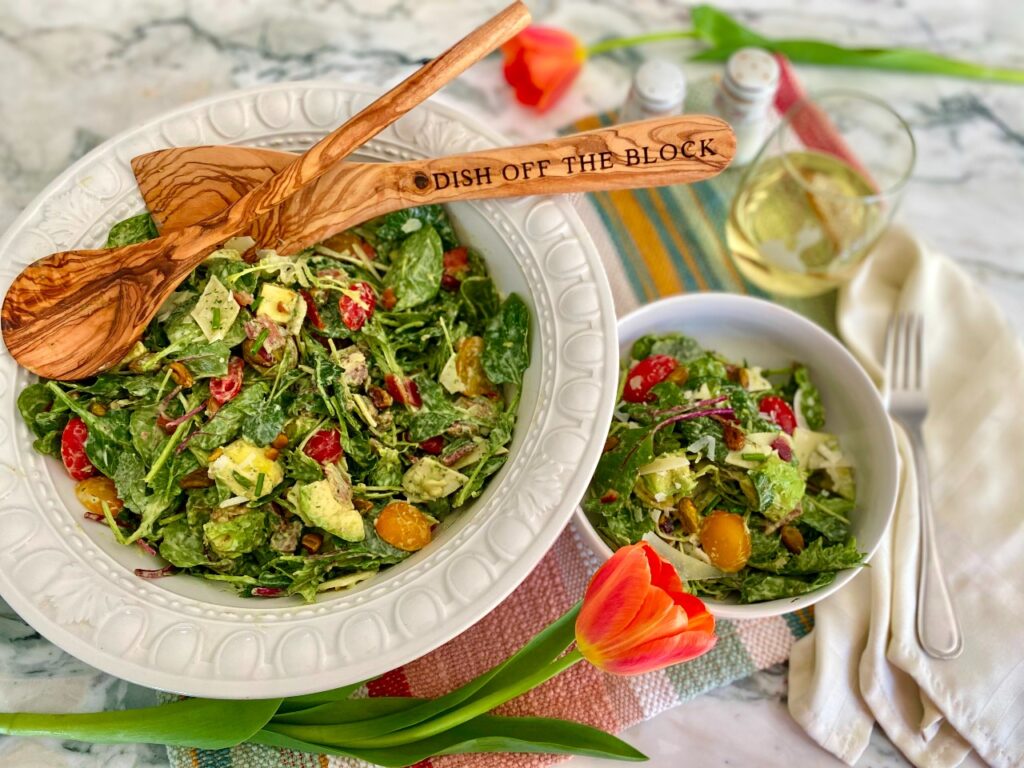 The Dressing:
½ cup Hellmann's Light Mayonnaise
½ cup plain Greek yogurt
1 tablespoon olive oil
1 ½ tablespoons chives, chopped
1 ½ tablespoons fresh dill, chopped
¼ cup fresh parsley leaves
¼ cup fresh cilantro leaves
½ teaspoon salt
¼ teaspoon black pepper
1 teaspoon Dish off the Block Ciao Bella Italian Spice Blend
2 teaspoons lemon zest (1 lemon)
2 tablespoons fresh lemon juice (1 lemon)
1 ripe avocado, seed removed and skinned
¾ cups milk
The Salad:
5-ounces mixed baby kale and spinach (or other greens)
2-ounces fresh pea shoots
1 cup cherry or grape tomatoes, cut in half
½ cup pistachios, shelled
8 slices bacon, cooked crisp and chopped
¾ cup shaved parmesan
2 avocados, seed removed, skinned and chopped into bite-size chunks
Combine all of the dressing ingredients in a blender or food processor and pulse several times to combine.  Run on low until smooth.  Add a little more milk if you like a thinner consistency.
Combine everything except the avocado in a large bowl and toss with about half of the dressing.  When everything is coated, toss in the avocado and garnish with a few more pistachios and more shaved parmesan.
Extra dressing will keep in a jar in the fridge for up to 1 week!
Select multiple categories to narrow your search! Want appetizers made with chicken? Just select both Appetizers and Chicken!