ASIAN BARBECUED PORK TENDERLOINS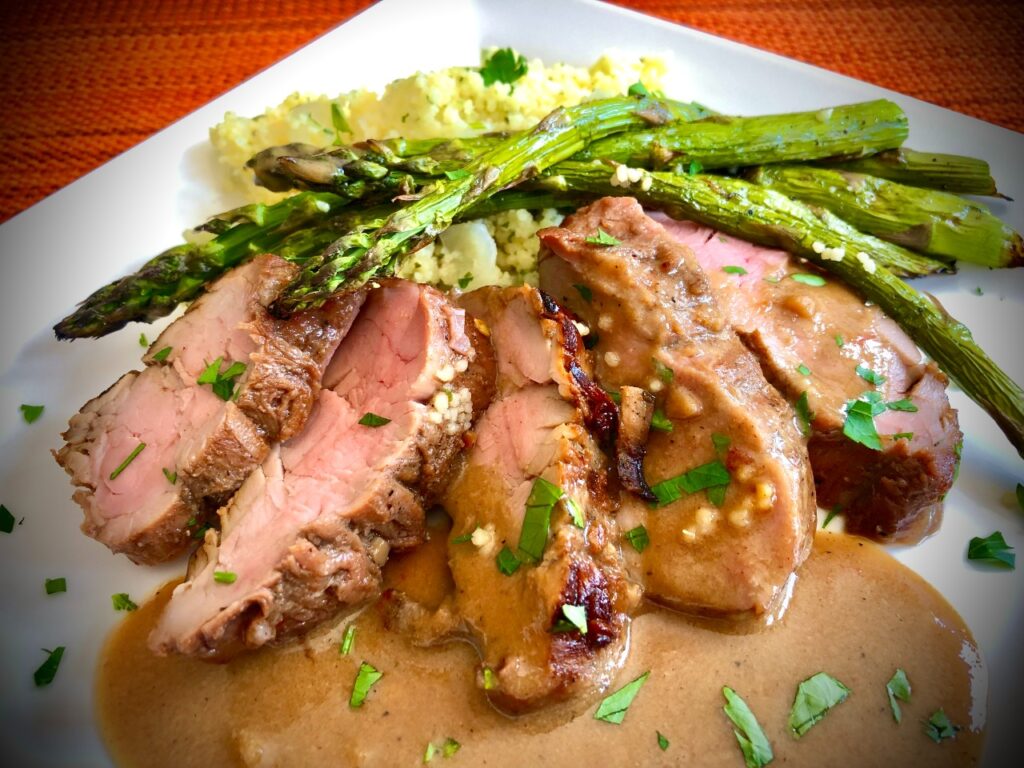 2 whole pork tenderloins, about 2.5-3-pounds
Marinade:
⅓ cup soy sauce
⅓ cup orange juice
¼ cup dry red wine
¼ cup brown sugar
¼ cup honey
½ teaspoon cinnamon
5 clove garlic, chopped (about 1 tablespoon)
½ teaspoon red pepper flakes
1 tablespoon Dijon mustard
1 teaspoon black pepper
2 teaspoons garlic powder
Sauce:
2 tablespoons corn starch
½ cup milk
Mix all marinade ingredients in a large ziplock bag (or in a bowl big enough to hold the tenderloins).  Marinade in fridge overnight.  Periodically, turn the meat to redistribute the marinade
Drain marinade into a large saucepan before grilling the tenderloins and set aside.
Preheat the grill to medium high heat (about 400 degrees).  Place the tenderloins on the hot grill and let cook for 15-20 minutes turning every 7-8 minutes to get a good sear on all sides. Cook to medium doneness, about 140 degrees – do not overcook!  Remove from the grill and cover with foil to rest for 10-15 minutes before cutting.  Slice on the bias into ¼" medallions.  The meat may be pink in the center which is perfect!!
Cook remaining marinade over medium heat, whisking frequently until it comes to a boil.  Let cook on a low boil for 8-10 minutes while the pork rests.  Watch it closely so it doesn't boil over.  Whisk the corn starch into the milk until it dissolves.  Add this mixture to the sauce and stir until sauce thickens and is silky in texture.
Drizzle over sliced tenderloins.  Serve with rice or couscous and garnish with chopped parsley or cilantro.
Select multiple categories to narrow your search! Want appetizers made with chicken? Just select both Appetizers and Chicken!