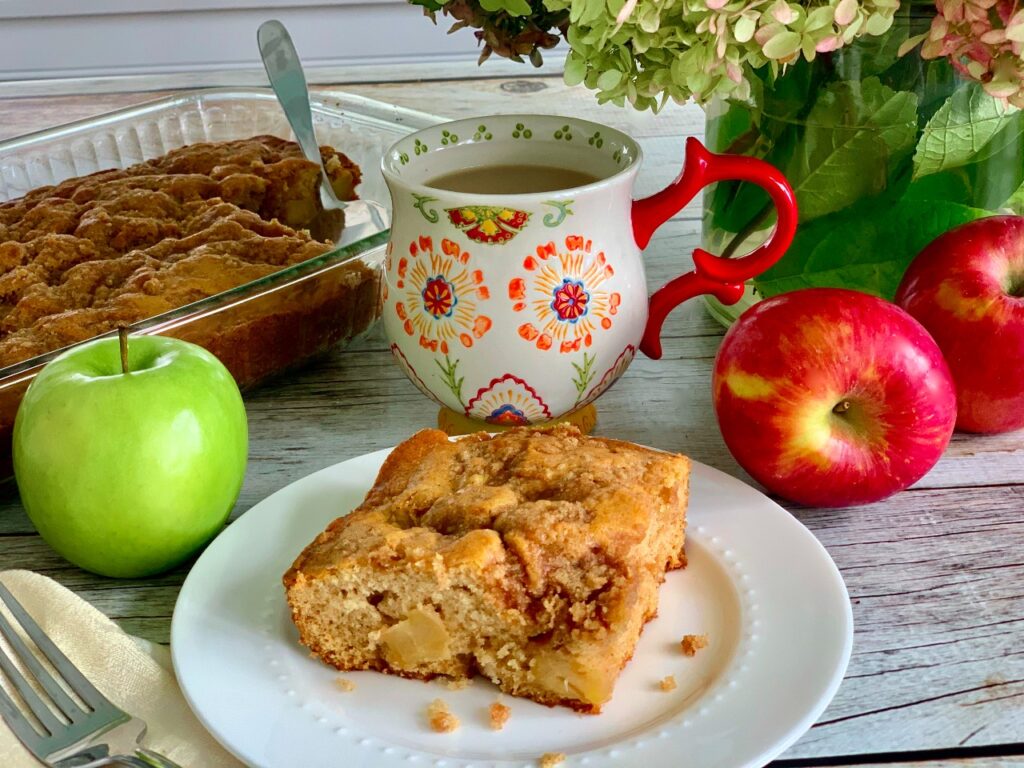 1 stick butter, softened
1 cup sugar
2 eggs
2 teaspoon vanilla
⅓ cup Hellmann's Light mayonnaise
2 cups flour
1 teaspoon baking soda
1 teaspoon baking powder
1 teaspoon cinnamon
½ teaspoon salt
¾ cup sour cream
2 ½ cups apples, peeled and chopped into ½" cubes
Crumb Topping:
½ cup sugar
¼ cup flour
½ teaspoon cinnamon
½ stick butter, chilled and cut into bits
Preheat oven to 350 degrees.
Combine the butter and sugar in a large bowl and beat with an electric mixer until light and fluffy.  Add the eggs, vanilla, and mayonnaise (yep, I said it – mayo).  Beat for about 1 minute until smooth.
Combine the flour, baking soda, baking powder, cinnamon, and salt in a small bowl and whisk to combine.
Add the flour mixture and sour cream alternately in small amounts to the bowl, beating thoroughly after each addition.  Stir in the apples by hand.
Pour the batter into a greased 9" x 13" pan and spread evenly with a rubber spatula.
Combine all of the crumb topping ingredients in a small bowl and massage them together with your fingers until it resembles coarse meal.  Sprinkle the crumble over the top of the batter.
Bake for 35-40 minutes until a tester inserted in the center comes out clean.
Select multiple categories to narrow your search! Want appetizers made with chicken? Just select both Appetizers and Chicken!