ZUCCHINI PANCAKES (FRITTERS) WITH HORSERADISH CREAM SAUCE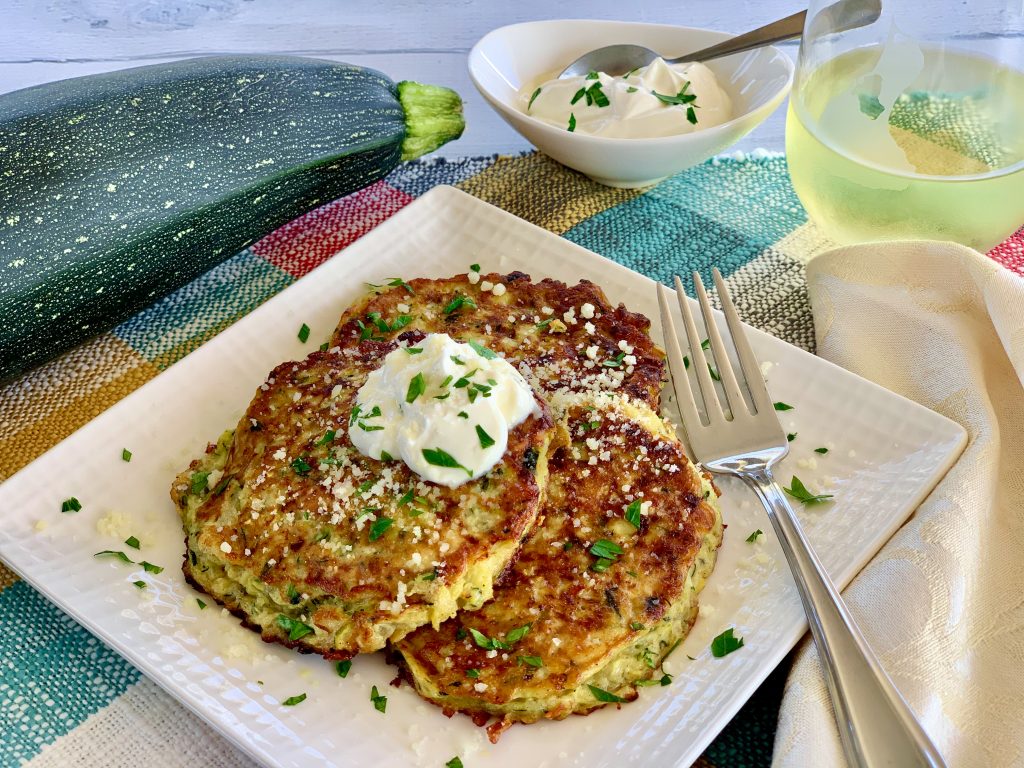 4 cups zucchini, shredded
2 teaspoon salt
1 onion, finely chopped
2 eggs, beaten
½ teaspoon black pepper
½ cup parmesan cheese, grated
½ cup flour
1 teaspoon baking powder
3 tablespoon olive oil
Horseradish Cream Sauce:
¼ cup prepared horseradish
¼ cup sour cream
¼ cup Hellmann's Light mayonnaise
Place the shredded zucchini in a colander and toss with 1 teaspoon of the salt.  Let sit for 20 minutes, pressing occasionally with the back of a spoon to release moisture.  After 20 minutes, wrap the zucchini in a clean kitchen towel or several layers of paper towels and squeeze out as much remaining moisture as possible.
Combine the zucchini with the remaining teaspoon of salt, onions, eggs, black pepper, parmesan cheese, flour, and baking powder in a large bowl and mix  until thoroughly combined.
Heat the olive oil in a large skillet over medium high heat.
Ladle about ¼-⅓ cups of batter into the hot oil to form pancakes 4-5" wide.
Cook on the first side until golden brown, about 3-4 minutes.  Flip and cook for another 3-4 minutes on the other side until slightly puffed and a knife inserted in the center comes out clean.
Combine the horseradish, sour cream, and mayo in a small bowl.
Serve hot garnished with more parmesan, parsley, and horseradish cream sauce on the side.
Select multiple categories to narrow your search! Want appetizers made with chicken? Just select both Appetizers and Chicken!