WILD MUSHROOM CALZONE IN CREAM CHEESE PASTRY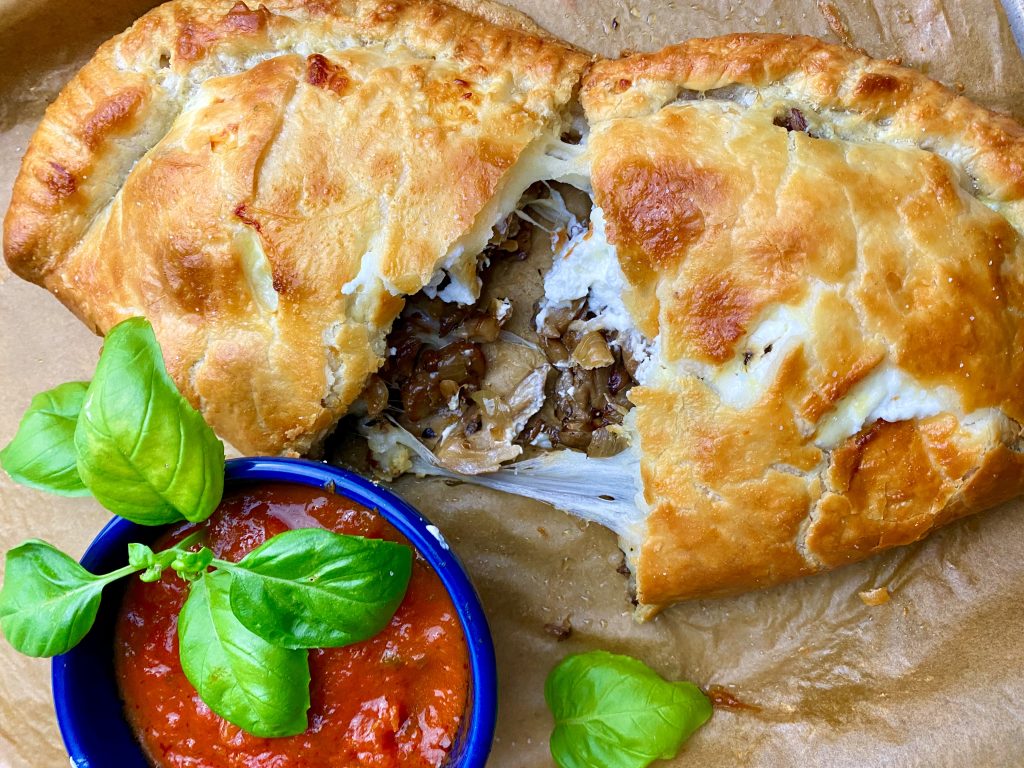 The Dough:
2, 8-ounce packages cream cheese, softened
¾ cup butter, softened
½ teaspoon salt
2 ½ cups flour
The Filling:
2 tablespoons olive oil
1 large onion, finely chopped
6 garlic cloves, finely chopped
1-pound mushrooms, sliced and chopped (any mix of mushrooms works)
1 teaspoon salt
½ teaspoon black pepper
2 teaspoons Dish off the Block Ciao Bella Italian Spice Blend
¼ cup parmesan
1 cup ricotta
2 cups shredded mozzarella, divided
1 egg yolk
1 cup spaghetti or marinara sauce
Beat the cream cheese, butter, and salt in a large bowl with an electric mixer until smooth. Gradually add the flour to creamed mixture until well-combined. Turn the dough onto a lightly floured countertop and knead for 2 minutes. Wrap in plastic wrap and refrigerate for 3 hours or longer.
Heat the oil in a large skillet and cook the onions and garlic until soft and fragrant, about 3 minutes.  Add the mushrooms, salt, pepper, and Italian seasoning to the pan and cook, stirring frequently, for 5 minutes until the moisture from the mushrooms has evaporated and they begin to lightly brown.  Remove from heat and let cool slightly while you prepare the dough.
Remove the dough from the fridge 10 minutes before you are ready to make the turnovers.
Preheat oven to 400 degrees.
Combine the parmesan and ricotta cheese in a small bowl.
Form the dough into 2, 12" circles.  Place half of the mushrooms on one side of one of the dough rounds.  Top it with half of the ricotta and parmesan mixture, followed by 1 cup of the shredded mozzarella.
Fold the other half of the dough round over the filling and crimp the edges together to seal the filling in.  Repeat with the rest of the ingredients on the other dough round.  Place both calzones on a baking sheet lined with parchment paper.
Mix the egg yolk with 1 teaspoon of water to make an egg wash and brush it all over the dough.  Cut a couple of holes in the top of the dough to let steam release.
Bake for 12-15 minutes until golden brown all over and melty.  Serve hot with warm sauce on the side.
Select multiple categories to narrow your search! Want appetizers made with chicken? Just select both Appetizers and Chicken!