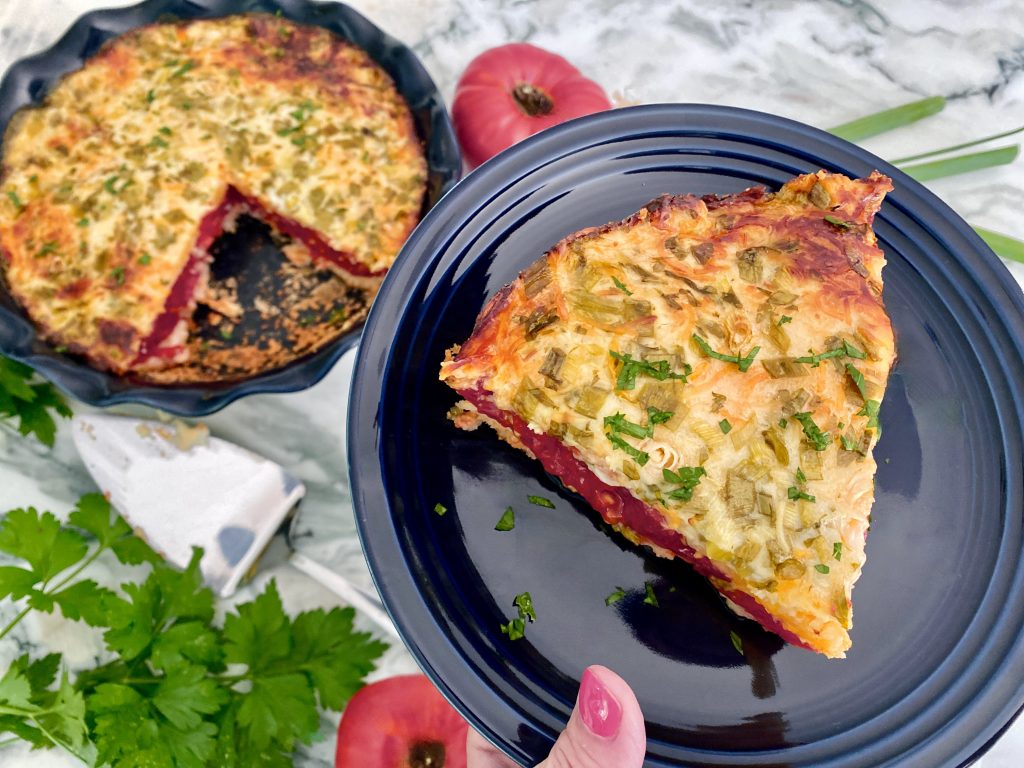 1 cup Bisquick baking mix
1 tablespoon butter or margarine, softened
¼ cup water
4 medium size fresh garden tomatoes
1 teaspoon salt
1 teaspoon black pepper
1 ½ cups shredded cheddar cheese
½ cup Miracle Whip
3 scallions chopped (about ⅓ cup)
2 tablespoon fresh parsley, chopped
Preheat oven to 350 degrees.
Mix the Bisquick, butter, and water in a 9″ pie plate with a fork until combined.  Wet your fingers with water (to keep the dough from sticking) and press the mixture evenly over the bottom and half way up the sides of the pie plate.
Fill a large saucepan with water about halfway up the pot and bring to a boil.  With a paring knife, cut a small "X" into the skin on the bottom of each tomato.  Place the tomatoes in the boiling water for 30 seconds and remove and place on paper towels to cool.  When they are cool enough to touch, peel the skin (starting at the "X") off each tomato and then cut them into 1″ thick slices and place in the pie plate in one even layer.
Season the tomatoes with the salt and pepper.  Spread the cheese over the top of the tomatoes.
In a small bowl mix the Miracle Whip with the scallions and parsley.  Using a rubber or offset spatula, spread this mixture over the cheese.  Making large spreading swipes from the center to the edge of the plate to avoid the cheese from lifting under the mayo mixture.
Bake for 40-45 minutes until browned and bubbly.   DELISH!!!
Try not to eat the whole pie… it's THAT GOOD!
Select multiple categories to narrow your search! Want appetizers made with chicken? Just select both Appetizers and Chicken!