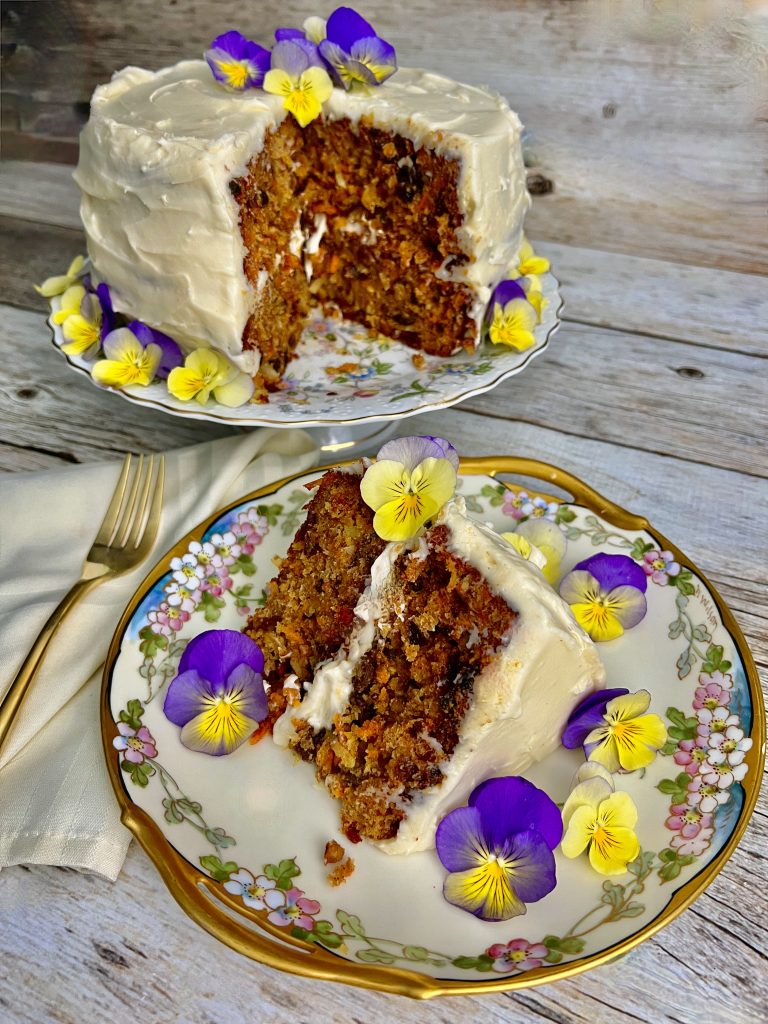 2 cups sugar
1 cup vegetable oil
4 eggs
1 tablespoon vanilla
2 cups flour
2 teaspoons cinnamon
1 teaspoon baking soda
1 teaspoon salt
¼ teaspoon nutmeg
1 cup raisins
¾ cup walnuts
¾ cup chopped dates
¾ cup sweetened coconut flakes
1, 20-ounce can crushed pineapple, drained and squeezed mostly dry with paper towels
3 cups shredded carrots
Cream Cheese Frosting
1, 8-ounce package cream cheese, softened
1 stick butter, softened
3 teaspoons vanilla
3 teaspoons milk
3½ cups confectioner's sugar
Cream sugar and oil.  Add eggs, one at a time, and vanilla and beat until smooth.
Mix all of the dry ingredients in a separate bowl.  In another bowl, mix raisins, walnuts and dates with 2 tablespoon of the dry ingredients.
Stir the rest of the dry ingredients into the creamed mixture and mix well.  Fold in raisins, nuts, dates, carrots, coconut, and pineapple.
Pour into a greased and floured 13″ x 9″ pan (or 2, 8" cake pans) and bake at 350° for 45-50 minutes or until tester comes out clean.
Cool and frost with cream cheese frosting.
Cream Cheese Frosting
Combine all ingredients in a large bowl and beat with electric mixer until smooth and creamy.  I double this recipe if I am doing a 2 layer cake in cake pans.
I got this recipe when I was a student at Syracuse University.  My roommate and I attended a birthday party for a friend of ours and happened upon this cake.  We snuck pieces throughout the party and my only mission thereafter was to find the creator.  Through the birthday boy, I met up with the "chef" and she gave me her secret recipe.  I don't remember her name but her cake will go down in history.
Select multiple categories to narrow your search! Want appetizers made with chicken? Just select both Appetizers and Chicken!