SWEET AND SOUR BEET, FENNEL, AND GRAPEFRUIT SALAD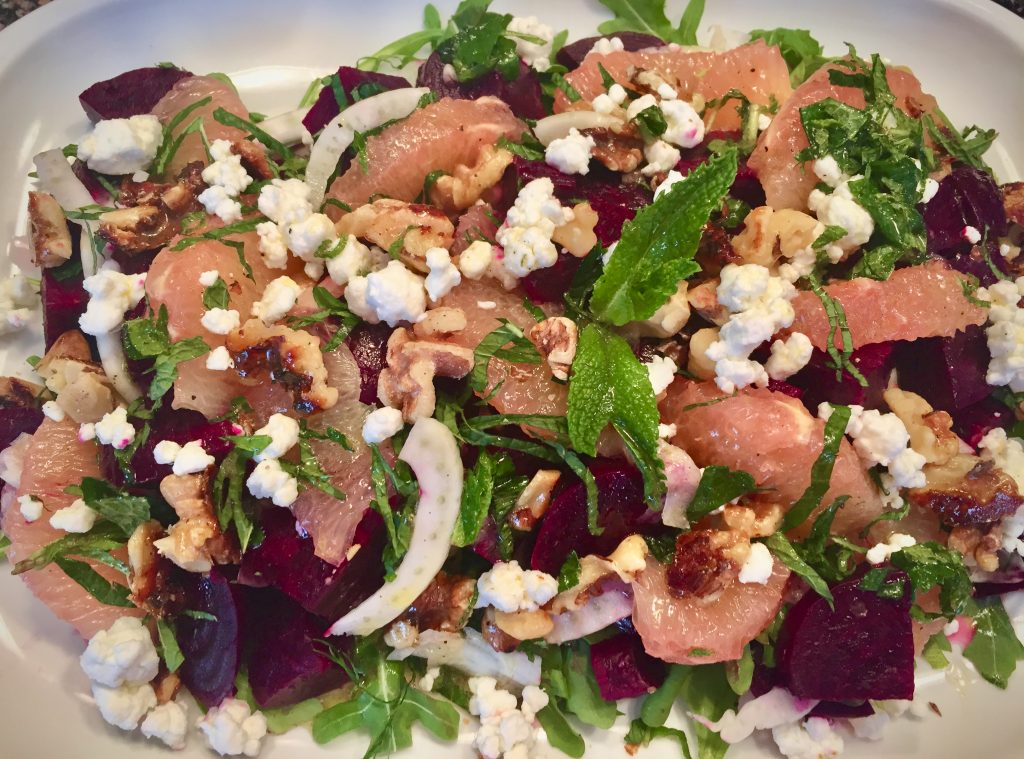 Salad:
2 large beets, greens removed (leave about 2″ of the stem attached to the beets)
3 cups Ocean Spray Ruby Red Grapefruit Juice Drink
⅓ cup walnuts, rough chopped
2 teaspoon brown sugar
1 cup baby arugula greens
1 small fennel bulb
1 large grapefruit
¼ cup fresh mint leaves
½ cup goat cheese crumbles
Grapefruit Vinaigrette Dressing:
¼ cup Ocean Spray Ruby Red Grapefruit Juice Drink
¼ cup olive oil
¼ cup rice wine vinegar
1 teaspoon Dijon mustard
2 teaspoon sugar
¼ teaspoon salt
¼ teaspoon black pepper
Place beets in a medium size sauce pan in a single layer. Pour in the grapefruit juice and add enough water to cover the beets. Bring to a boil over medium high heat and then let simmer until the beets are tender when pierced with a fork, about 50 minutes – 1 hour, depending on the size of the beets. Remove from heat and cover with cold water. When the beets are cool enough to handle, massage, under cold running water, to remove the outer skin which will peel off easily. Chop beets into 1" dice and set aside.
Place walnuts and brown sugar in a small frying pan over medium heat, stirring occasionally until nuts are toasted and the brown sugar has melted and clings to the nuts. Set aside to cool.
On a medium size platter, spread the arugula greens. Using a mandolin slicer or very sharp knife, slice the fennel bulb into very thin ribbons and then rough chop. Layer ½ cup of the fennel over the arugula. Top the fennel with the chopped beets.
'Supreme' the grapefruit by first cutting off both ends. Then stand the grapefruit, cut-side-down, on a cutting board and carefully cut off the outer peel and pith following the shape of the fruit. Cut the fruit segments out between the membranes so you end up with slices of the pure fruit with no membrane on either side. Spread the slices over the beets.
Chiffonade the mint by stack leavings and then tightly rolling together. Cut cross wise to create very thin 'ribbons' or strips of mint. Sprinkle over the grapefruit. Top with the sugared nuts followed by goat cheese crumbles.
In a small jar, combine all dressing ingredients and shake well until well blended and emulsified. Drizzle the dressing over salad and reserve any leftover in the fridge for the next yummy salad.
This salad was created for an Ocean Spray contest. It didn't win the contest, but it won over my family and we now make it all of the time!
Select multiple categories to narrow your search! Want appetizers made with chicken? Just select both Appetizers and Chicken!