SUPERBLY HERBY HONEY CARROTS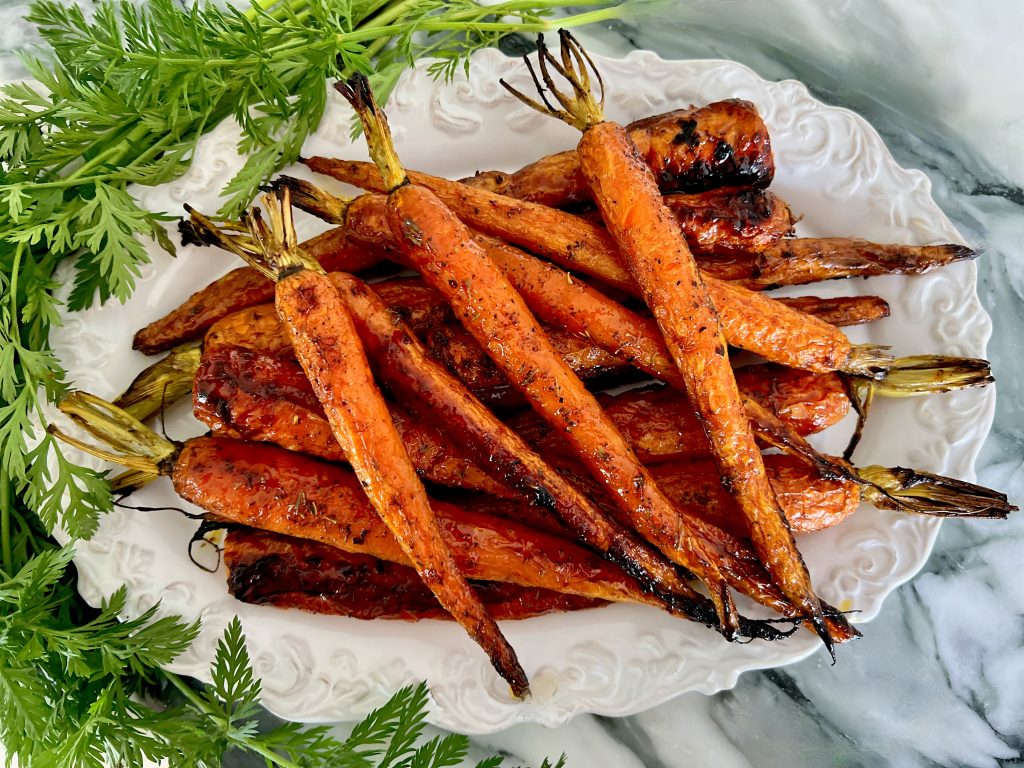 Preheat oven to 375 degrees.  Line a large rimmed baking sheet with foil and spray with non-stick spray.
If the leaves are still on the carrots, cut them off leaving about 1-2" of the stems intact (reserve the carrot greens to make pesto or add to salad).  Scrub the carrots with a vegetable brush under running water to remove any dirt or debris (no need to peel the carrots).  Pat them dry with paper towels.
Combine the honey, olive oil, and Superbly Herby seasoning in a small bowl and whisk until well-combined. Place the whole carrots in 9" x 13" baking dish and pour the herby honey marinade over them.  Toss and massage the carrots in the marinade with your hands until the carrots are all very well coated.  Note – I like to use a baking dish to coat with marinade so there is not excess marinade on the baking sheet, which can burn.  You could also cut the carrots into ½" – 1" thick slices and toss them with the marinade in a bowl.
Spread the coated carrots out on the baking sheet, careful not to crowd.  Sprinkle the salt over the tops of the carrots.  Bake for 30-40 minutes until the carrots are golden brown and very tender when pierced with a fork.  Note – cooking time will vary depending on the size of your carrots.  If they are very different in size, cut the larger ones in half lengthwise so they are all similar in size.
Serve immediately or keep warm in a 300 degree oven until ready to serve.
Select multiple categories to narrow your search! Want appetizers made with chicken? Just select both Appetizers and Chicken!