SUPERBLY HERBY HALIBUT OVER PARMESAN AND PEA RISOTTO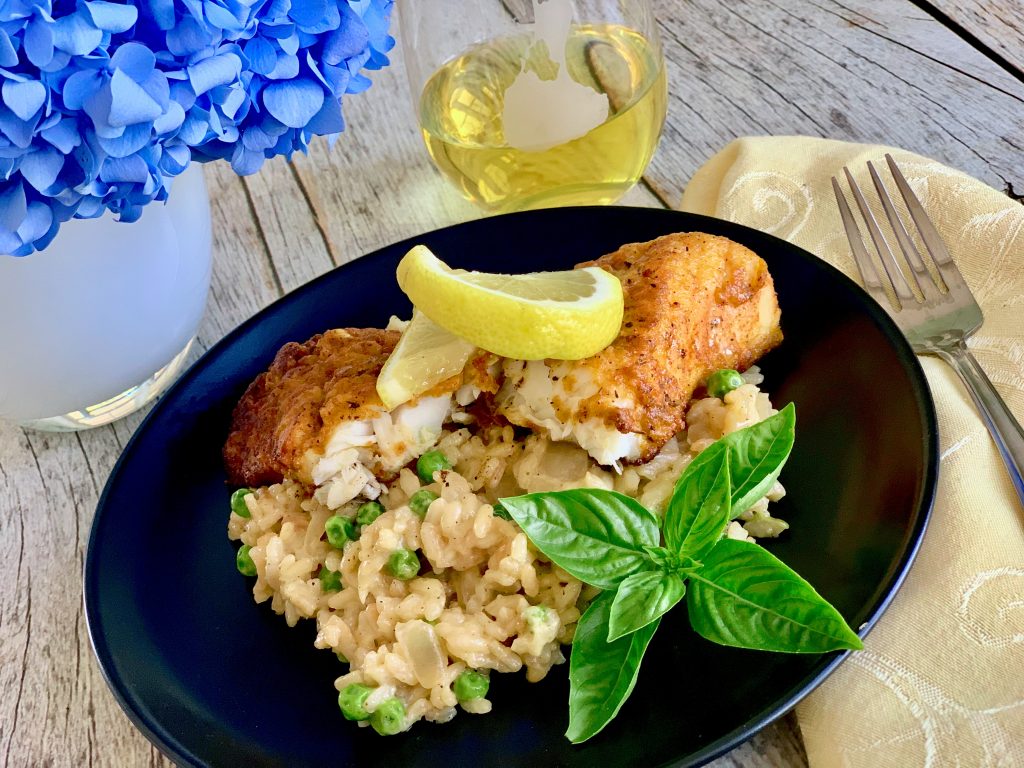 The Risotto:
3 tablespoons butter
2 tablespoons olive oil
1 large sweet onion, chopped
6 large garlic cloves chopped
1 ½ cups Arborio rice
1 cup dry white wine
4 cups warm chicken stock
1 teaspoon salt
½ teaspoon black pepper
½ cup heavy cream
1 cup frozen peas
¾ cup grated parmesan cheese
The Fish:
2-pounds halibut filets, skinned (or haddock, cod, sea bass, etc…)
2 tablespoons lemon juice
2 tablespoons oyster sauce (or soy sauce)
½ cup flour
3 tablespoons Dish off the Block Superbly Herby Spice Blend
2 tablespoons butter
2 tablespoons olive oil
Basil or parsley and lemon slices for garnish
To make the risotto heat the butter and olive oil in a large deep skillet over medium high heat.  Sauté the onions until soft and fragrant, about 5 minutes, stirring frequently.  Add the garlic and cook for one more minute.  Add the rice to the pan and cook for 3-4 minutes, stirring frequently until the rice is toasty.
At this point, stirring almost constantly is required to create a creamy delicious result.  Add the wine to the pan and stir until almost completely absorbed and the bottom of the pan shows no liquid when you pull the rice to the side.  Gradually add the chicken stock in ½ cup increments, stirring constantly, waiting to add more stock until the liquid is fully absorbed.  Continue adding the stock until the rice is plump and tender (but with some 'tooth) when you taste it.
Add the salt, pepper, and heavy cream to the pan.  Stir to combine and let the cream absorb, about 1 minute.  Add the parmesan and peas to the rice and stir to fully combine, about 1-2 minutes.  Cover and keep warm while you prepare the fish.
Cut your halibut filets into portion size pieces and place in a bowl or shallow baking dish.  Pour the lemon juice and oyster sauce over the fish and turn to completely coat.  Let marinade for 15-20 minutes at room temperature.
Combine the flour and Superbly Herby seasoning in a pie plate or shallow baking dish and whisk to combine.
Heat the butter and olive oil in a large deep skillet until bubbly.
Dip the fish filets into the flour mixture and coat on all sides, shaking off excess.  Place in the hot pan and cook for about 2 minutes on the first side until golden brown.  Gingerly flip over with tongs and cook for 3-4 minutes on the second side until the fish is just cooked through and flakes in the center, basting with the pan juices as it cooks.  If the filets are very thick, you may want to cover the pan for a couple of minutes to accelerate cooking.
Serve the fish over the risotto and garnish with basil leaves and lemon slices.  Pour a nice white and dig in!
Select multiple categories to narrow your search! Want appetizers made with chicken? Just select both Appetizers and Chicken!