SUMMER SQUASH AND CHERRY TOMATO CASSEROLE WITH CHEESY BACON CRUMBS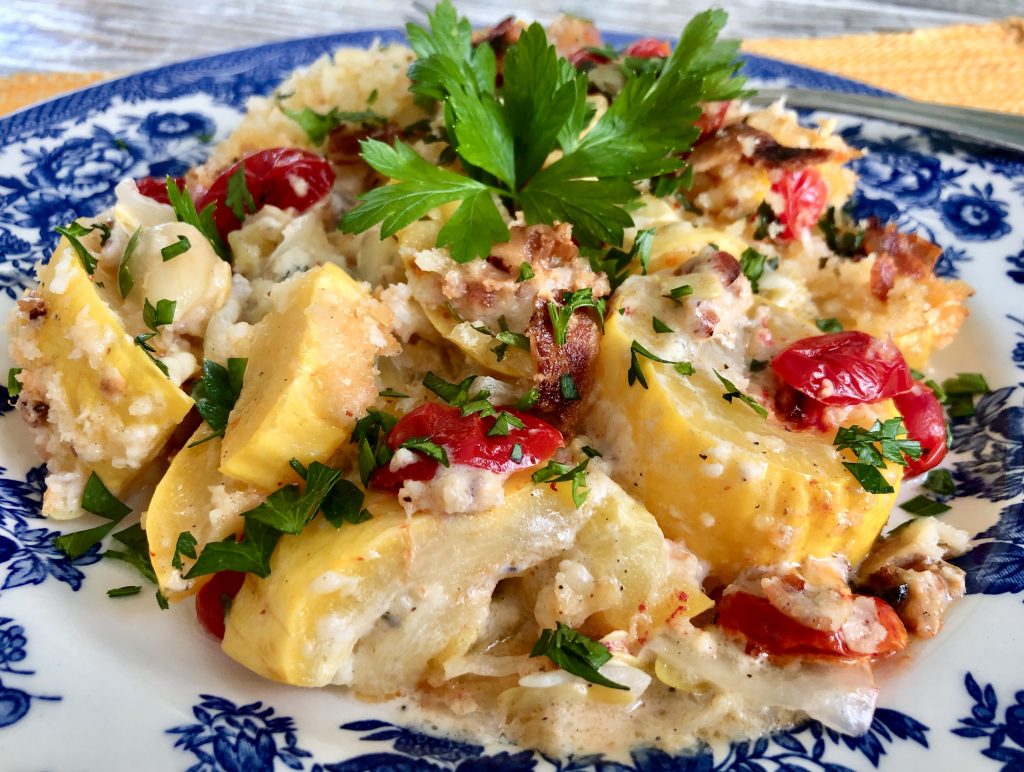 10 cups of summer squash or zucchini, cut into bite size coins or half moons
1 large onion, chopped
1 tablespoon + ½ teaspoon salt divided
½ teaspoon black pepper
2 cups cherry or grape tomatoes, cut in half
½ cup parmesan cheese
1 cup panko breadcrumbs
¼ cup flat leaf parsley, chopped
1 cup shredded Swiss cheese (Gruyere or Jarlsberg)
¾ cup bacon, cooked and chopped (do not overcook as it will cook again in the oven)
1 ½ cups heavy cream
Preheat oven to 375 degrees.
Place the squash and onions in a large pot and cover with water.  Add the 1 tablespoon of salt and bring to a boil.  Cook until tender when pierced with a fork, about 10 minutes. Drain well in a colander.
Spray a 9" x 13" baking dish with non-stick spray.  Spread the squash and onions in an even layer in the baking dish and season with the remaining ½ teaspoon of salt and the black pepper.  Top with the tomatoes and then parmesan cheese.
Combine the panko, parsley, and shredded Swiss cheese in a small bowl and spread over the top of the casserole and then sprinkle the chopped bacon.  Pour the heavy cream even over the whole dish.
Bake for 35-45 minutes until hot, bubbly, and lightly browned on top.  Devour!!
Select multiple categories to narrow your search! Want appetizers made with chicken? Just select both Appetizers and Chicken!