SRIRACHA HONEY COCONUT WINGS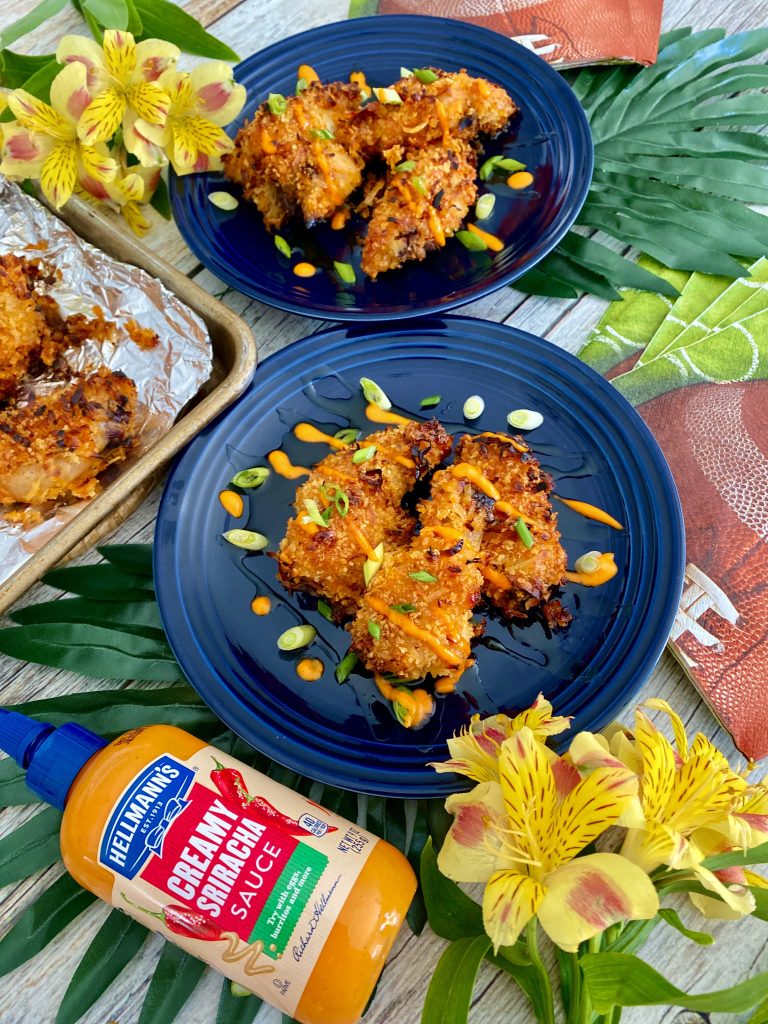 3-pounds chicken wings
1 ¾ cups panko breadcrumbs
1 ¾ cups sweetened coconut flakes
2/3 cup Hellmann's Creamy Sriracha Sauce (plus more for drizzling on the cooked wings)
4-5 tablespoons honey, divided
8-10 tablespoons olive oil
Preheat oven to 400 degrees.
If the wings are whole, cut the wing tip off of each wing and discard.  Then, cut between the drumette and the flat part of each wing to separate.  Pat the wings dry with paper towels.
Combine the breadcrumbs and coconut flakes in a pie plate or shallow baking dish.
Combine the 2/3 cup of sriracha and 2 tablespoons of the honey in a small bowl.  Whisk to combine.
Line a rimmed baking sheet with foil and drizzle it all over with 2-3 tablespoons of oil.  Spread the oil over the foil with your fingers to it is well coated.
Turn the wings in the sriracha and honey mixture to coat.  Let excess drip off and then firmly press the coated wings into the panko and coconut mixture to coat.  Place them on the foil 2-3" apart.  Do not crowd the wings. Drizzle 6-8 tablespoons olive oil all over the tops of the wings.
Bake for 20-25 minutes until the wings are golden and cooked through.  Juices should run clear when they are pierced with a knife.
Remove from the oven and let cool for 10 minutes. Drizzle with 2-3 tablespoons of honey and the sriracha sauce.  DEVOUR!
Select multiple categories to narrow your search! Want appetizers made with chicken? Just select both Appetizers and Chicken!