SPICY BREAKFAST ENCHILADA CASSEROLE WITH PICO DE GALLO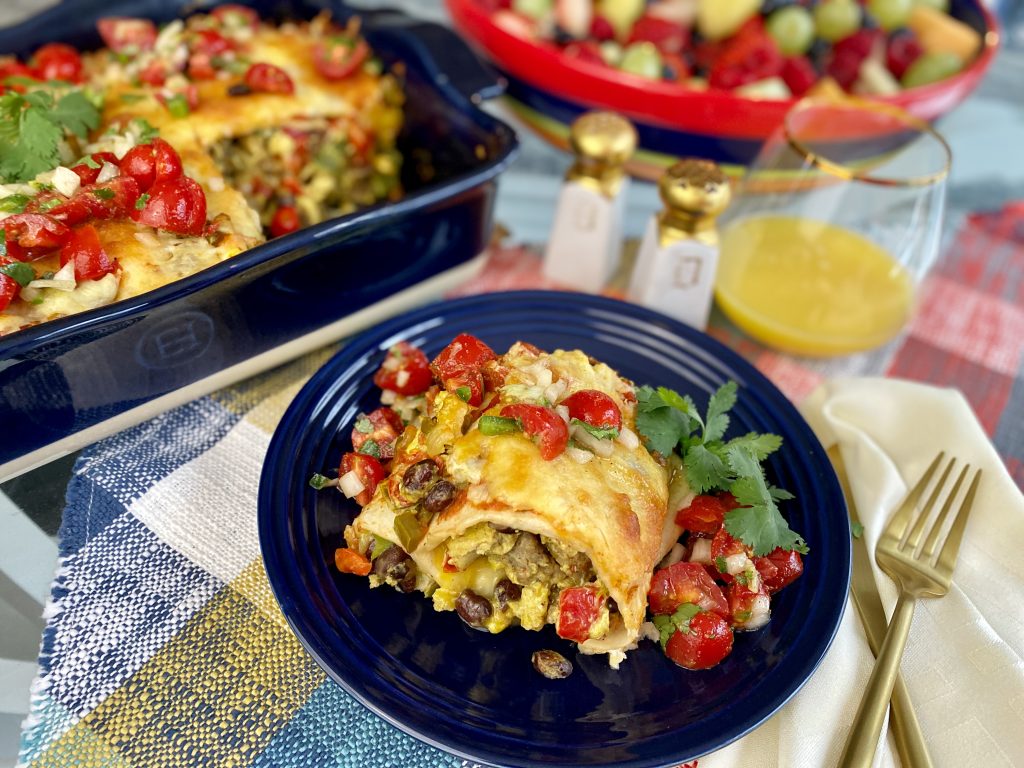 1 tablespoon olive oil
1 large onion, chopped
1 jalapeño pepper, minced
1 green bell pepper, chopped
1 red bell pepper, chopped
1-pound bulk breakfast sausage
1 tablespoon Dish off the Block Ragin' Cajun Spice Blend
1, 15-ounce can black beans, drained and rinsed
1, 4-ounce can chopped green chiles
10 eggs, beaten
½ teaspoon salt
2 cups shredded Mexican blend cheese
6, 8" flour tortillas
1, 16-ounce jar salsa
2 cups shredded pepper jack cheese
The Pico de Gallo:
1-pint grape or cherry tomatoes, cut into quarters
1 small onion, finely chopped
1 jalapeño, minced
¼ cup cilantro leaves, chopped
1 tablespoon olive oil
1 tablespoon sugar
1 lime, juiced
1 teaspoon cumin
½ teaspoon salt
Sour cream
Heat the olive oil in a large deep skillet over medium high heat.  Cook the onions, jalapeño, and green bell peppers until fragrant, about 2-3 minutes, stirring frequently.  Add the red bell peppers, sausage, and Cajun spice to the pan and continue cooking, breaking up the sausage with a spatula. Cook for 4-5 minutes until the sausage is cooked through.
Add the black beans and chiles to the pan and stir to combine.  Add the eggs and salt to the pan.  Cook, stirring and folding the eggs into the sausage mixture until the eggs are almost cooked through but still a little 'wet'.  Remove from heat.
Coat a 9" x 13" baking dish with non-stick cooking spray and spread half of the salsa in the bottom of the dish.
Lay your tortillas on the countertop.  Place about 1/3 cup of the Mexican blend cheese down the center of each tortilla and then top the cheese with about 1 cup of the egg and sausage mixture, dividing it equally between all of the tortillas.  Wrap the tortillas around the filling (they will be very full) and place, seam-side-down, in the prepared baking dish.
Note – at this point you can cover the casserole dish and refrigerate overnight.  Bring the casserole back to room temperature before baking.
Preheat oven to 350 degrees.
Just before baking, top the enchiladas with the remaining half jar of salsa and spread evenly over the tortillas.  Top the casserole with the shredded pepper jack cheese.  Bake for 25-30 minutes until golden brown and bubbling on the sides.
To make the pico de gallo, combine all of the ingredients in a small bowl and toss to combine.
Top the casserole with half of the pico.  To serve, cut into slices and serve with more pico and sour cream on the side.
Select multiple categories to narrow your search! Want appetizers made with chicken? Just select both Appetizers and Chicken!