SMOKED SALMON AND SWEET POTATO CHOWDER WITH ASIAN TWISTS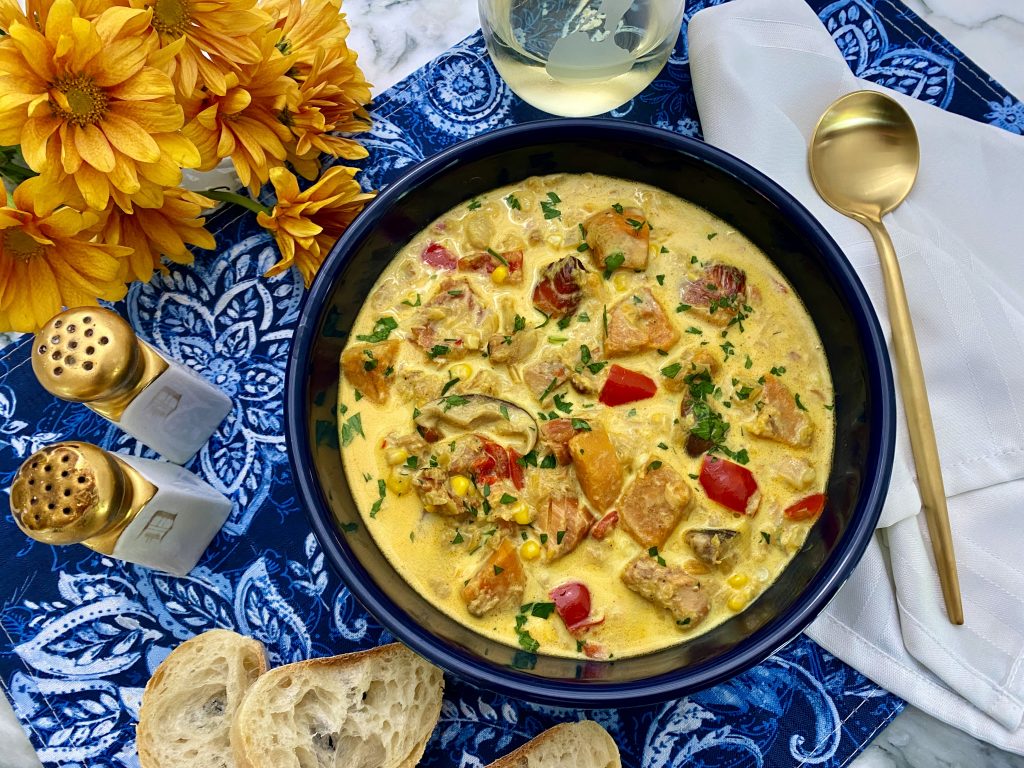 2 tablespoons olive oil
1 large leek, white and light green parts chopped (about 2 cups)
8 cloves garlic, chopped
¼ cup ginger root, peeled and minced
5-ounces pancetta, chopped
5-ounces shitake mushrooms, caps sliced and stems discarded
1 tablespoon turmeric root, peeled and grated on a microplane (or ½ teaspoon dried)
1 red bell pepper, chopped
1-pound sweet potatoes, peeled and chopped into 1 ½" dice (about 1 large sweet potato)
3 cups seafood or lobster stock
1 ½ cups corn (preferably fresh and cut off the cob or frozen will also work)
¼ cup soy sauce
1 tablespoon fish sauce
2 tablespoons wasabi sauce
2 ½ cups heavy cream
2 tablespoons maple syrup
1-pound smoked salmon, broken into bite-size pieces
2 tablespoons parsley, chopped
Heat the olive oil in a 6-8 quart Dutch oven or soup pot over medium high heat.  Add the leeks, garlic, and ginger root to the pan and cook until soft and fragrant, about 2 minutes.  Add the pancetta and continue cooking until the fat is rendered and the pancetta begins to brown.
Add the mushrooms, turmeric, red pepper, and sweet potatoes.  Cook, stirring frequently for 3-4 minutes until everything is well coated and the veggies begin to soften.  Add the stock and corn to the pot and bring to a boil.  Reduce heat to medium low and cover the pot.  Cook for 5-7 minutes until the sweet potatoes are tender when pierced with a fork.
Add the soy, fish sauce, wasabi, heavy cream, maple syrup, and smoked salmon.  Bring back to a boil, stirring frequently.  Reduce to low and let the chowder lightly boil for 20-30 minutes to allow flavors to meld and the soup to slightly thicken.
Serve hot in bowls garnished with chopped parsley and crusty bread on the side.
Select multiple categories to narrow your search! Want appetizers made with chicken? Just select both Appetizers and Chicken!