SMOKED GOUDA MAC & CHEESE BALLS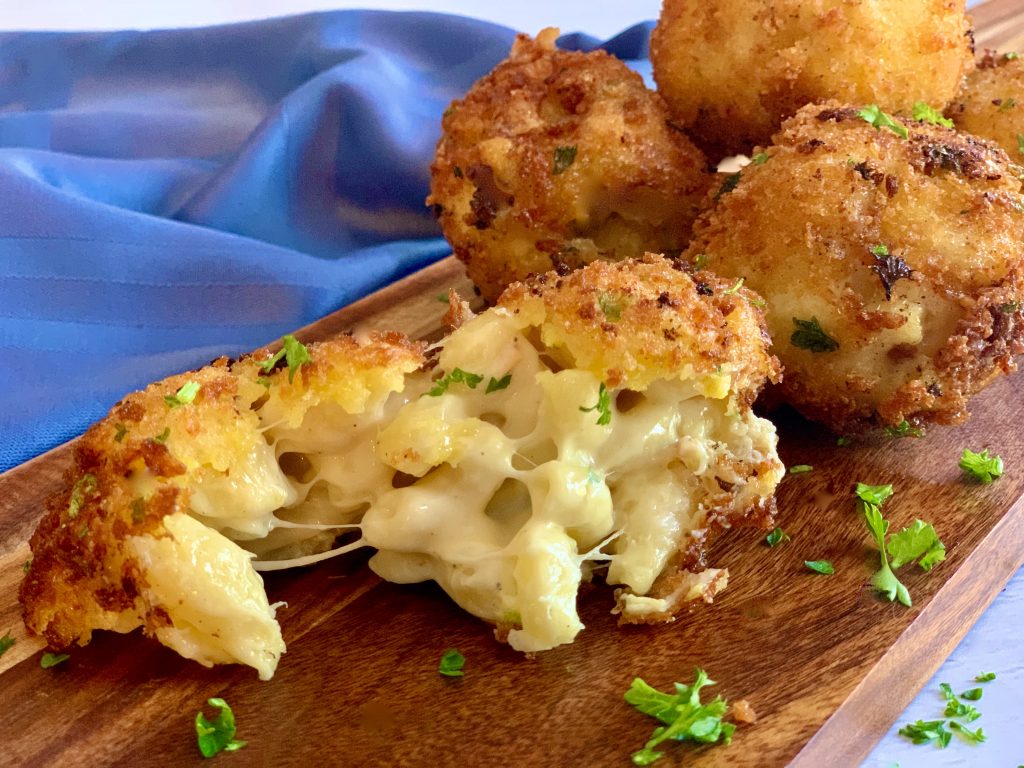 2 tablespoon butter
2 tablespoon flour
1 cup light cream
1 ½ cups milk
½ teaspoon salt
½ teaspoon black pepper
¼ teaspoon garlic powder
½ pound American cheese, cut into cubes or slices
2 cups smoked gouda cheese, shredded
1 ½ cups mozzarella cheese, shredded
½ cup grated parmesan cheese
1 pound elbow macaroni, cooked to al dente according to package directions
3 eggs
3 cups panko breadcrumbs
½ cup fresh parsley, chopped
2-3 cups vegetable or canola oil for frying
Melt the butter in a large saucepan.  Add the flour and cook for 1 minute until smooth and bubbly.  Add the light cream, milk, salt, pepper, and garlic power to the pan and whisk over medium high heat until a thick béchamel sauce forms.  Reduce heat to medium low and add all of the cheeses and stir over low heat until all of the cheese is melted and rich, ooey-gooey sauce forms.  Combine the sauce and macaroni in a large bowl and stir until well coated (try not to eat too much… it's addicting!!!).
Let cool to room temp and then in the fridge for 1 hour.  You can also spread it out on a cookie sheet to make it cool faster.
Using a small ice cream scoop or your hands, form 2 ½ – 3" balls with the cooled mac & cheese and place on a rimmed baking sheet.  Chill the balls in the fridge for 20-30 minutes to set.
Beat the eggs in a shallow dish and combine the panko and parsley in another shallow dish or pie plate.
Heat vegetable oil, about 2" deep in a Dutch oven (or deep fryer) to 350 degrees.  Prepare a rimmed baking sheet by covering with foil and then placing a cooking rack on top of it.  This will allow the balls to drain and stay crispy all over.
Dip the chilled mac & cheese balls in the egg to coat and then cover in the crumbs, pressing to adhere.  Working in batches cook the breaded balls in the hot oil until golden brown all over, about 1 minute per side.  Remove and place on the wire rack to drain.  Season with salt immediately.  Keep warm in a 325-degree oven if not serving immediately.
Makes 25-30 yummy, cheesy balls!  Feel free to mix up the cheese and use cheddar, swiss, monterey jack, etc… in place of the gouda!
Select multiple categories to narrow your search! Want appetizers made with chicken? Just select both Appetizers and Chicken!